Modify 6.03mm Hybrid Precision Inner Barrel for BAR 10/VSR 10 (433mm)
[Z10H03A][09275 / MOD BARL 433MM VSR / HP-03-08]
( 1 Reviews )
❤ Add to Wishlist
Free Shipping for orders over $149
No Coupon needed
Precision barrels are best described as an inner barrel with a diameter of 6.03mm or less. Precision inner barrels allow for better compression, improved accuracy, and in a few cases increase muzzle velocity. Although precision barrels often require more maintenance and cleaning, they can give your airsoft gun a significantly greater range and improve it's overall performance. The Modify 6.03mm Hybrid Precision Inner Barrel for Bar10 / VSR10 is a great upgrade for your Bar10 or VSR10 airsoft sniper rifle. It is constructed completely out of aircraft aluminum alloy to make it extremely lightweight, features a 6.03mm bore for incredible performance, and helps ensure that your shots are as straight at possible.
Specifications:
Manufacturer: Modify
Model: Bar10 / VSR10
Barrel Length: 433mm
Barrel Bore: 6.03mm
Package Includes: Inner barrel only

Features:
Aircraft aluminum alloy construction
6.03mm bore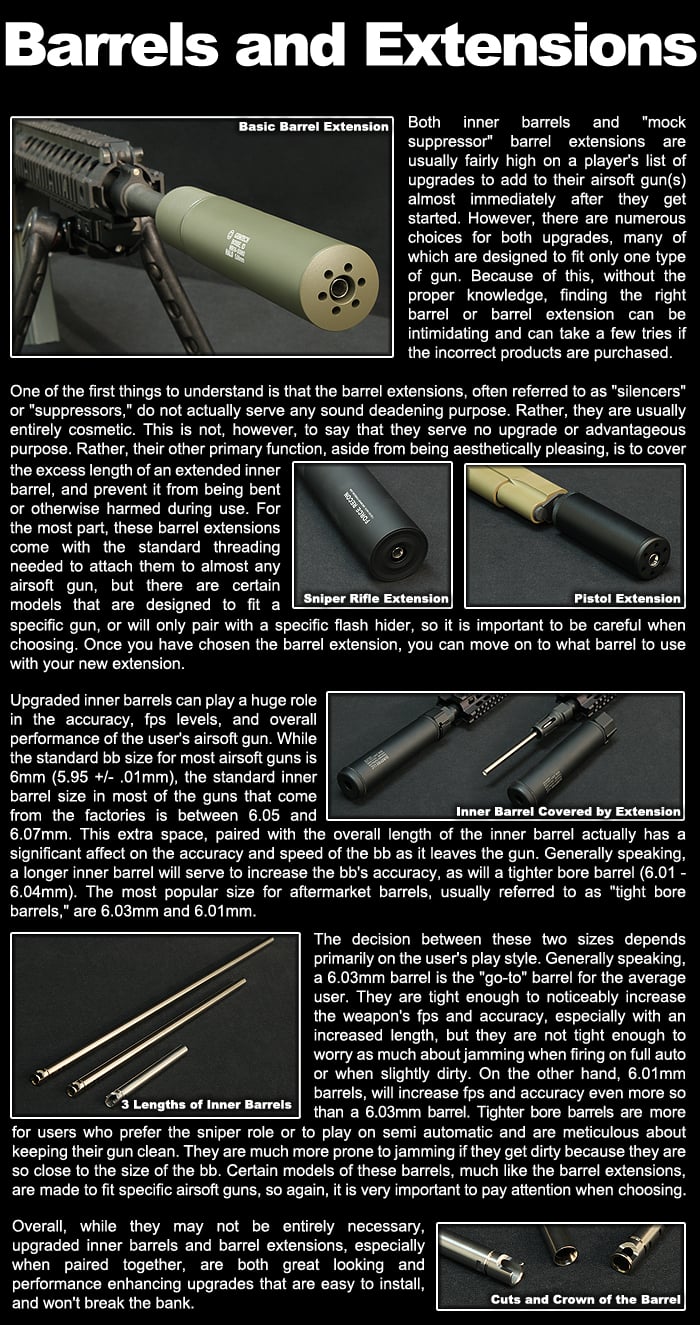 Specifications

Manufacturer: Modify
Color: Black
Size: 433mm
Material: Aluminum
Package Includes: One (1) Precision Inner Barrel
see 1 reviews
|
Write a Review
verified buyer
A. TOWNS | 2018-09-20
Product Information:
BUY THIS
This barrel is not bridged like the action army ones so you can use maple leaf buckings and hopup parts
I use this with stock chamber with the maple leaf aluminum arm and maple leaf 70 degree bucking and I have a perfect air seal where i can put my finger over the end of the barrel and shoot but the piston in the cylinder doesn't shoot till I release my finger and I'm shooting 540 FPS with a Tokyo Marui vsr10

Pros:
Increased my range to 325 feet MAX
Perfect air seal
Can use maple leaf buckings
Tight bore
SUPER ACCURATE.
Great finish on it
Very affordable

Cons:
Barrel gets scratched easily but that was my fault by cleaning it wrong will buy another one in the future!
Well mb02

Will it fit well mb02?

1902 days ago

Mike B

0

0

(I have this same question)

Staff Answer:

No, you will need a MK96 barrel

1814 days ago

1 answers
1 asked

Properly?
0 answers
1 asked

Would this fit in the HFC VSR-11?
0 answers
1 asked

Would this fit on the HFC VSR 11?
0 answers
1 asked

Would this fit on my sniper?
0 answers
1 asked
Search Tags: Upgrade Bar-10 VSR-10 Sniper Rifle Cut FPS Accuracy Tight Bore Tightbore 6.03 Stainless Steel Aluminum Increase
People who bought this item also purchased: