Magpul PTS Angled Fore-Grip (AFG/Black)
[M01H12][06324 / PT032450307]
( 7 Reviews )
Free Shipping for orders over $149
No Coupon needed
The MagPul PTS Angled Fore-Grip is another innovative new product from one one of the best firearms and accessories manufacturer in the world. The AFG allows the user to comfortably grip their gun in a more natural way to increase accuracy and reduce fatigue. Included with the AFG is a replacement center piece to eliminate the finger shelf, this allows the shooter to customize their AFG depending on how they feel comfortable. This is a great accessory for competition and tactical shooting applications.
Specifications:
Manufacturer: Magpul
Color: Black
Requirements: At least 5" of rail space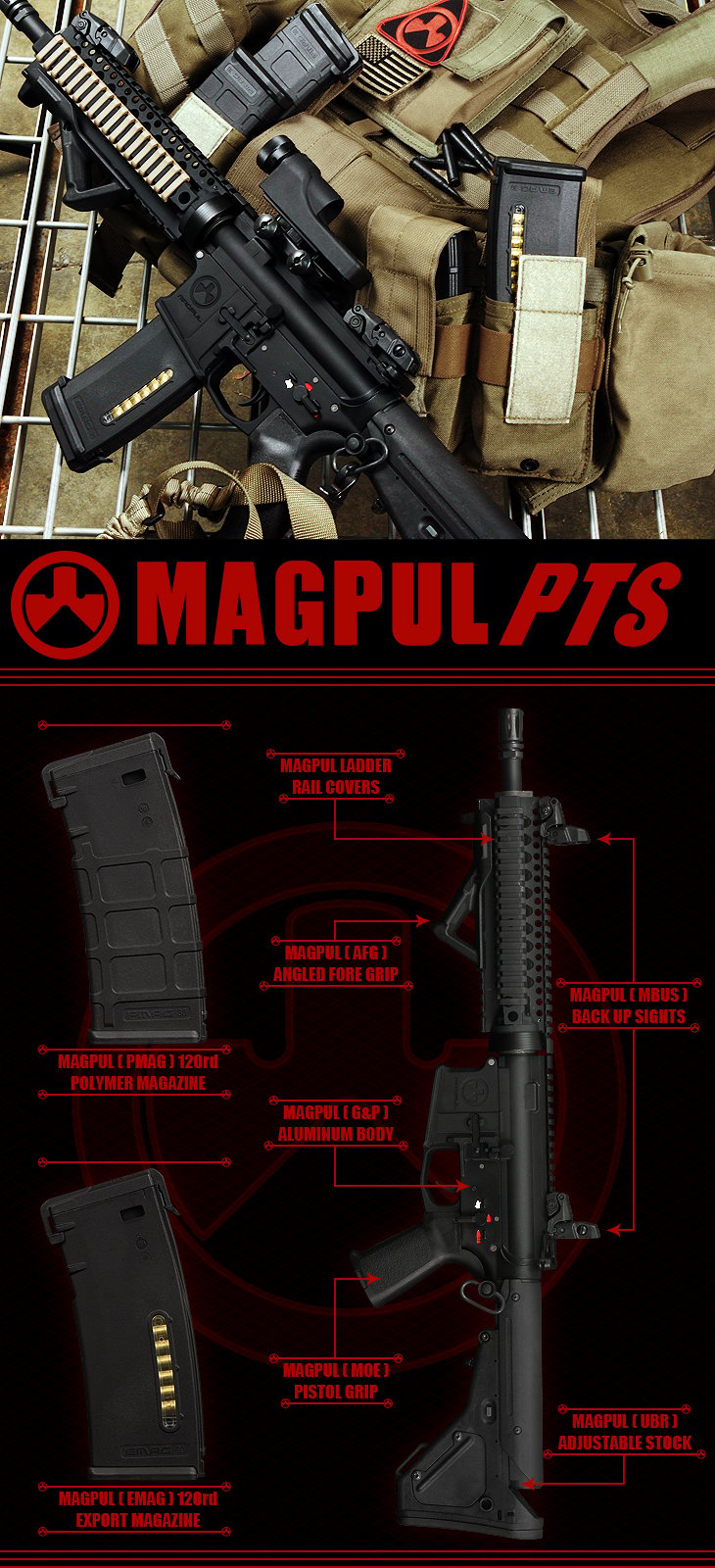 Specifications

Manufacturer: PTS Syndicate
Color: Black
Size: 5'5"L
Material: Polymer
Package Includes: One (1) Angled Fore-Grip
see 7 reviews
|
Write a Review
verified buyer
S. HARRISON | 2010-07-31
Product Information:
This is the second fore-grip i have used on my km16 sr12, and after field testing this, I give MagPul total props, because this AFG is awesome! The plastic is extremely high quality, and the comfort of this foregrip is amazing compared to any other grip.

Pros:
EXTREMELY comfortable
ergonomic
very easy to install
most comfortable fore-grip I have used

Cons:
none
C. THRASHER | 2010-08-24
Product Information:
First of all, I actually ordered this product off a different website because it was out of stock here (which tells you something about it). It wasn't until I mounted this on my gun that I realized how great it really is. But before that was installation which honestly was pretty bad. It took quite a while to get everything just right. Make sure you get it right on the first try to you don't have to undo everything and try again. However, once it was secured in place it felt extremely solid and it was then that I realized that all the suffering during installation was worth it. At first I felt kinda weird and not incredibly comfy. I had to just walk around holding it for little while to get used to it real quick. After that, it felt REALLY great to hold. It beats holding the receiver or a RIS/handguard by far. On top of all that, you will be the envy of all your airsoft buddies that don't have one of these.

Pros:
Feels great hold.
Looks SUPER sexy.
Very solid construction.
Reduces wrist strain.
Your opponents will put their guns down mid-game to gawk at this.

Cons:
A pain to install (but worth it).
Requires a hefty chunk of rail space.
verified buyer
C. HOUGH | 2011-12-09
Product Information:
I received my AFG from MagPul today along with my other accessories I ordered, I live in South Carolina and Airsoft G.I. got me my stuff within 5 days which is amazing, and this Fore-Grip.. My Goodness it feels great. I have an Airsoft G.I. G4-A3 and it fits amazingly. The design is much better than my vertical Fore-Grip because me not thinking, the rails did not allow the vertical grip to lock into the desired location (Rail inner section is hollow) but this Fore-Grip uses a different design to lock into place and is ideal for any M4 type gun with the correct rail system. What I did not know is that a small piece was included to convert the middle finger divider into a smooth section which is pretty cool. This is $37 very well spent, Extremely worth the money.

Pros:
Extremely Comfortable
Looks Awesome on the Gun
Very Sturdy Build
Some people say the install is annoying, but to me it was pretty simple
One word describes it: MagPul - Everything MagPul makes is really cool

Cons:
You're still contemplating whether to buy one or not. Just order it!
will it fit

Will it fit the combat machine m4?

2455 days ago

diego m

0

0

(I have this same question)

Staff Answer:

As long as you have a rail system

2453 days ago

1 answers
1 asked
Search Tags: AEG GBB CQB Field Grip AFG RIS RAS MOE
People who bought this item also purchased: