Madbull Ver. 2 Precision AEG M16 Inner Barrel (509mm)
[Z10H05C][01231 / MB BARL 509MM]
( 17 Reviews )
❤ Add to Wishlist
Free Shipping for orders over $149
No Coupon needed
Madbull is one of the top manufacturers in the airsoft industry, they are world renowned for their high quality products and their tight bore precision inner barrels are no exception. The Madbull Version 2 Precision inner barrel features a 6.03mm diameter for increased range, accuracy, and in some cases increased muzzle velocity.
Specifications:
Manufacturer: Mad Bull
Length: 509mm
Bore: 6.03mm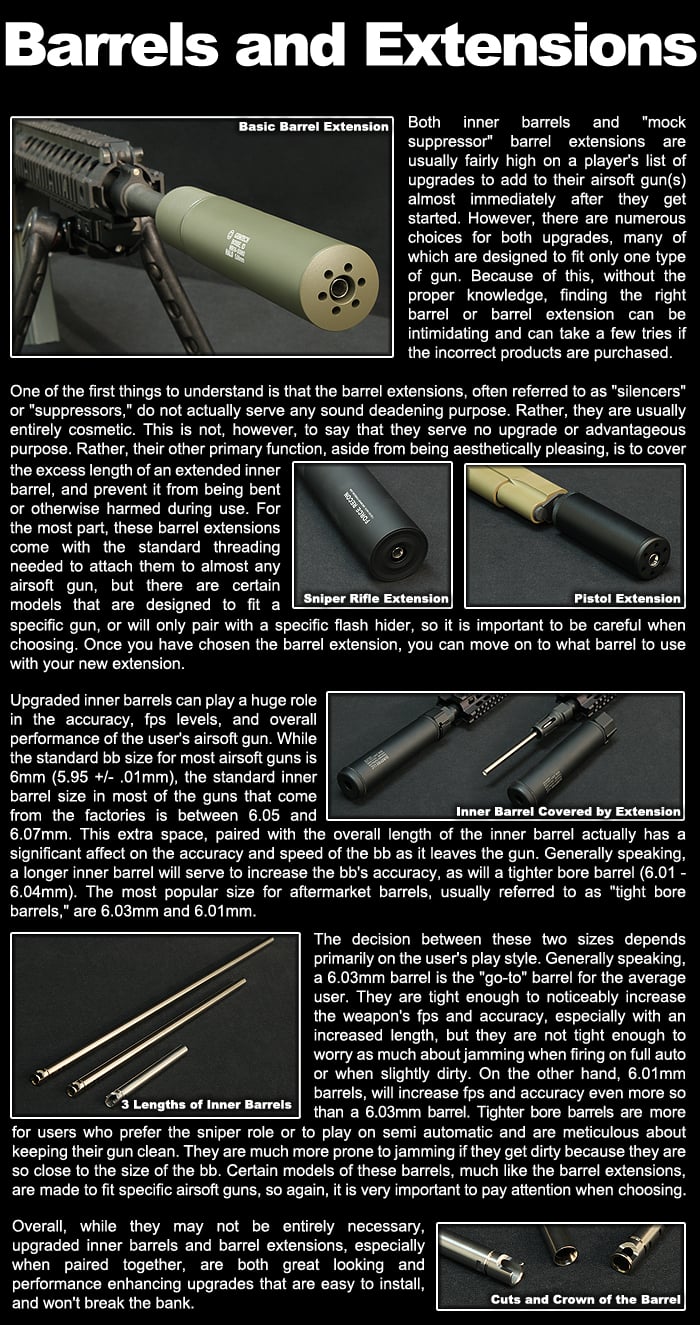 Specifications

Manufacturer: Madbull Airsoft
Color: Black
Size: 509mm
Material: Aluminum
Package Includes: One (1) Precision Inner Barrel
see 17 reviews
|
Write a Review
D. SAGE | 2008-11-04
Product Information:
Wow! Very good results using this and a KA hop up unit plus a systema bucking!
Like, at least 180 foot hits on a 10"x10"

And to B. Rodriguez... That would be your hop up causing the jams. That or you failed to maintain your barrel. I've ran over 60,000 rounds through this barrel without a jam, thanks to using lubrication down the barrel.

Pros:
Amazing Results
Quite light compared to other barrels weight wise
Looks sleek ;O

Cons:
Uhh.. Er..
verified buyer
L. ALLISON | 2013-01-08
Product Information:
This barrel is amazing to say the least my groupings at 75 meters are 12"by 12" all shots on target the only flyers were still in the 12by12 square! i have this barrel a REAPS bucking and a madbull ultimate 3in1 hopup

Pros:
light (can be a con)
black
SUPER GREAT GROUPINGS AT almost 100 YARDS
sniper type accuracy for almost any AEG
better than the ASGI TBB witch is also good (id buy this one over that one)

Cons:
its aluminum witch we all know is an extremely dirty metal witch results in cleaning more than a standard tightbore but who cares if ur spending this money on a TBB you should maintain it.
Light could bend easy?

Really no big cons just little things
WARNING DO NOT USE MADBULL BBS WITH THIS BERREL they tend to Melt to the top...? or so i have herd use MATRIX .25s or G&G .25s

BUY THIS you will not regret it
verified buyer
M. INN | 2013-10-17
Product Information:
Used in my KWA SR12 and sometimes my JG MK36c. Increases accuracy greatly but the difference with the KWA's 5.03mm isn't greatly noticeable but in guns with larger width barrels it might be a good investment.

Pros:
Increases seal on the bbs adding a small amount of fps and increasing range and mainly accuracy.


Cons:
Have to clean often to avoid jams
Not worth the upgrade if your gun came with a 5.03mm barrel
Krytac trident MK2 SPR ?

will it work with the krytac mk2 spr, why or why not ?

2162 days ago

Brenan H

0

0

(I have this same question)

Staff Answer:

The inner barrel may be too long compared to the stock length, 416mm. We recommend using the Krytac Prometheus EG Barrel 416mm for SPR, which has the window cut to match the stock Krytac barrel.

1694 days ago

1 answers
1 asked

Compatibility

Will this fit in a Krytac SPR MK2?

2237 days ago

Doug R

0

0

(I have this same question)

Staff Answer:

The inner barrel may be too long compared to the stock length, 416mm. We recommend using the Krytac Prometheus EG Barrel 416mm for SPR.

1694 days ago

1 answers
1 asked

compatible

G4a3? I know I might need a mock suppressor

2822 days ago

Raul g

0

0

(I have this same question)

Staff Answer:

Yes, though as you mentioned you may need a suppressor which exceeds ~150mm in length.

2821 days ago

1 answers
1 asked

G&G m4 carbine

Hi I was wondering if this will fit my G&G m4 carbine gbbr ver2

2827 days ago

Joseph O

0

0

(I have this same question)

Staff Answer:

The G&G GBBRs use standard M4 AEG Hopup, Bucking, and Barrel components, so this should be compatible.

2826 days ago

1 answers
1 asked

will this fit in my a&k m249 saw mk 1

I want my gun to have more range

3092 days ago

Jack W

0

0

(I have this same question)

Staff Answer:

It should fit, however it will most likely hand out of the front of the gun if your outer barrel is not long enough

3092 days ago

1 answers
1 asked

would it work?

Would this work with a gun rps of 18-19 or would I need something with a bigger diameter?

3131 days ago

Orlando T

0

0

(I have this same question)

Staff Answer:

any barrel should be fine.

3129 days ago

1 answers
1 asked

back in stock?

when would this be back in stock?

3142 days ago

Noah s

0

0

(I have this same question)

Staff Answer:

We have them on order and are currently waiting on our shipment.

3142 days ago

1 answers
1 asked

will it fit

will this fit in a Robinson Armament Polymer XCR-L Airsoft Gun (Tan/Long)

3146 days ago

Ben S

0

0

(I have this same question)

Staff Answer:

This barrel should fit, however you will want to make sure you have enough compression to have such a long barrel.

3143 days ago

1 answers
1 asked

will this work with the vfc 416

Was wondering if this will work with the vfc 416 cqb if I also put on the madbull Daniel defense m4 profile outer barrel

3219 days ago

keenan t

0

0

(I have this same question)

Staff Answer:

Yes, this will work with the 416. Keep in mind that the gas block for the 416 will not fit on any other outer barrel, meaning that if you want a gas block on the DD M4 Profile outer barrel, you will need to purchase a compatible gas block.

3219 days ago

1 answers
1 asked

will this work with my agm m4

i want an m4 sniper, will this work with my agm m4

3220 days ago

Jordan Y

0

0

(I have this same question)

Staff Answer:

This should work with your AGM M4, but keep in mind that you may see a loss in FPS if you do not also replace the gearbox cylinder.

3219 days ago

1 answers
1 asked
Search Tags: Internal Upgrade Replacement Tightbore Range Accuracy Part Piece Increase Performance Trajectory Grouping Distance Output Tight Bore
People who bought this item also purchased: