Madbull Ver. 2 Precision AEG E90/MK36C Inner Barrel (247mm)
[SF27][00165 / MB BARL 247MM]
( 5 Reviews )
❤ Add to Wishlist

New to airsoft? Here are some safety tips for airsoft guns that we recommend following.
Madbull is one of the top manufacturers in the airsoft industry, they are world renowned for their high quality products and their tight bore precision inner barrels are no exception. The Madbull Version 2 Precision inner barrel features a 6.03mm diameter for increased range, accuracy, and in some cases increased muzzle velocity.
Specifications:
Manufacturer: Mad Bull
Length: 247mm
Bore: 6.03mm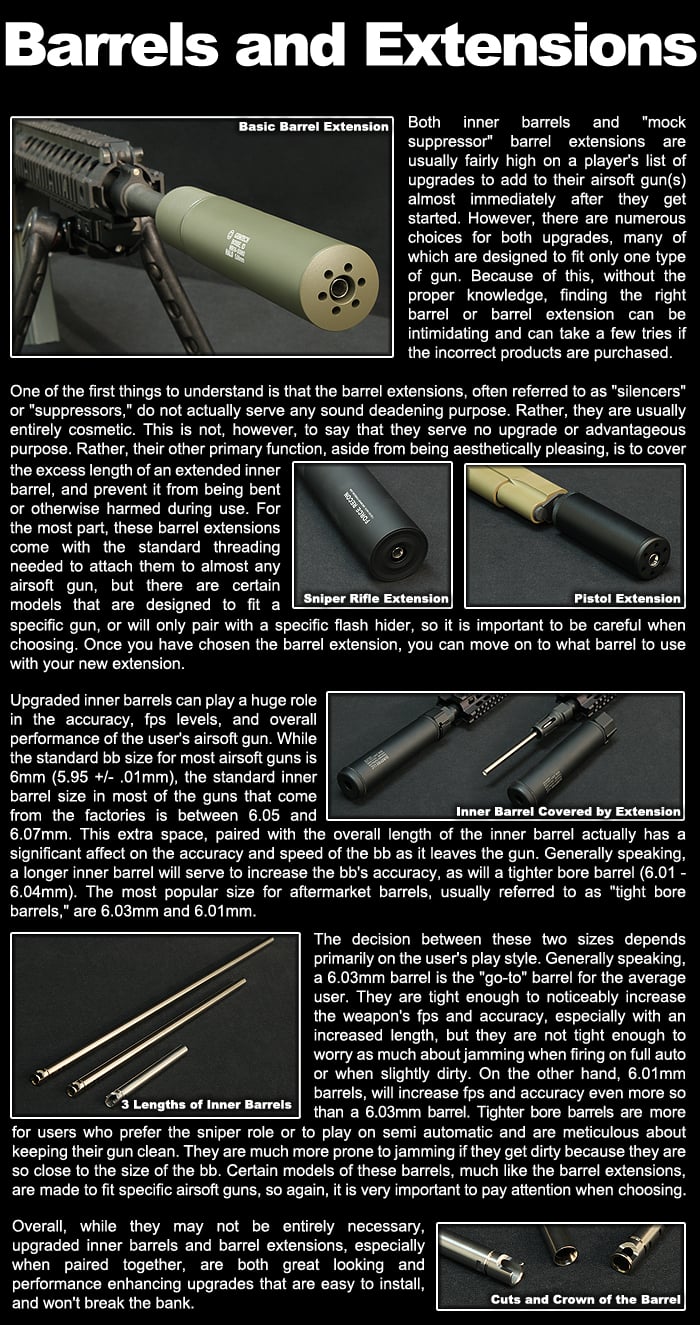 Specifications

Manufacturer: Madbull Airsoft
Color: Black
Size: 247mm
Material: Aluminum
Package Includes: One (1) Precision Inner Barrel
see 5 reviews
|
Write a Review
verified buyer
S. T. | 2009-03-18
Product Information:
Before I start off, this barrel is a budget barrel, and will not net you amazing accuracy and much gain compared to EDGI, Promy, and PDI barrels.
I bought this barrel as a replacement for my Echo 1 G36C. I got pretty bad accuracy woth the stock barrel, and was on a tight budget, so I went with Madbull.
Upon receiving it, I noticed how lightweight it was. The barrel is made out of light-weight, aircraft-grade aluminum. That is why it was so light. I thought for a second that the barrel was plastic.
Installing was a piece of cake, as long as you know what you are doing. The C-Clip notches are a little to narrow, so the c-clip doesn't really lock in, and can make putting the barrel/hopup assembly a pain to put in the gun and remove from the gun. Filing will do the trick though.
I don't know about FPS gain. If there was any, it was minimal and not noticable. Probably no more than a 10 FPS gain. Don't get this barrel expecting a 30 FPS improvement (don't ever believe ShortyUSA's reviews).
Groupings did increase a little. I don't have any exact measurements, but there was a noticable increase in accuracy. This barrel plus a Systema bucking and H-Nub will result in a 140 ft effective range and pretty good accuracy, especially over the stock Echo 1 barrel/bucking/nub.

Pros:
Cheap, good buy on a budget
Increases FPS slightly
Increases groupings a little bit
Paired with a good hopup, nub, and bucking, this barrel can complete an awesome platform.

Cons:
Light. Still strong, but makes me feel like the quality is lacking.
C-Clip notches a little too small
verified buyer
K. MUEHLENFELD | 2009-12-01
Product Information:
This is a great product I highly recoment this to anyone who needs accuracy. I put this in my g36c and it is just absolutely amazing.

Pros:
light weight
accurate
easy instalation
overall great.

Cons:
NONE!!!!!!!!!
M. FIALA | 2014-01-29
Product Information:
Very nice barrel which gives really nice range and relatively tight groupings. The finition is really smooth and the markings are extremely well engraved. I would suggest getting a Madbull blue bucking with this.

Pros:
1) Good range
2) Good accuracy
3) Good quality


Cons:
No real cons... the barrel is a bit thin and fragile but no real big deal
Search Tags: Internal Upgrade Replacement Tightbore Range Accuracy Part Piece Increase Performance Trajectory Grouping Distance Output Tight Bore
People who bought this item also purchased: