Madbull Ultimate Silicone Oil 30ml
[SI04][06458 / MB SILICONE OIL]
( 1 Reviews )
❤ Add to Wishlist
Free Shipping for orders over $149
No Coupon needed
Description:
When you are working with the best internal upgrade parts in the airsoft world you're going to need to compliment that with the best lubricant in the airsoft world, therefore Madbull have introduced their Ultimate Silicone Oil! This ultimate silicon is made in Germany and it's characteristics have been crafted to cater to the airsoft perfectionist.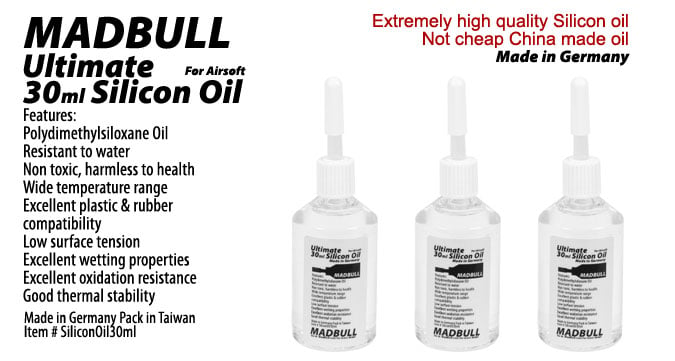 Specifications

Manufacturer: Madbull Airsoft
see 1 reviews
|
Write a Review
J. MAHON | 2013-03-09
Product Information:
As always with Madbull this is another great product. Bottle cap has built in applicator great for that automatic drip (lol) that makes filling a propane adapter without spilling excess oil everywhere. This also happens to be the proper viscosity oil KWA recommends for their LM4 GBBR.

Pros:
Recommended viscosity for the KWA LM4,
Comes with a fine tipped spout,
Great for propane adapters.

Cons:
uh, none.
I am required to type 30 characters here but I really have nothing bad to say about this product.
Does this work to mix with propane?

I was wondering if this would hurt my GBB to mix with the propane I use to gas up magazines.

3035 days ago

Miguel M

0

0

(I have this same question)

Staff Answer:

The product contains 100% silicone oil. Therefore, it should be fine to use with a mixture of propane to use as a source of gas similar to green gas.

3034 days ago

1 answers
1 asked
Search Tags: Lube Gears Lubrication AEG GBB Upgrade Lubricant
People who bought this item also purchased: