Madbull Sniper .40g 2000 ct. BBs (Gray)
[S13A06][04713 / BB MB .40X2K]
( 5 Reviews )
❤ Add to Wishlist
Description:
One of the most popular BBs out in the market, it's as close to a perfect 6.00mm as you can get. The Madbull 0.40g BBs come in bottles of 2000 rounds. Using a 0.40g BB will drop fps but increase the kinetic energy and overall accuracy, which is especially useful for outdoor play. Also, 0.40g BB are the perfect weight for use with sniper rifles.
Mad bull has made a name for themselves with the quality of their wide range of airsoft parts and accessories. These Madbull BBs are constructed from ABS plastic and go through a multi-polish process to remove any imperfections. The precise craftsmanship of the 5.98 diameter make these BBs accurate without the jamming and smashing that can occur with lesser BBs.
Specifications:
Manufacturer: Madbull Airsoft
Dimensions: 5.98 mm
Quantity: 2000 BBs per bottle
Design: High power gas rifle
Features:
Multi-Polish Process
Accurate without Jamming
ABS Construction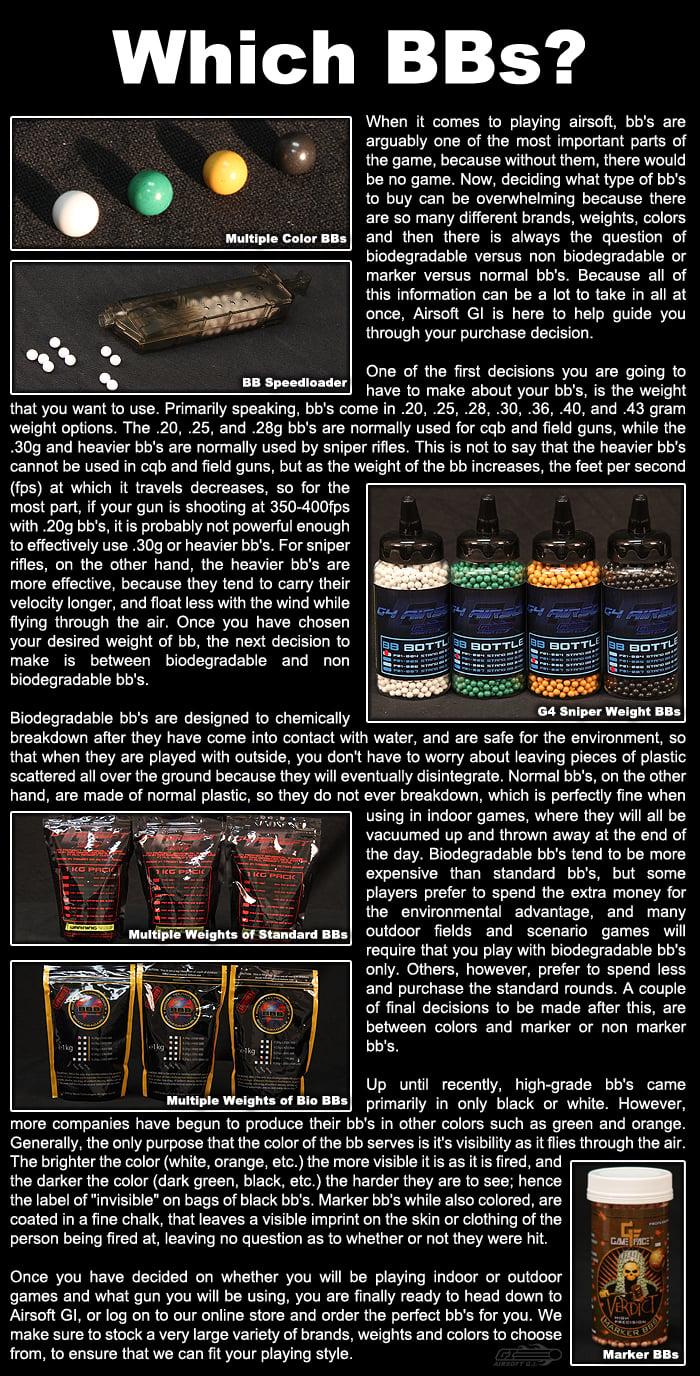 Specifications

Manufacturer: Madbull Airsoft
see 5 reviews
|
Write a Review
B. CHERRY | 2009-09-30
Product Information:
Oh Lawd!

These BBs are the best sniper BBs, ESPECIALLY FOR LONG RANGE. The .30s are too light and the .43s are too heavy. For a gas sniper rifle ONLY!

These are the best BBs for the KJW M700, and other 500+ FPS snipers.

Only use them for long-range, because....well....it's mean to shoot somebody with these 10 feet away. My punishment was 50 shots. Ow.

They fly a long way, and are very straight.

Pros:
Heavy
Long Range
Never Break
Accurate

Cons:
Not biodegradable
verified buyer
A. LYONS | 2010-03-21
Product Information:
i bought these bbs locally and i must say WOW. i have an A&K SVD and i must say even though airsoft gi says for high power gas snipers only with just the drop in of an M140 spring i am able to sling these things way out there but thats i different review. these bbs will take about 160 fps off of your shots but they still really pack a punch and their flight path does not deviate much even with the amount of wind there was.

Pros:
the satisfaction of watching your opponent jump through your scope after shooting them
accuracy
hard to track from the receiving end of the barrel
can be tracked by the shooter
6.95 mm +/- .01

Cons:
expensive
when in the shade they are hard to track
have to turn hop up way up
verified buyer
J. ROBINSON | 2010-04-04
Product Information:
Outsanding BB. I use .36s and .40s in my KWA SR12 DMR. You need to be running a very very very hot gun to really get the range out of these things. My gun is running just around 500 fps with .20s, with these things, it gets em out a fair ways, but surely not reaching far enough.

How ever they are very accurate and get through light brush very easily.

Pros:
Great BB
Accurate
Delivers good "contact" People Call Their Hits When I Shoot Them.
Minimal wind effect.

Cons:
You need to be running around 600fps to really fly these things. I am not joking. If you are basing a weapon system around these BBs, aim high. Because they will need every ounce of push you can give them....

Which means your gun may be to hot for nearly every legal field in North America....
Search Tags: Heavy High Quality Precision Grade Seamless Polished Ammo BBs Bag .40 .40g 40 40g .4 .4g g Sniper Madbull
People who bought this item also purchased: