Madbull Gemtech Raptor II Barrel Extension for MK5/H&K MP5 3-Lug Adapter Only
[Y02E02][07704 / MB BE RAPTOR]
( 4 Reviews )
❤ Add to Wishlist
Free Shipping for orders over $149
No Coupon needed
Description:
The MadBull Gemtech Raptor II Barrel Extension for MK5 / H&K MP5 3-Lug Adaptor Only is another great barrel extension released from Mad Bull Airsoft under license with Gemtech of Boise, ID. Gemtech has long been known for the quality of their silencer designs and have been in use with numerous branches of law enforcement and the armed forces. The Raptor 2 is designed for a MK5/MP5 with a 3-lug style flash hider and locks on very tightly without wobble or flex. Each barrel extension is constructed from high tensile strength aluminum and engraved with licensed Gemtech trademarks. This barrel extension is an excellent choice to disguise an extended inner barrel while keeping the weight on the front end down.
Specifications:
Manufacturer: Madbull Airsoft
Weight: 155g
Color: Black
Length: 190mm
Material: T6 6061 Aluminum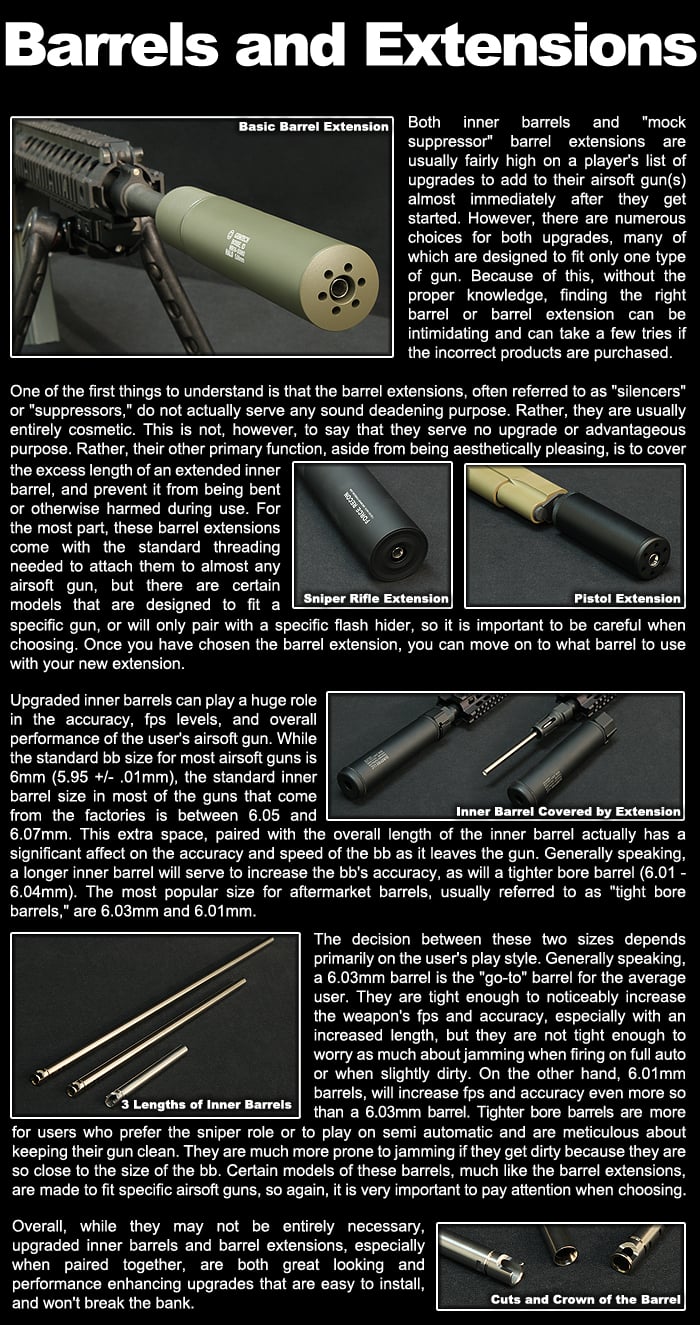 Specifications

Manufacturer: Madbull Airsoft
see 4 reviews
|
Write a Review
B. GADDIS | 2013-10-17
Product Information:
It took a long time for me to justify spending over $50 on a hunk of metal that adds no true performance upgrade to my loadout. Even harder to justify it to the Treasury Department (aka "The Wife"). With that said, this is one finely crafted piece of aesthetics. I have an Umarex MP5A5 RIS by G&G (love it) and this suppressor fits perfectly on the 3-lug barrel end (after stripping the heavy orange paint from the MP5's adaptor, but that's for another review). It clicks on with minimal effort and feels rock-solid. It doesn't add too much swing weight to the gun, but it does obviously add some length - something to keep in mind during CQB.
If the time ever comes that I need to upgrade the MP5's already-good stock accuracy, the Raptor II gives me the option of putting a longer barrel inside. However, for now, I'm very content to use it just as a cool-looking piece of kit.

Pros:
*Lightweight
*Solid connection - no wobble
*Quick and easy attach/detach
*Sweet Gemtech trademarks


Cons:
*Completely useless unless upgrading inner barrel to a longer length
*Price is still a little high, personally
*Extra length makes it easier to "flag" your muzzle during CQB
S. LUI | 2013-10-20
Product Information:
I picked up this mock supressor ar GI Tactical. It fits only on mp5s with the 3 lug flashider. The licensed trades are great and spot on. This supressor gives any mp5 that tacticool look.

Pros:
Licensed trades
Can hide extended barrel
3 lug perfect fit
Good build material

Cons:
A bit expensive
Scratches easily
verified buyer
C. THOMAS | 2014-04-15
Product Information:
Hmmm where to start... it's definitely a little pricey for.... well this, but it definitely makes the gun look 1678 times cooler. Ok so inside the suppressor of course it's metal, and down where it actually goes around the flash hider, it's really sharp. Ended up mangling my flash hider and it would wobble a little unless I got it juuust right. I upgraded my inner barrel though and the edges got less sharp and overall now this thing was well worth the money.

Pros:
Stylish
I fit a 363mm M4 inner barrel in my mp5 with a little bit more room so you can do a pretty major barrel upgrade with this
Licensing looks sweet
Covers up the whole flash hider so if your flash hider is orange.... pretty sweet solution right here

Cons:
The outside scratches pretty easily
Jacked up the 3 prongs of my flash hider at first
No real performance upgrade unless its used to cover a longer inner barrel. Gotta keep that inner barrel clean.
Search Tags: Extender External Modification Mock Suppressor Mock Fake Suppressor Silencer Barrel Extension Extender Can Cosmetic
People who bought this item also purchased: