Madbull Gemtech "Outback 2" Barrel Extension
[Y02C02][04583 / MB BE OB2 BLK]
( 18 Reviews )
❤ Add to Wishlist
Free Shipping for orders over $149
No Coupon needed
Description:
The Outback is another great barrel extension released from Mad Bull Airsoft under license with Gemtech of Boise, ID. Gemtech has long been known for the quality of their silencer designs and have been in use with numerous branches of law enforcement and the armed forces. The Outback will fit on most airsoft guns with a 14mm counter-clockwise thread. Each barrel extension is constructed from high tensile strength aluminum and engraved with licensed Gemtech trademarks. This barrel extension is an excellent choice to disguise an extended inner barrel while keeping the weight on the front end down.
Specifications:
Length: 130mm (5.13")
External Diameter: 25mm (0.99")
Thread Type: 14mm Counter-Clockwise
Thread Position: The edge of the barrel extension
Recommended fit: M4, M16, AUG, SCAR, MK36, MK5, and pistols
Color: Black
Features:
Extra Light Weight
High Tensile Strength Aluminum
Licensed by Gemtech
Please Note:
The Mad Bull barrel extensions have no suppressive ability.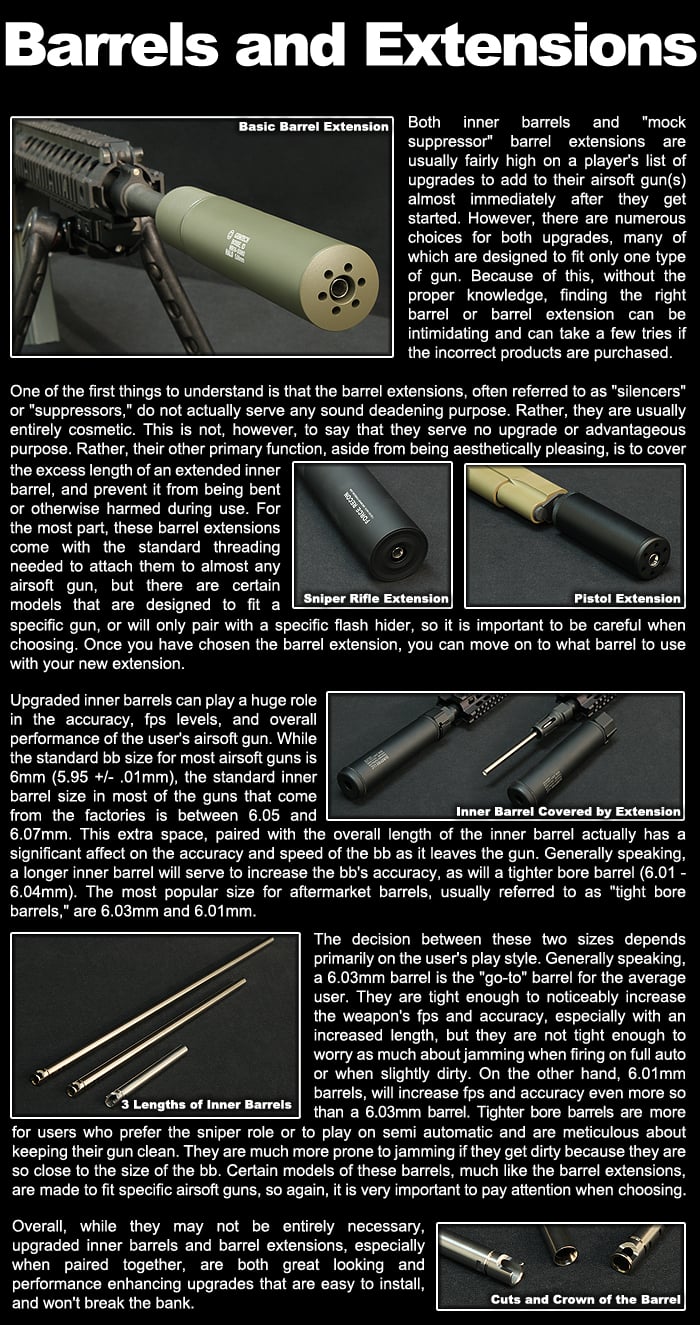 Specifications

Manufacturer: Madbull Airsoft
see 18 reviews
|
Write a Review
verified buyer
I. LUJAN | 2013-08-23
Product Information:
When I first received this suppressor for my m4 Raider, I was slightly confused as the package said it was "For pistol". Being as it may, it fit perfectly on it. My overall impression on this suppressor though is mixed. It will change the look on your weapon, hands down, but for a rifle, its a tad bit small.

This suppressor is really thin (take your pinky and finger next to it, and wrap your finger on the opposite hand around them, and its about the same width). The length isn't as long as I thought it would be (about the size of a standard ballpoint pen). Believe it or not, it does change the sound of shots while its on it though, and distance improved somewhat, but if what you want it looks and a suppressor to look like the real thing, I say get the "Blackside" version of this suppressor.

This suppressor is good, but I think it should really only be for pistols. Think of this as a baby suppressor on rifle's, but an adult on pistols.

Pros:
Excellent feel
Excellent look
Very well made


Cons:
Felt like the description was a bit misleading with rifles
Package stated it was for pistols
J. BIAGTAN | 2013-11-18
Product Information:
This is excellent for the money. I bought this awhile back and I love it. The problem is, I bought an aftermarket metal outer barrel and it fit halfway on it, but I didn't force it on because I didn't want to ruin the threads. Still, a great product if you wanna go for looks

Pros:
-Great feel
-looks great on any M4/AR platformed gun
-full metal
-Nice trademark prints

Cons:
-doesn't fit on all outer barrells
verified buyer
R. SANTIAGO | 2014-04-03
Product Information:
This works fine if covering up an inner barrel extension, looks pretty cool. I like the trades on the suppressor, it adds something to my gun which was a plaino m4 before i added this and a few other upgrades.

Pros:
Metal construction
strong
hides my inner barrel without a problem

Cons:
did not screw on all the way on my G&G cm16 raider. (Might have something to do with the way i removed the orange tip from mine)
will it fit on a KWA cqr mod 2?

2499 days ago

taylor h

0

0

(I have this same question)

Staff Answer:

It should fit

2497 days ago

1 answers
1 asked

will it fit a m16

should i use it on a m16

2587 days ago

Diego r

0

0

(I have this same question)

Staff Answer:

It should fit most airsoft guns

2587 days ago

1 answers
1 asked

Will it fit

If i use a 12mm+ to 14mm- adapter, would this work on a KWA Mp7?

2669 days ago

Ann G

0

0

(I have this same question)

Staff Answer:

It is possible but the BB could ricochet inside the barrel extension and cause horrible accuracy.

2661 days ago

1 answers
1 asked

Will this fit on an ICS M4 S-SYSTEM?
0 answers
1 asked

Will it fit

Will it fit on my M1911 A1

2926 days ago

John M

0

0

(I have this same question)

Staff Answer:

If it has 14mm CCW threads

2924 days ago

1 answers
1 asked

Will this fit my g&g mod0 dst

2954 days ago

Nate C

0

0

(I have this same question)

Staff Answer:

Yes

2952 days ago

1 answers
1 asked

Will this fit?

Will this fit on the Combat Machine MK18 MOD1 AEG?

2967 days ago

Austen Z

0

0

(I have this same question)

Staff Answer:

Yes.

2966 days ago

1 answers
1 asked

will this fit on the tar 21 competition series

will this fit on the tar 21 competition series with 14mm ccw threads

3003 days ago

ryan p

0

0

(I have this same question)

Staff Answer:

It should be able to fit

3000 days ago

1 answers
1 asked

will this work on the elite force arx 160

i have a arx 160 and i dont wether to get this or not

3011 days ago

chapin S

0

0

(I have this same question)

Staff Answer:

It should be able to work

3011 days ago

1 answers
1 asked

M27 IAR

Would this fit on the M27 IAR?

3028 days ago

Daniel A

0

0

(I have this same question)

Staff Answer:

This will fit any gun that has 14mm counter clockwise threads.

3028 days ago

1 answers
1 asked

can it work for mp7

I have a mp7

3051 days ago

janie m

0

0

(I have this same question)

Staff Answer:

The mp7's threading is 12mm CCW, and it will not work with this mock suppressor.

3048 days ago

1 answers
1 asked

Can it go on an G&G combat machine

Can we use it on a G&G combat machine

3055 days ago

Mathias G

0

0

(I have this same question)

Staff Answer:

It should fit.

3055 days ago

1 answers
1 asked

i have a javelin works electric blowback aeg will this fit on the treads that are already on the gun when you screw off the flsh

will it fit on the threads or no

3087 days ago

carter k

0

0

(I have this same question)

Staff Answer:

It should fit.

3085 days ago

1 answers
1 asked

im looking if it fits on the magpul moe for G&P

this is the gun im getting and im looking for a mock suppressor

3120 days ago

Brady S

0

0

(I have this same question)

Staff Answer:

You will need a mock suppressor that has CW (clockwise) threads, as G&P Guns have CW threads.

3119 days ago

1 answers
1 asked

will this fit on a magpul 14.5" carbine

this is the gun i am getting so i am also looking for suppressors for the overall look of the gun and before i buy it i need to know id it will fit

3121 days ago

Brady S

0

0

(I have this same question)

Staff Answer:

It depends on the OEM of the Magpul carbine. Some Magpul Carbines use 14mm CW threads, while others use the more standard 14mm CCW threads.

3120 days ago

1 answers
1 asked
Search Tags: 14mm CCW M4 Cosmetic Mock Suppressor Out Back Gem Tech Mad Bull Silencer Quiet Mock Fake Suppressor Silencer Barrel Extension Extender Can
People who bought this item also purchased: