Madbull Gemtech "Blackside" Barrel Extension
[Y02F01][02357 / MB BE BS BLK]
( 55 Reviews )
❤ Add to Wishlist
Free Shipping for orders over $149
No Coupon needed
The Blackside is one of the latest barrel extensions released from Mad Bull Airsoft under license with Gemtech of Boise, ID. Gemtech has long been known for the quality of their silencer designs and have been in use with numerous branches of law enforcement and the armed forces. The Blackside will fit on most airsoft guns with a 14mm counter-clockwise thread. Each barrel extension is constructed from high tensile strength aluminum and engraved with licensed Gemtech trademarks. This barrel extension is an excellent choice to disguise an extended inner barrel while keeping the weight on the front end down.
Specifications:
Length: 155mm (6.10")
External Diameter: 35mm (1.37")
Thread Type: 14mm Counter-Clockwise
Thread Position: The edge of the barrel extension
Recommended fit: M4, M16, AUG, SCAR, MK36, MK5
Color: Black

Features:
Extra Light Weight
High Tensile Strength Aluminum
Licensed by Gemtech
Please Note:
The Mad Bull barrel extensions have no suppressive ability.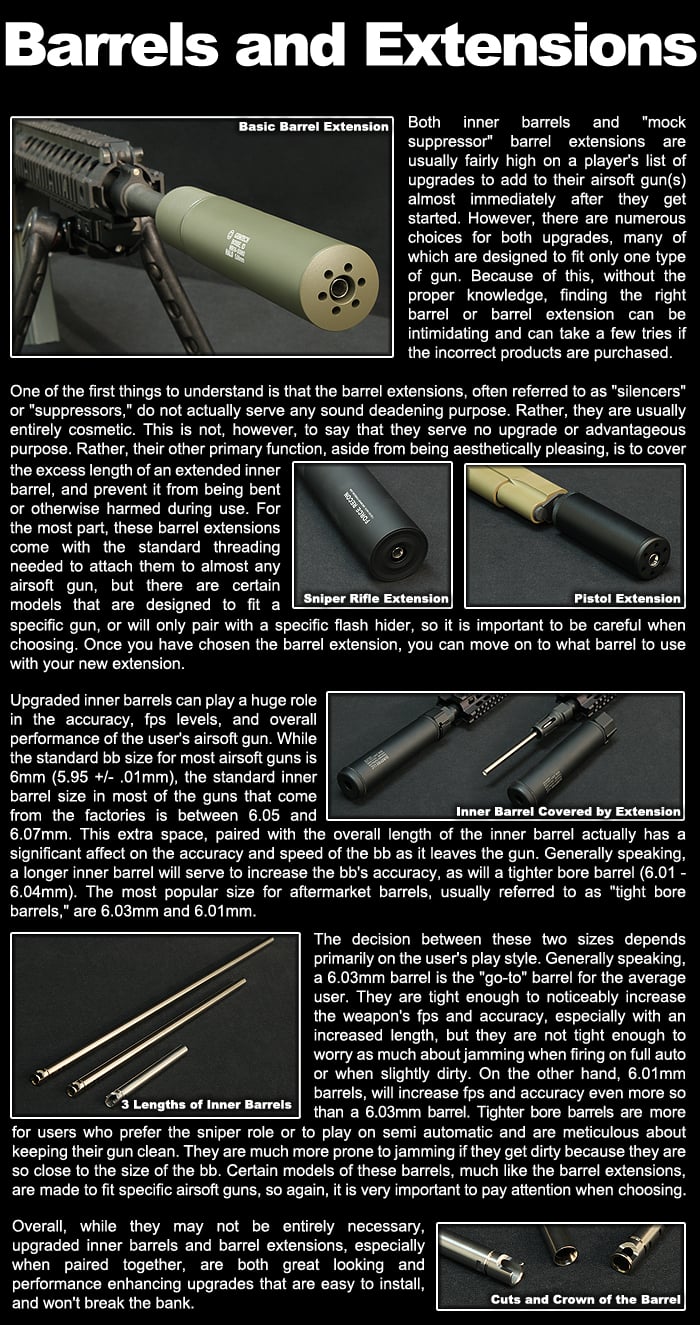 Specifications

Manufacturer: Madbull Airsoft
see 55 reviews
|
Write a Review
verified buyer
D. DUKE | 2014-06-04
Product Information:
I bought this a few weeks ago to cover up the end of my inner barrel which i did perfectly. It is very light weight and seems to be very sturdy none of the end caps are loose unlike other barrel extensions that I have bought before.

Pros:
very light weight
high quality powder coat paint job
threads on with out any problems

Cons:
the only thing that i could find wrong
is that the white lettering on the side seems very cheap
R. LEDBETTER | 2014-07-06
Product Information:
I got this for my M4 CQB-R, and honestly there aren't many problems with it. The trades are a little cheap, and the finish needs some improving but otherwise it's still pretty good. It is a little small though. More of a pistol suppressor than one for a rifle.

Pros:
-Durable
-Good looking
-Removable end caps

Cons:
-Bad finish altogether (fixed with some of my own Krylon lol)
-Small, both in diameter and length for a rifle, especially my Masada—not so much my CQB-R
verified buyer
B. MULLINAX | 2016-03-25
Product Information:
I purchased this item awhile back to make my G&G GR16 Raider stand out from the crowd. I had easily managed to get this put on, and with a barrel extension it looks very nice.

The Gemtech does appear flimsy, but it is definitely rugged. It has very nice markings stamped on the side of the "suppressor".

It appears to be constructed out of aluminum, with a heavy coat of black paint. It's definitely on the lower end of the price range, I would recommend this to anyone who is looking to make their AEGs stand out from the crowd. It attached to my gun with ease, and did not move around when I played around in games. It definitely has solid construction.

I had troubles getting it on the barrel of my G&G GR16 raider, it took some time but it managed to get on. I will be buying another one of these in the future to complement my other G&G rifles.

Definitely a great buy if your looking for that extra wow.

Pros:
Price
Well made
Realistic markings
Solid/Rigid structure
Fits G&G GR16 Variants
-14 mm threading

Cons:
Aluminum construction
Material coating
Restock?

When will this item be restocked?

1522 days ago

Garrett S

0

0

(I have this same question)

Staff Answer:

You'll want to call us at 1.909.869.0671 to get a better and up to date answer for that.

1521 days ago

1 answers
1 asked

Weight?

What's the weight of this item?

1536 days ago

Garrett S

0

0

(I have this same question)

Staff Answer:

~6oz

1535 days ago

1 answers
1 asked

Will it fit?

Will it fit a Classic Army Skirmish ECS KM12 M4 Carbine

1567 days ago

Felix F

0

0

(I have this same question)

Staff Answer:

Yes, it should fit fine.

1566 days ago

1 answers
1 asked

Will it fit?

will it fit a Classic Army Skirmish ECS KM12 M4 Carbine if not what will i need

1567 days ago

Felix F

0

0

(I have this same question)

Staff Answer:

Yes, it should fit fine.

1566 days ago

1 answers
1 asked

Will it fit?

I have an elite force m4 cqb its a first gen gun but i dont know what threads it has also i dont know what length of barrel to get please help

1826 days ago

Branson J

0

0

(I have this same question)

Staff Answer:

This should fit it fine.

1571 days ago

1 answers
1 asked

Fitment

Will this fit a Krytac alpha crb? Can't find any info on threads.

2055 days ago

vincent v

0

0

(I have this same question)

Staff Answer:

It will work for the Krytac Alpha CRB.

1583 days ago

1 answers
1 asked

Krytac Full Metal Trident MK2 M4 SPR ?
0 answers
1 asked

will it fit

Will this be ok on elite force 1911? If not whats the best supreser to use?

2545 days ago

Ayden K

1

0

(I have this same question)

Staff Answer:

This will fit the Elite Force 1911.

2545 days ago

1 answers
1 asked

AR fitting

Will this fit my WE Tech Gas Blowback M4 / M733 Airsoft

2714 days ago

Jessy E

0

0

(I have this same question)

Staff Answer:

As long as the gun uses 14mm CCW threads, this item is compatible.

2712 days ago

1 answers
1 asked

Will it fit?

Will this fit my G&G Combat Machine M4 AEG?

2764 days ago

Abraham D

0

0

(I have this same question)

Staff Answer:

It should fit

2763 days ago

1 answers
1 asked

Will this fit the Airsoft gi rail system w/ mlock?

Fit

2772 days ago

Andy G

0

0

(I have this same question)

Staff Answer:

It will not fit inside without some modification

2768 days ago

1 answers
1 asked

Will it fit?
0 answers
1 asked

Do I need...

...a adapter/threaded barrel for this. I am seriously considering buying this. Please help.

2851 days ago

Dallin W

0

0

(I have this same question)

Staff Answer:

It has a 14mm counter clockwise thread

2850 days ago

1 answers
1 asked

Echo 1 Mod. Tac. Car. 2

Will this fit on my Echo 1 Mod. Tac. Car. 2? If not, what will?

2852 days ago

Dallin W

0

0

(I have this same question)

Staff Answer:

It should

2852 days ago

1 answers
1 asked

Will it fit on my gun?

Would it fit on a G&G CM16 MOD0?

2904 days ago

Jaxxon S

0

0

(I have this same question)

Staff Answer:

It should

2902 days ago

1 answers
1 asked

material

Is it Metal?

2913 days ago

Zach F

0

0

(I have this same question)

Staff Answer:

Yes

2913 days ago

1 answers
1 asked

Will it fit

I have a G&G Combat Machine CM16 MOD0 and I was wondering would it fit the gun

2922 days ago

Julian T

0

0

(I have this same question)

Staff Answer:

It should

2922 days ago

1 answers
1 asked

will it fit on a g&g r8 l aeg

fit

2924 days ago

katherine r

0

0

(I have this same question)

Staff Answer:

It should

2923 days ago

1 answers
1 asked

will it fit

will this fit the VFC SCAR H MK17?

2925 days ago

chris A

0

0

(I have this same question)

Staff Answer:

As long as it has 14mm CCW threads

2924 days ago

1 answers
1 asked

Combat Machine MK18 MOD1

Would this silencer fit over the orange flash hider on this Combat Machine?

2931 days ago

Brendan S

0

0

(I have this same question)

Staff Answer:

No it will not

2931 days ago

1 answers
1 asked

Fit

Will it fit over a madbull tight bore inner barrel

2948 days ago

Prent B

0

0

(I have this same question)

Staff Answer:

Yes

2945 days ago

1 answers
1 asked

Length

How long is this?

2948 days ago

Prent B

0

0

(I have this same question)

Staff Answer:

about 6.5 inches

2945 days ago

1 answers
1 asked

fit?

would this fit on a G&G CM16 Raider

2951 days ago

Brian B

0

0

(I have this same question)

Staff Answer:

It should

2950 days ago

1 answers
1 asked

orange tip and flash hider

do u need an orange tip or a flash hider to put this on your gun? Or does it screw right in without either of these?

2951 days ago

Brian B

0

0

(I have this same question)

Staff Answer:

This threads onto 14mm counter clockwise threads

2950 days ago

1 answers
1 asked

KWA SR10 and tightbore

If I put this on my KWA SR10 then what tightbore will fit with this Gemtech? Thanks

2955 days ago

Andrew H

0

0

(I have this same question)

Staff Answer:

YOu might be able to use up to 509mm Miracle Barrel.

2955 days ago

1 answers
1 asked

Will this Fit?

Will this fit a G&G Combat Machine M4 Carbine Gas Blow Back Airsoft Gun. Thanks

2964 days ago

Nicholas A

0

0

(I have this same question)

Staff Answer:

It should fit

2963 days ago

1 answers
1 asked

Size

Could this fit on a kwa akg74m

2968 days ago

Tyler A

0

0

(I have this same question)

Staff Answer:

Should fit.

2966 days ago

1 answers
1 asked

will it fit?

Will it fit my kwa sr10 without pushing the inner barrel into the hop up?

2983 days ago

beverly m

0

0

(I have this same question)

Staff Answer:

It should be fine

2983 days ago

1 answers
1 asked

Will it fit

Kwa sr10

2998 days ago

Cameron T

0

0

(I have this same question)

Staff Answer:

It should fit as long as the gun has a 14mm counter clockwise threads

2997 days ago

1 answers
1 asked

will this fit on a G&G gr15 raider

Thank you

3010 days ago

Jaxon E

0

0

(I have this same question)

Staff Answer:

As long as the gun has 14mm counter clockwise threads

3008 days ago

1 answers
1 asked

Will it fit?

Will this fit on the Elite Force 1911 TAC? If not is there any adapter/other compatible barrel extension that will work?

3015 days ago

Lynn C

0

0

(I have this same question)

Staff Answer:

This will fit however, we don't suggest putting on a barrel extension because the barrel bushing as well as some internal components could break when operating.

3015 days ago

1 answers
1 asked

Will it fit?

Will it fit on my on my competition ARX-160? if not can i get a suggestion?

3029 days ago

Mateo R

0

0

(I have this same question)

Staff Answer:

This product should be able to fit the ARX-160.

3029 days ago

1 answers
1 asked

Will it fit?

Will this fit the Echo 1 TROY MRF-X AEG Airsoft Gun?

3044 days ago

Jared M

0

0

(I have this same question)

Staff Answer:

It should fit.

3042 days ago

1 answers
1 asked

Will it fit?

Will this suppressor fit on a lancer tactical mk18

3049 days ago

Tyler U

0

0

(I have this same question)

Staff Answer:

It will not. This is because the Lancer Tactical plastic body line m4's do not have proper threads to accommodate mock suppressors.

3046 days ago

1 answers
1 asked

Will this fit on a lancer tactical mk18?

Will this fit on a lancer tactical mk18?

3049 days ago

Tyler U

0

0

(I have this same question)

Staff Answer:

It will not fit because the Lancer Tactical MK18 does not have any threads for the barrel extension to attach on to.

3046 days ago

1 answers
1 asked

Would?

Would this work with a madbull Daniel defense outer barrel

3070 days ago

Tommy G

0

0

(I have this same question)

Staff Answer:

It should work.

3069 days ago

1 answers
1 asked

will this fit in the noveske nsr keymod rail 13.5?

will this fit in the noveske nsr keymod rail 13.5?

3074 days ago

mary k

0

0

(I have this same question)

Staff Answer:

The mock suppressor should be able to fit, but it WILL scratch the sides.

3070 days ago

1 answers
1 asked

Will this fit on a H&K MP7?

Just wanted to be sure before I bought it...

3082 days ago

Andrew W

0

0

(I have this same question)

Staff Answer:

This will not fit in an H&K MP7 because it uses 12mm CW threads. You will need to pick up a barrel adapter.<br><br> Barrel Adapter: <a href="http://www.airsoftgi.com/product_info.php?products_id=7267">http://www.airsoftgi.com/product_info.php?products_id=7267</a>

3082 days ago

1 answers
1 asked

Will this fit as an integrated suppressor through the VTAC "7 handguard?

Just making sure. Sorry. ;-;

3118 days ago

Oscar N

0

0

(I have this same question)

Staff Answer:

This blackside should work on Vtac battle rails. Keep in mind that it will be a very snug fit, which may scratch the paint off of the mock suppressor.

3118 days ago

1 answers
1 asked
Search Tags: 14mm CCW M4 Cosmetic Mock Suppressor Mock Fake Suppressor Silencer Barrel Extension Extender Can
People who bought this item also purchased: