Madbull 6.01mm Precision AEG MK36/E90 Inner Barrel (247mm)
[Z10C02A][06602 / MB BARL ULT 247MM]
( 1 Reviews )
❤ Add to Wishlist
Free Shipping for orders over $149
No Coupon needed
The Madbull 6.01mm Precision Barrel is the tightest bore barrel available and the only choice for players looking for the best possible accuracy and range. Madbull have boldly gone where no company has gone before, this barrel is constructed of 7075 Aluminum. Most real gun and aircraft manufacturers utilize 6061 Aluminum, but this barrel is made of even higher grade aluminum. The characteristics of this metal are perfect for airsoft, it's strong to keep the BB on track and light so it won't add significant weight to the gun.
Specifications:
Manufacturer: Madbull
Length: 247mm
Bore: 6.01mm

Please Note:
The bore of this barrel is so tight around the BB that even the smallest obstruction in the barrel will cause a jam when fired. This barrel is recommended ONLY for advanced/experienced players that take the responsibility to clean their barrels regularly in order to avoid jams. Airsoft GI recommends cleaning this barrel after every day of use.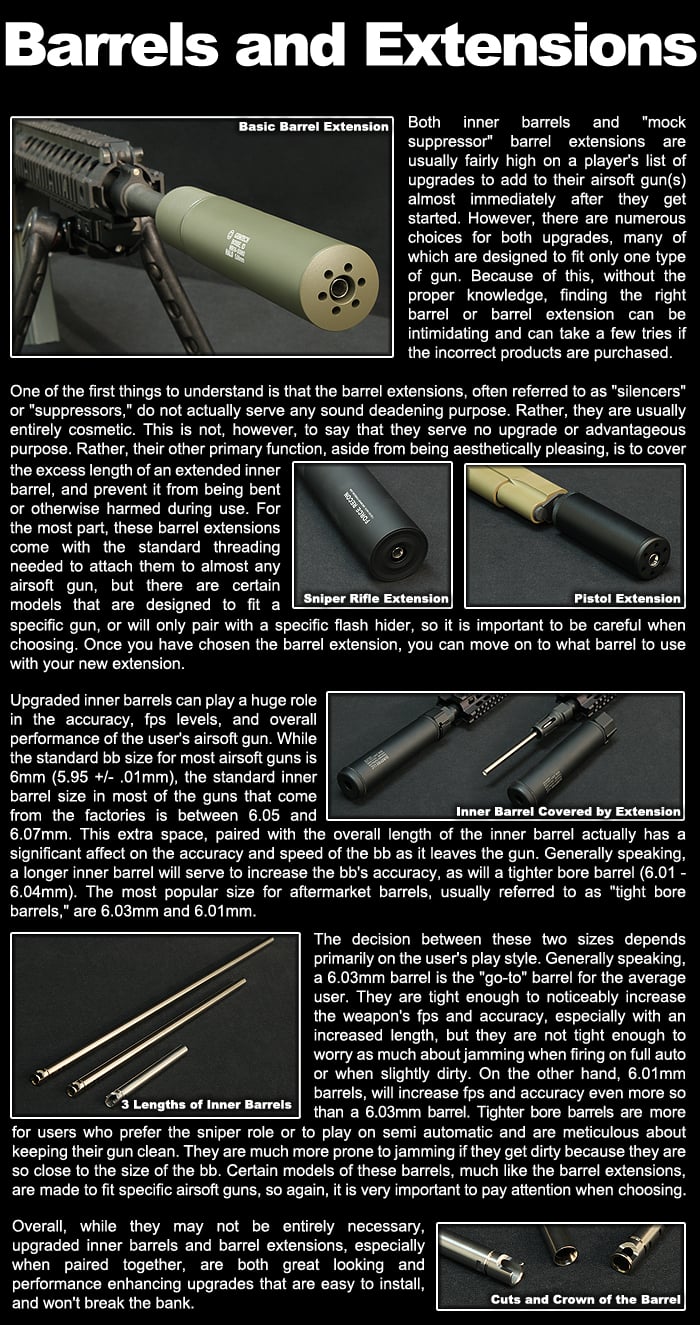 Specifications

Manufacturer: Madbull Airsoft
Color: Black
Size: 247mm
Material: Aluminum
Package Includes: One (1) Precision Inner Barrel
see 1 reviews
|
Write a Review
verified buyer
J. DODDS | 2014-09-22
Product Information:
Great tight bore barrel.
Bought this for my ARES, Umarex, H&K G-36c by Elite Force for a Milsim event here in Michigan in August of 2014.
Installed easily noticeably increased accuracy at range

Pros:
High quality
easy to install
increased accuracy

Cons:
Not really a con for this specific item but for 6.01's in general. You have to keep the inner barrel clean. High quality BB's are typically 5.95 +/- 0.01mm and they will jam if any buildup occurs inside the barrel. I used my gun for 24 hours straight with this barrel and had no issues until the last hour to hour and half of the event. Once I cleaned my barrel at the staging/dead area I was back in the game with no issues.
Comparability

Will this work with a kwa cqr mod 2??

2913 days ago

Michael K

0

0

(I have this same question)

Staff Answer:

It will be too short. The inner barrel length must be at least 300mm

2913 days ago

1 answers
1 asked
Search Tags: Internal Upgrade Replacement Tightbore Range Accuracy Part Piece Increase Performance Trajectory Grouping Distance Output Tight Bore
People who bought this item also purchased: