Madbull 12.8V 1500mAh LFP (LiFePO4) Dual Panel Battery
[SF11][06823 / MB LFP 12.8]
Free Shipping for orders over $89 No Coupon needed
Description:
Lithium Iron Phosphate batteries are the newest available batteries for airsoft and other hobby toys. They are designed as a light weight, high output power source. This 12.8V LiFEPO4 battery can deliver more power than 10.8v Ni-MH large type battery with only half of the size and a third of the battery cells. LiFePO4 batteries are designed to give the same performance as a LiPo but with a higher tolerance for abuse it is much safer to use.
Specifications:
Manufacturer: Madbull
Voltage: 12.8v
Discharge Rate: 40C
Cell Type: Lithium Iron Phosphate (LiFEPO4)
Connector Type: Mini
Recommended Fit: M4A1
Package Includes: Battery

Please Note:

This battery can only be charged with a Madbull LFP Charger.
Airsoft GI Battery Disclaimer:
Airsoft GI is not responsible for batteries that have been damaged as a result of improper operation, storage, misuse or abuse, accident or neglect, such as physical damage resulting from misuse; contact with liquid, water, rain, extreme humidity or heavy perspiration, sand, dirt or the like, extreme heat, or food; use of the battery for commercial purposes or subjecting the battery to abnormal usage conditions, or other acts which are not the fault of Airsoft GI. Make sure you understand how your battery should be used and how long it should be charged. If you have any doubt regarding the operation, charging, or storage of your battery and/or charger, ask. A charging battery should not be left unattended and should be picked up periodically while charging to check for overheating. Do not charge batteries near flammable material. For more information regarding batteries please refer to the Frequently Asked Questions or the Airsoft GI Airsoft 101 Guide.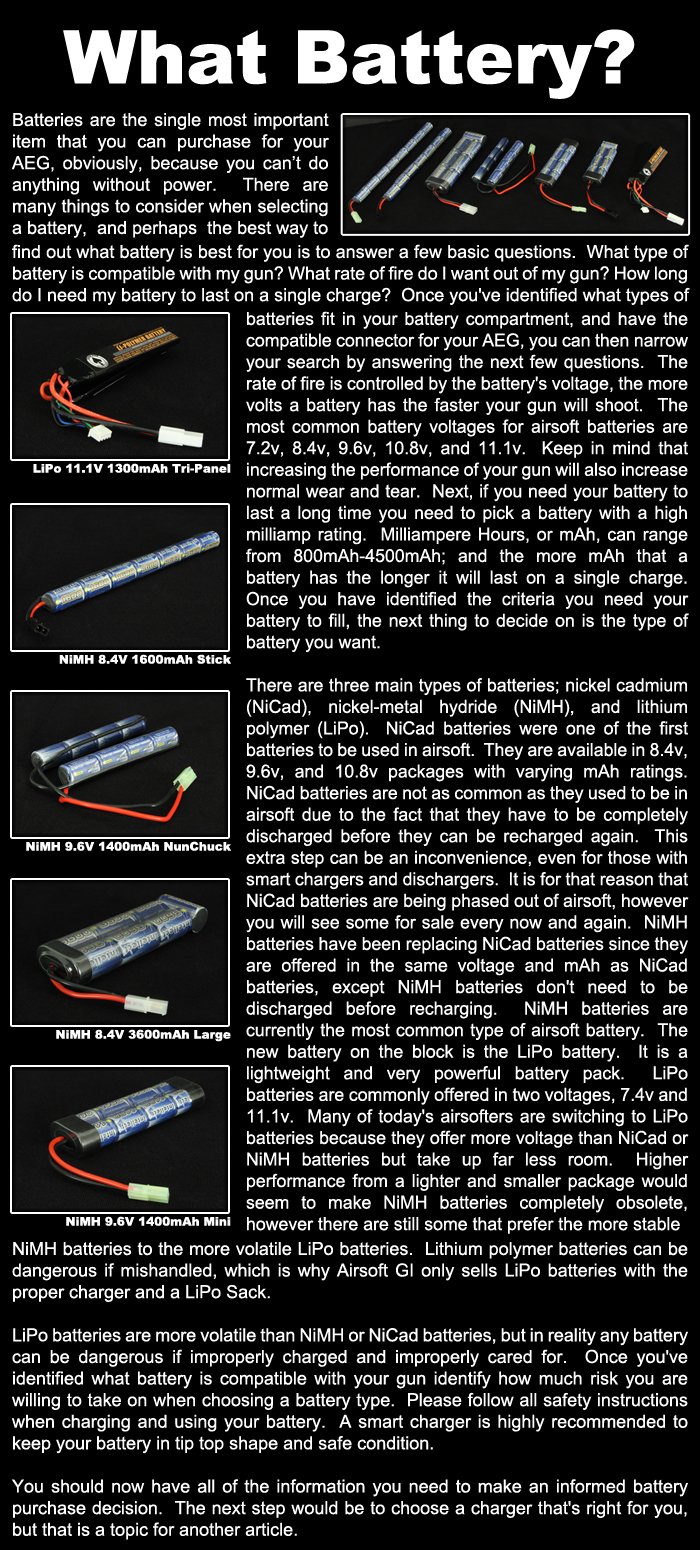 Specifications

Manufacturer: Madbull Airsoft
Fit and safe compatible
0 answers
1 asked

Will this fit in the Krytac stock
0 answers
1 asked

what are the dimensions
0 answers
1 asked

What lipo voltage does this equivalent to?

just curious

2111 days ago

Will A

0

0

(I have this same question)

Staff Answer:

It would be more equivalent to an 11.1

2111 days ago

1 answers
1 asked
Search Tags: Lithium Iron Phosphate KWA AEG 12.8 madbull LiFePO butterfly 1500mah 1500 nunchuck tamiya high voltage