Leapers 1" Carry Handle Scope Mount with Integral Tactical Rails
[L07D00][01389 / MNT 168R25 / LPR AR TRSM]
( 3 Reviews )
❤ Add to Wishlist
Description:
The Leapers AR-15 Carry Handle Mount with Integral Tactical Picatinny Tri-Rails is one of the most versatile scope mounts available. This mount features the following:
See-Thru Carry Handle Mounting Deck with 3- Positions for Additional Eye-Relief Adjustment
Integral Deluxe Tactical Rings to Provide Solid Housing for any 1" Tube Scope
Picatinny Tri-Rails for Flashlight, Laser and Additional Accessory Applications
Unique Horizontal Ring Assembly to Guarantee Complete Fit and Levelness
Creative Deflectable Leaf Design to Achieve Total Stability as well as Easy Adjustment of Scope in Ring Housing
Ideal Height, Length and Spacing of Tri-Rails to Accommodate Most Versatile Applications
Superior Quality Flat Top Adaptor with Retention Thumb Nuts to Fit on any Picatinny and Weaver Rails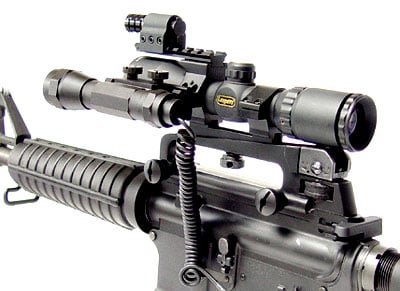 Specifications

Manufacturer: Leapers
see 3 reviews
|
Write a Review
K. BOW | 2008-02-24
All I can say is. this get's my Tacti-COOL seal of approval!
P. HO | 2008-03-05
This review is to counterbalance K. Bow's idiocy, naivete, and overall mental retardation in his review, since he meant it to be good but like so many people simply didn't RTFM or don't know how to read and see that 1 star is actually a bad rating. Not to mention he obviously didn't get this in the first place.
P. HO | 2008-03-05
This is for more anti-retardation administration. Read below.
Search Tags: Angle M4 M16 Rail Red Dot Scope Optic Mount RIS RAS Flat Top