Lancer Tactical High Capacity 300 rd. AEG Gen 2 Magazine (Black)
[SF24][32336 / LT-01B-MAG-G2]
( 2 Reviews )
❤ Add to Wishlist

New to airsoft? Here are some safety tips for airsoft guns that we recommend following.
High Capacity magazines are the bread and butter of many airsofters when it comes to keeping their guns fed with BBs. This Metal and Polymer constructed magazine will hold up to 300 rounds of your preferred weight of BB allowing you to maximize your time on the trigger and avoid reloading until it is absolutely necessary. The high tension spring also ensures you will feed seamlessly with your AEG cutting down on feeding problems, making this the perfect pairing with your brand new Lancer Tactical Gen 2 AEG rifle, or any other airsoft M4.
Specifications:
Manufacturer: Lancer Tactical
Magazine Capacity: 300 rds
Color: Black

High Capacity Magazine Operation:
Find the trap door, usually located on the top of the magazine near the loading nozzle.
Open trap door and fill reservoir with high quality BBs.
Wind the wheel at the bottom of the magazine (notice the pitch and volume of the click).
Continue to wind wheel until pitch changes. Once the click gets louder, or begins to "double click," the magazine is fully wound.
Insert magazine into gun and fire. You may need to rewind the wheel during play.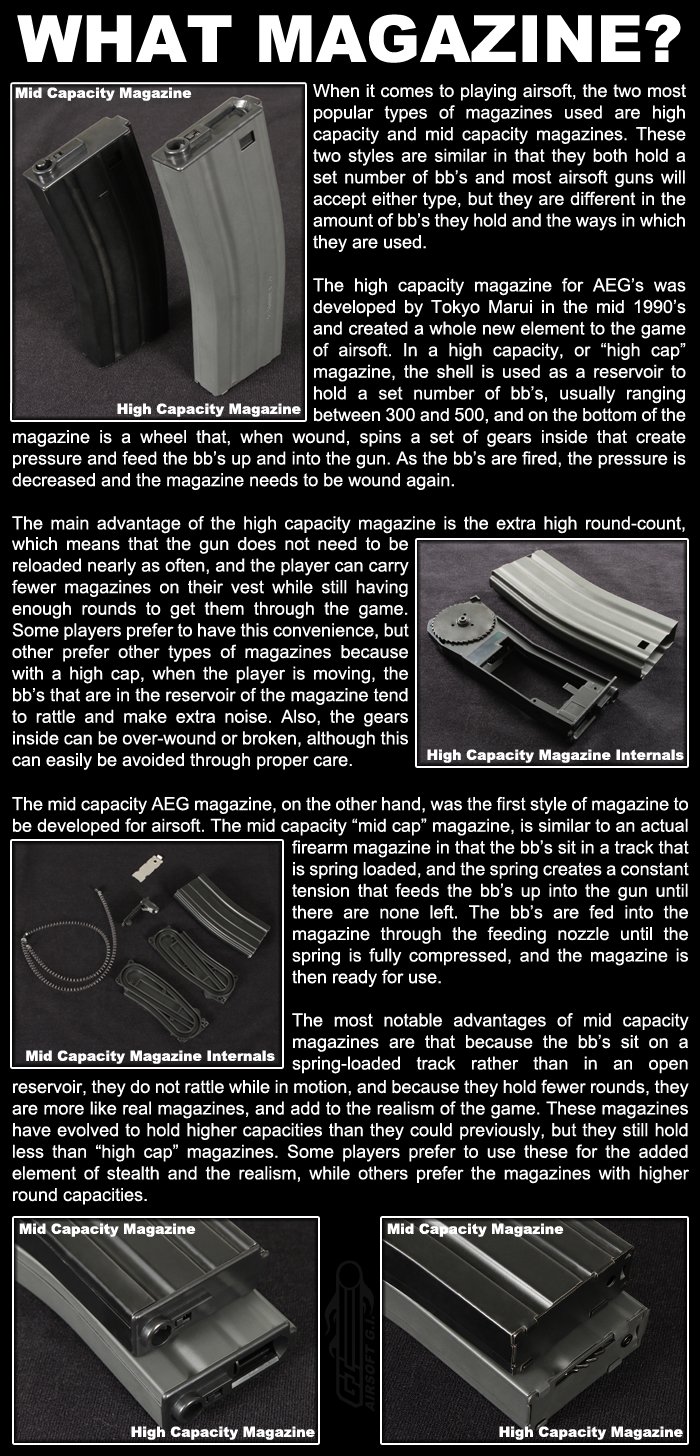 Specifications

Manufacturer: Lancer Tactical
see 2 reviews
|
Write a Review
verified buyer
K. GREGG | 2017-09-12
Product Information:
I got some of these with my Lancer Tactical Gen-2 LT-19B, and it's the exact same magazine that comes with the Gen-2 series. You're able to get an entire magazine out with one wind, so you don't need to touch your magazines in-combat. I've had no problems with this so far. The magazine is made out of metal, and is pretty durable. Don't be fooled by the low price; this magazine is a great product and I highly recommend it.

Pros:
Hi-cap, holds ~300 rounds
Gets through the entire magazine in one wind
Metal
Easy to fill
Durable
Great price

Cons:
All these cons are things you'd expect from a hi-cap, so you can ignore these
Doesn't feed the last 10-15 rounds unless the mag is upside-down
Won't wind the first 10-15 rounds unless the mag is upright
Takes about a 30-60 seconds to wind up
verified buyer
J. CAVANESS | 2019-07-31
Product Information:
The lancer tactical mag is all medal and is a super good mag. It fits perfect in my gen 2 aeg and feeds super good

Pros:
High quality
Feeds very very good
Winds up good

Cons:
Nothing other than if they are out of stock they are out for a long because the ship from over seas but it's with the wait
How would it fit in a Tavor 21

Basically how does it fit in bullpup designed guns

1844 days ago

Zeus P

0

0

(I have this same question)

Staff Answer:

It still inserts the same way into the magazine well like an M4.

1843 days ago

1 answers
1 asked

Will this fit gen 2 lancer tactical lt04B

Will this fit gen 2 Lt04b

1871 days ago

Braden C

0

0

(I have this same question)

Staff Answer:

Yes

1862 days ago

1 answers
1 asked

Fit

Do these work in the Classic Army ARSS4?

1986 days ago

Logan M

0

0

(I have this same question)

Staff Answer:

Yes, these will work in the ARSS4.

1986 days ago

1 answers
1 asked

Mag

Will this mag fit the G&G M4 combat machine?

2219 days ago

Gabriel L

0

0

(I have this same question)

Staff Answer:

Yes, this should fit it fine.

1976 days ago

1 answers
1 asked
Search Tags: Hicap Highcap Winding Wheel M4 M16 AR Two Mag Set Pack Black
People who bought this item also purchased: