Lancer Tactical CA-231B Airsoft Safety Clear Lens Frameless Goggles (Black)
[B10B01][11523 / CA-231B]
( 7 Reviews )
❤ Add to Wishlist
The Lancer Tactical lineup of airsoft safety goggles are a great option for the player who wants to ensure that their eyes are completely protected during the game, but does not want to have to empty their wallet to do so. These goggles provide full seal protection, and are very comfortable to wear, ensuring that they won't distract you during combat. The strap of the goggles is adjustable, allowing them to fit just about any player's head size, and the carry bag that slips over the lenses during transport can also double as a cleaning cloth. The top and bottom of the lens have small gaps that have enough space to allow air flow into the goggles. This means the goggles are less likely to accumulate fog and is able to allow fresh air to circulate around your face. These goggles feature a clear lens with a black rubber molding that sits on your face comfortably.
Specifications:
Manufacturer: Lancer Tactical
Model: CA-231B Airsoft Safety Goggles - Framless
Color: Black/clear
Size: Adjustable
Package Includes: One (1) pair of goggles

Features:

Full seal protection

Comfortable to wear

Large field of view

Adjustable size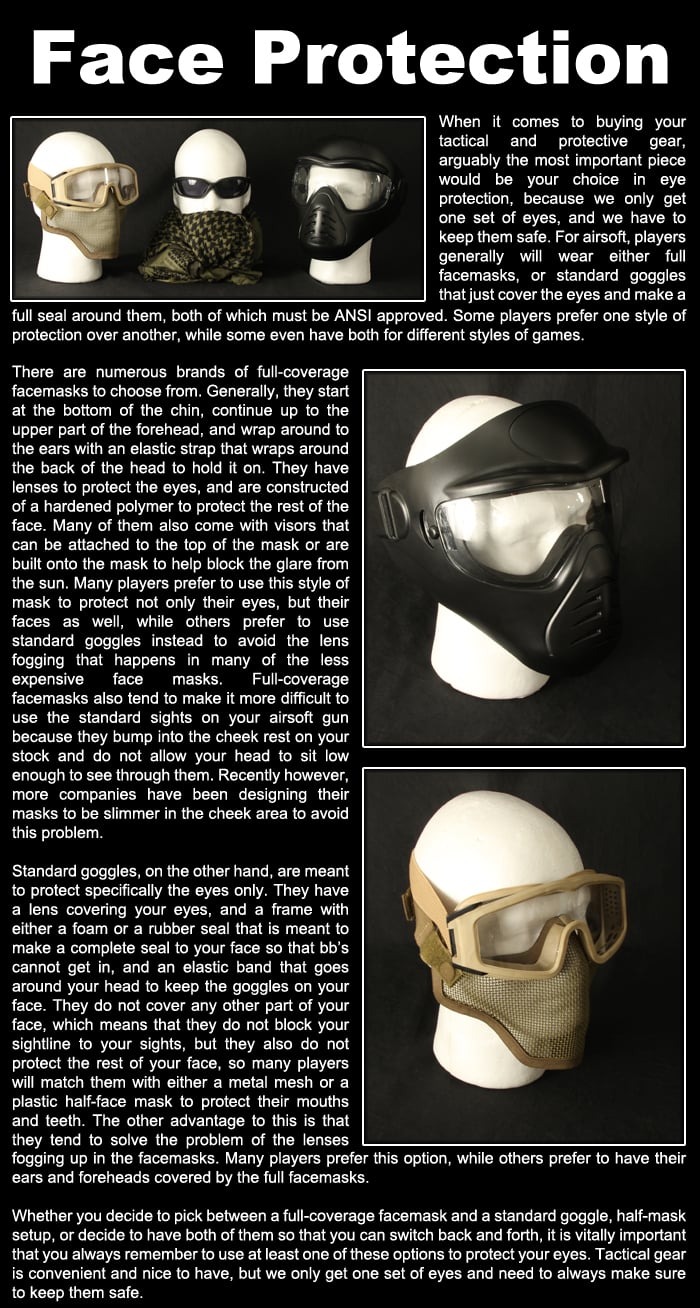 Specifications

Manufacturer: Lancer Tactical
Color: Black Frame / Clear Lens
Size: One Size Fits Most (Adjustable)
Material: Polycarbonate Lens
Package Includes: One (1) Pair of Safety Goggles
see 7 reviews
|
Write a Review
verified buyer
D. BRADFORD | 2013-11-26
Product Information:
This is by far one of the best deals I've ever seen on Airsoft GI. These goggle are some of the most amazing goggles I've ever seen. And all for a good price! I've been using them for awhile and these don't stop amazing me! They are very strong and durable, and comfortable as well. Its easy to adjust the size and also gives a clear vision of everything.

Pros:
- Strong durable plastic
- Very comfortable
- Cheap, but good quality
- Clear vision
- Protects my eyes perfectly

Cons:
- The little cover on the back is personally, useless and annoying
- Sometimes when hit leaves white marks
T. SLACK | 2014-04-10
Product Information:
I've had these goggles for a long time now and I am not disapointed. They work great! They also don't fog up very much which is awsome; in fact one of my friend's $80 goggles fogs up more than mine!

Pros:
clear
don't fog very much
afordable


Cons:
rubber edges can be a nusince to wear for long periods of time
B. CORCORAN | 2017-08-14
Product Information:
My friend has these goggles and they are amazing to wear. I find them comfortable and the vision is very clear. As a beginner, I'm still trying to find goggles. So I asked my friend about these goggles and he said that I should get them. And I plan to.

Pros:


Cons:
Rating

Does this meet ANSI- Z87-1 requirements? I'm new and this is what my field requires

116 days ago

James S

0

0

(I have this same question)

Staff Answer:

This should be safe to use at your field.

111 days ago

1 answers
1 asked

Aprroved?

Are these goggles ANSI/OSHA approved?

398 days ago

Andy F

0

0

(I have this same question)

Staff Answer:

Yes

397 days ago

1 answers
1 asked

fogging
0 answers
1 asked

Would these goggles fit over glasses?

If these goggles don't have enough space for most or any glasses, could you tell me some models on your website that do fit with glasses? -thanks, Geoff

1904 days ago

Geoff B

0

0

(I have this same question)

Staff Answer:

These goggles will not fit over glasses. <br><br> Example of goggles that should fit over glasses: <a href="http://www.airsoftgi.com/product_info.php?products_id=7453">http://www.airsoftgi.com/product_info.php?products_id=7453</a>

1903 days ago

1 answers
2 asked
Search Tags: Eye Protection Eyepro Safety Eyewear Wear Goggle T-800 T800 TX800 TX-800 Bolle ANZI ANSI X-800 X800
This product was added to our catalog on Monday 29 October, 2012.
People who bought this item also purchased: