Lancer Tactical CA-223G Airsoft Safety Smoke/Clear/Yellow Multi Lens Kit Goggles Vented (OD Green)
[C09B02][11540 / CA-223G]
( 2 Reviews )
❤ Add to Wishlist
The Lancer Tactical lineup of airsoft safety goggles are a great option for the player who wants to ensure that their eyes are completely protected during the game, but does not want to have to empty their wallet to do so. These goggles provide full seal protection, and are very comfortable to wear, ensuring that they won't distract you during combat. The strap of the goggles is adjustable, allowing them to fit just about any player's head size, and the carry bag that slips over the lenses during transport can also double as a cleaning cloth. This kit includes a clear, smoke and yellow lens that you can swap out for different types of environments. These goggles are vented on the top to reduce fogging by allowing more air flow through to the lens, they also feature a OD green frame great for dark and dense woodland environments.
Specifications:
Manufacturer: Lancer Tactical
Model: CA-223G Airsoft Safety Mask Vented with Multi Lens Kit
Color: OD Frame / 3 Color Lens
Size: Adjustable
Package Includes: One (1) pair of goggles, replacement lenses kit

Features:

Full seal protection

Comfortable to wear

Large field of view

Adjustable size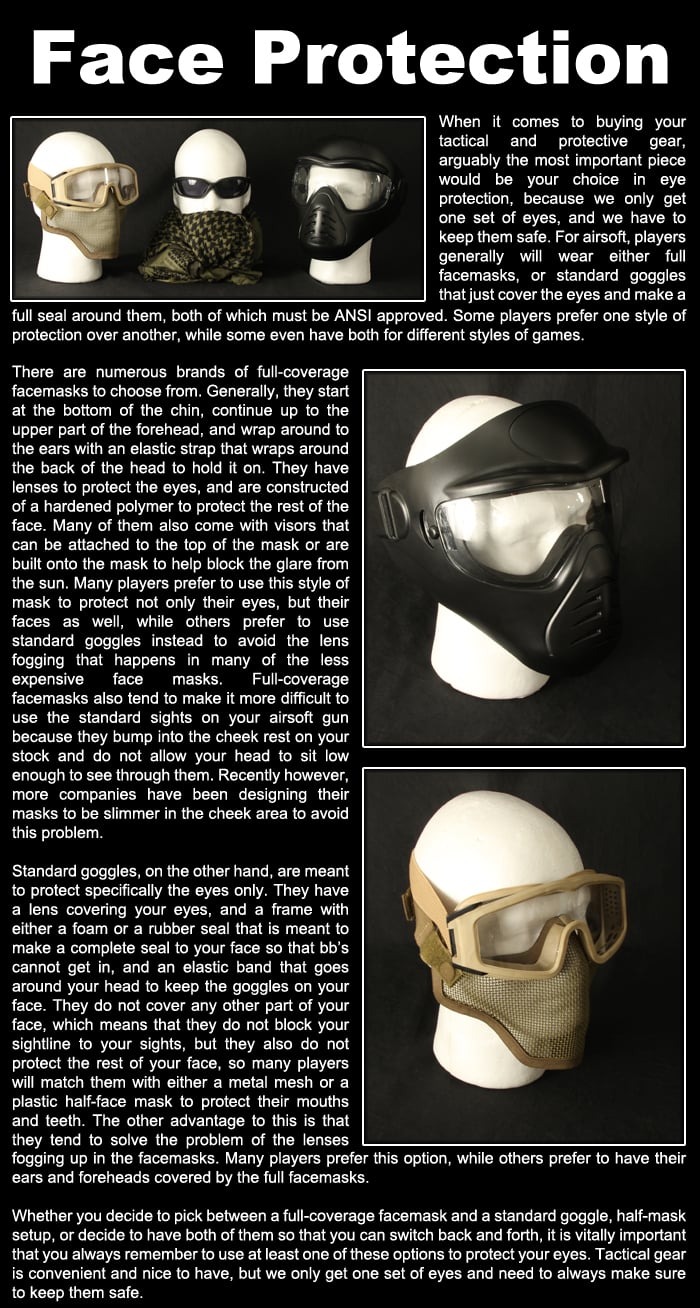 Specifications

Manufacturer: Lancer Tactical
Color: Olive Drab Frame / Smoke, Clear, and Yellow Lenses
Size: One Size Fits Most (Adjustable)
Material: Polycarbonate Lenses
Package Includes: One (1) Goggle Frame, One (1) Smoke Lens, One (1) Clear Lens, One (1) Yellow Lens
see 2 reviews
|
Write a Review
verified buyer
K. PHAM | 2012-11-10
Product Information:
Nice goggles, got it today so i haven't played with it much, but it seems that the lenses are flexible, yet durable. The frame and vents around the goggles are very strong because when I was trying to switch out the black lens to clear lens I was bending the thing everywhere, but still everything is intact and working properly
Switching Out Lens (since there is no manual)
-Remove the top two OR bottom two vents on the goggles so that you can more easily remove the lens
-facing the front of the goggles, push the rubber outline covering the lens back and push the lens out
-put new lens in, start from the left OR right sides.
*Note* the frame is durable and flexible so you can pull the frame to take out and put in the lens and vents on the goggles. Care when taking out the vents, there is a rubber thing if you look inside the goggles, in between the vents. You will see it when you get it, its a lot easier than it sounds.

Pros:
Durable frame
Flexible frame
3 durable lens
Flexible yet stretchy strap
Removable straps
Looks nice

Cons:
Its a little wide from the sides of the eyes, but its not that big of a deal.
Takes getting used to and finger pains to remove and put back vents and lens
verified buyer
D. PICKLE | 2018-08-23
Product Information:
I've had these goggles for a couple years. They're perfect for newer players, backup goggles, or face setups that uses lower face protection and even helmets (I use mesh mask and helmet.) The option of switching lenses is nice.
I know that smoked goggles are good against the sun (don't use them in low light) and yellow ones are good when people uses lasers, tracers, and flashlights. However I like to stick with the clear goggles overall since it's good in any situation.
The goggles are flexible so you an switch lenses if needed. But if you just got it, then it may be a bit stiff and will need time to break in.
As long as you keep the goggles clean then it will work perfectly, so no need for expensive goggles unless you're a serious player who know how to take good care of eye wear.
If it fogs up (which will happen on warm days) I tend to remove a couple of vents in the bottom of top of the goggle. HOWEVER, that takes away some of the safety features of these goggles. If you want to keep your eyes protected while still keeping the vents removed, you may want you headgear overlapping the opening of the top vents and your lower face protection to somehow cover the bottom vent openings. If you can't achieve that, I recommend you keep the vents on until you figure out another safe way.
If you wear a helmet, you can extend the strap of your goggles to wrap around the helmet if you want.

Pros:
-cheap yet effective against bbs
-3 options for eye protection
-flexible and adjustable
-wide enough for clear view

Cons:
-Can fog up easily on hot days, UNLESS you can find a way to improvise such as removing vents and covering them with something else.
Will these fit with a mesh mask?

Will these fit with a mesh mask because they look big. They also should fit over glasses right? If not which lancer tactical goggles work with a mesh mask?

1413 days ago

Ian L

0

0

(I have this same question)

Staff Answer:

It should be compatible.

1411 days ago

1 answers
1 asked

Fogging

I sweat a lot and have had lots of fogging problems with goggles before. Do these goggles fog and if so what should I do to prevent it.

1549 days ago

Gage M

0

0

(I have this same question)

Staff Answer:

All goggles will fog. You could modify the vents if you wanted to.

1492 days ago

1 answers
1 asked

will this fit over my glasses?

I bought another lancer goggle, but they do not fit over glasses which makes me mad, so I want another pair. DO these fit over glasses?

1903 days ago

Michael h

0

0

(I have this same question)

Staff Answer:

It depends on the size of your frames

1901 days ago

1 answers
1 asked
Search Tags: Eye Protection Eyepro Safety Eyewear Wear Goggle Foam Full Seal Flakjak Flak Jak Vent Vents Olvie Drab Forest Green Smoke Smoked Yellow HD goggles
People who bought this item also purchased: