Lancer Tactical CA-203G Airsoft Safety Smoke/Clear/Yellow Multi Lens Kit Goggles Basic (OD Green)
[D09D02][11528 / CA-203G]
( 7 Reviews )
❤ Add to Wishlist
Free Shipping for orders over $89 No Coupon needed
The Lancer Tactical lineup of airsoft safety goggles are a great option for the player who wants to ensure that their eyes are completely protected during the game, but does not want to have to empty their wallet to do so. These goggles provide full seal protection, and are very comfortable to wear, ensuring that they won't distract you during combat. The strap of the goggles is adjustable, allowing them to fit just about any player's head size, and the carry bag that slips over the lenses during transport can also double as a cleaning cloth. This kit includes a clear, smoke and yellow lens that you can swap out for different types of environments. These goggles feature an OD green frame that is perfect for green kits.
Specifications:
Manufacturer: Lancer Tactical
Model: CA-203G Airsoft Safety Goggles Basic with Multi Lens Kit
Color: OD Frame / 3 Color Lenses
Size: Adjustable
Package Includes: One (1) pair of goggles, replacement lenses kit

Features:

Full seal protection

Comfortable to wear

Large field of view

Adjustable size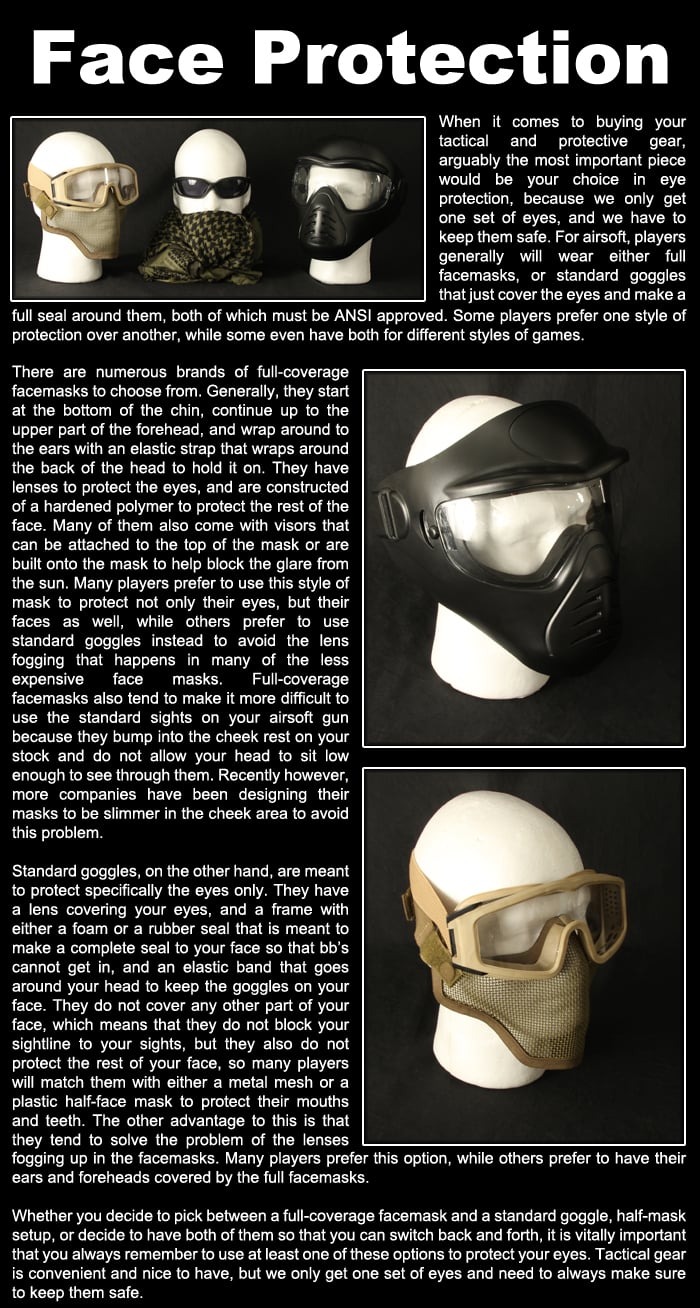 Specifications

Manufacturer: Lancer Tactical
Color: Olive Drab Frame / Smoke, Clear, and Yellow Lenses
Size: One Size Fits Most (Adjustable)
Material: Polycarbonate Lenses
Package Includes: One (1) Goggle Frame, One (1) Smoke Lens, One (1) Clear Lens, One (1) Yellow Lens
see 7 reviews
|
Write a Review
verified buyer
M. WILSON | 2015-01-15
Product Information:
These goggles are very comfortable and work well.
Since they come with differant lens with it, it's very convenient and I haven't had any trouble with it at all.

Pros:
Comfortable.
Come with multiple lens. (Smoke,clear, and yellow)
Ventilated.
Comes with dust cover

Cons:
Not highest quality but is great for what I wanted.
I've had no issues with it right now.
A. SCHREINER | 2015-02-28
Product Information:
I got these goggles for Christmas and let me tell you these are the best bang for your buck goggles,

Pros:
- Comes with 3 lenses
- Rarely Fogs up
- Fits great with helmets
- Prescription Glasses compatible, tight fit though
- Good for hot/ warm weather
- Comfortable
- Cheap
- Great adjustability
- Lens are easy to take out
- tinted lens are really dark so nobody can see your eyes

Cons:
- Lenses scratch easy
- Case it comes with is useless
- Wind goes right trough the goggles, which could make it hard to see
verified buyer
W. LUDBROOK | 2015-05-19
Product Information:
These things work great. The band is easily adjusted and very elastic, but not uncomfortably tight. The lens don't fog up much, only in heat and with bad airflow, and the lenses are extremely thick and strong.

Pros:
Cheap but functional, easily adjusted, lenses are strong, and mostly fog resistant

Cons:
Some fogging, won't fit small heads very tightly, but that is to be expected with standard size goggles
Will this fit a helmet/half face mask

Will this fit with a Lancer Tactical Fast Helmet Ballistic Type W/ Retractable Visor. (Foliage/Basic Version), and a Bravo Strike Steel Half-Face Mesh Mask (Ranger Green)

2118 days ago

0

0

(I have this same question)

Staff Answer:

It should fit.

2118 days ago

1 answers
1 asked

will they fit over glasses
0 answers
4 asked
Search Tags: Eye Protection Eyepro Safety Eyewear Wear Goggle Rubber Full Seal Olive Drab Forest Green
People who bought this item also purchased: