Lancer Tactical CA-201G Airsoft Safety Clear Lens Goggles Basic (OD Green)
[G08F00][11525 / CA-201G]
( 6 Reviews )
❤ Add to Wishlist
Free Shipping for orders over $89 No Coupon needed
The Lancer Tactical lineup of airsoft safety goggles are a great option for the player who wants to ensure that their eyes are completely protected during the game, but does not want to have to empty their wallet to do so. These goggles provide full seal protection, and are very comfortable to wear, ensuring that they won't distract you during combat. The strap of the goggles is adjustable, allowing them to fit just about any player's head size, and the carry bag that slips over the lenses during transport can also double as a cleaning cloth. These goggles come with a clear lens and an OD green frame.
Specifications:
Manufacturer: Lancer Tactical
Model: CA-201G Airsoft Safety Goggles Basic
Color: OD Frame / Clear Lens
Size: Adjustable
Package Includes: One (1) pair of goggles

Features:

Full seal protection

Comfortable to wear

Large field of view

Adjustable size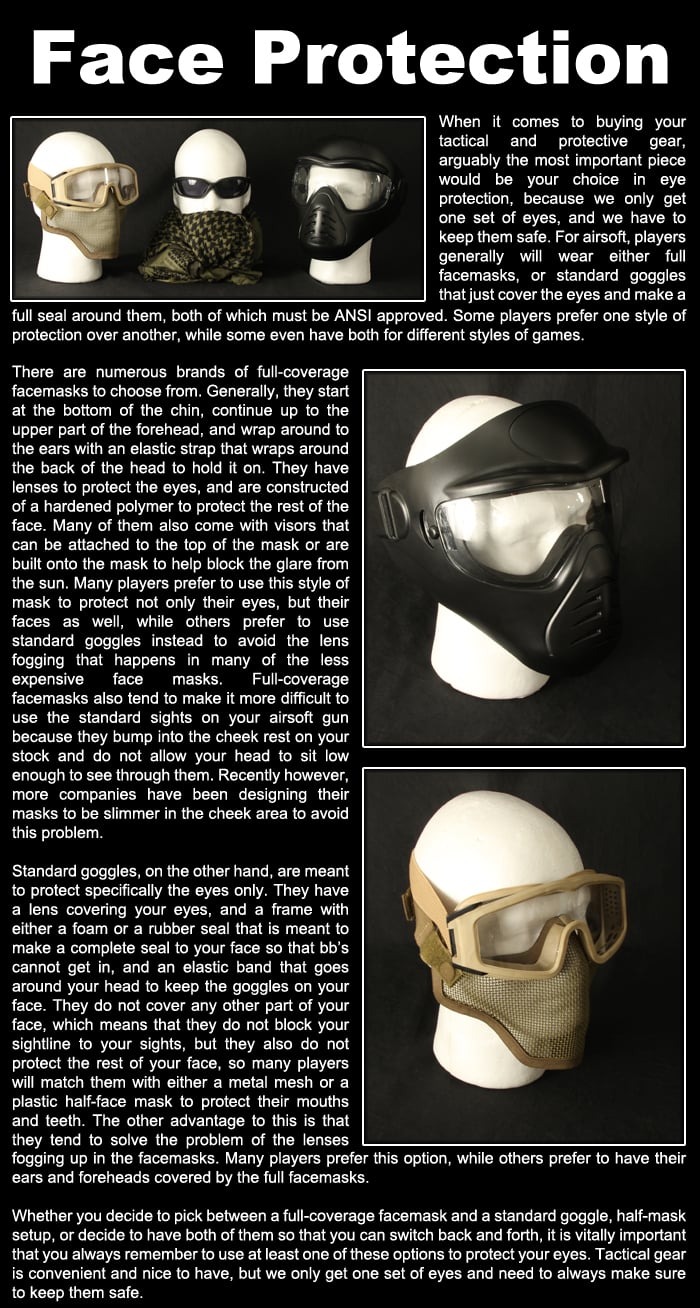 Specifications

Manufacturer: Lancer Tactical
Color: Olive Drab Frame / Clear Lens
Size: One Size Fits Most (Adjustable)
Material: Polycarbonate Lens
Package Includes: One (1) Pair of Saftey Goggles
see 6 reviews
|
Write a Review
verified buyer
C. ESPARZA | 2014-07-11
Product Information:
These goggles are good if you want something cheap, and effective. They have a lens cover and adjustable head band that could fit every type of head. They tend to fog a little from time to time, but it is really slight. So it will not throw your aim off at all.

Pros:
Cheap
Adjustable
Good cover over eyes


Cons:
wish there was form around eyes for comfort
slight fog
P. WRIGHT | 2014-08-30
Product Information:
These goggles are ok if you are new to airsoft but if you live in Florida where it's humid I don't suggest you get these way to much fog I bought these and I had to take them off to unfog them every 2 minutes other wise there ok

Pros:
Horrible fog


Cons:
Well made
You get what you paid for
verified buyer
I. MITCHELL | 2019-01-28
Product Information:
For anyone on a budget and in need of a good pair of goggles, these are it! For a casual player like me, they're fast, easy to use, and reliable.

Pros:
Great field of view.
They breathe better than most.
Secure fit and full protection.

Cons:
Depending on the climate, some slight fogging may occur.
My glasses

Could I fit these over my glasses?

1946 days ago

Vince O

0

0

(I have this same question)

Staff Answer:

Unless your glasses have a very low profile frame, it is likely that these goggles will press the frame back, preventing comfortable wear.

1945 days ago

1 answers
2 asked

FItting

Will these goggles fit with / under a PASGT Helmet?

2207 days ago

ben a

0

0

(I have this same question)

Staff Answer:

They should be able to fit

2205 days ago

1 answers
1 asked

could these fit with a Bravo Strike Steel Half-Face Mesh Mask,

the goggles and mesh mask put together

2311 days ago

michael g

0

0

(I have this same question)

Staff Answer:

They should fit. The mesh mask is malleable and can be shaped to fit your face better.

2310 days ago

1 answers
1 asked
Search Tags: Eye Protection Eyepro Safety Eyewear Wear Goggle Full Seal Rubber Olive Drab Forest Green
People who bought this item also purchased: