Lancer Tactical CA-201B Airsoft Safety Clear Lens Goggles Basic (Black)
[B07D02][11524 / CA-201B]
( 15 Reviews )
❤ Add to Wishlist
The Lancer Tactical lineup of airsoft safety goggles are a great option for the player who wants to ensure that their eyes are completely protected during the game, but does not want to have to empty their wallet to do so. These goggles provide full seal protection, and are very comfortable to wear, ensuring that they won't distract you during combat. The strap of the goggles is adjustable, allowing them to fit just about any player's head size, and the carry bag that slips over the lenses during transport can also double as a cleaning cloth. These goggles come with a clear lens and black frame.
Specifications:
Manufacturer: Lancer Tactical
Model: CA-201B Airsoft Safety Goggles Basic
Color: Black Frame / Clear Lens
Size: Adjustable
Package Includes: One (1) pair of goggles

Features:

Full seal protection

Comfortable to wear

Large field of view

Adjustable size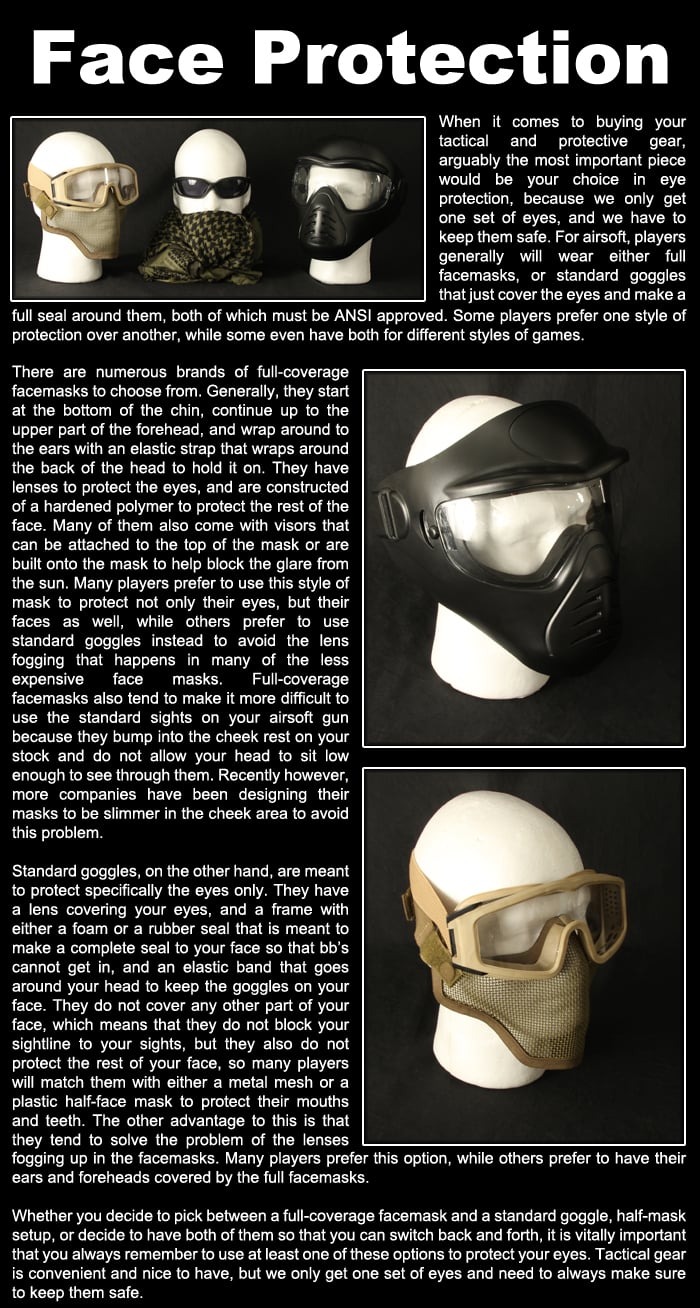 Specifications

Manufacturer: Lancer Tactical
Color: Black Frame / Clear Lens
Size: One Size Fits Most (Adjustable)
Material: Polycarbonate Lens
Package Includes: One (1) Pair of Saftey Goggles
see 15 reviews
|
Write a Review
verified buyer
M. SUN | 2014-03-26
Product Information:
Ehhh. If you're planning to get these goggles, I highly recommend you just fork out the money for a slightly better pair. These really turned me away from Lancer Tactical products.

Pros:
Interchangeable lenses (not included)
Doesn't fog up that much, but that's because there's a huge gap between the goggles and your face

Cons:
Flimsy rubberish vents
Uncomfortable plastic pressing on your face
Seems to be made for really small heads
Not full seal, huge gap between goggles and face
verified buyer
G. FERREIRA | 2014-04-09
Product Information:
Nice, very affordable full seal goggles for those players that, like me, are bothered by full face masks getting in the way of you aiming your gun in a effective and efficient way. Used it in a couple of games so far and could not be happier, but I would recommend for anyone trying to get the most out of these to use them in conjunction with a helmet and lower face mask.

Pros:
Easily adjustable
Fits really well with most lower facemasks
Comes with protective sleeve for when you are not using it, which helps to prevent scratches
Very Durable
Low cost


Cons:
After being used for long periods of time they might hurt the bridge of your nose as well as your cheekbones
You cant remove the protective sleeve, which would be nice for when you want to use it without a helmet and you don't want the sleeve to get sweety
verified buyer
J. STEWART | 2014-05-15
Product Information:
Elastic head band to make an easy fit. Very durable lens to protect your eyes. very comfortable foam/plastic to conform to your face

Pros:
very comfortable, very durable, and very clear

Cons:
Foam makes glasses fog, took out the foam on mine and it doesn't fog anymore and you also get a nice breeze on your eyes.
Will it fit

Will it fit the amp core v1 mesh mask

2278 days ago

Christy M

0

0

(I have this same question)

Staff Answer:

It should

2030 days ago

1 answers
1 asked

Will these fit with a Metal Mesh mask

I wanted to know if these would fit with a mesh mask

3388 days ago

Evan K

0

0

(I have this same question)

Staff Answer:

The mask may require modification

3387 days ago

1 answers
1 asked

Do these fit over glasses comfortably?

I wear prescription glasses and also have prescription sunglasses. Will these fit over, at least, the glasses and hopefully the sunglasses. both are pretty low profile

3593 days ago

Travis G

0

0

(I have this same question)

Staff Answer:

These goggles will not fit prescription glasses too well.

3593 days ago

1 answers
1 asked
Search Tags: Eye Protection Eyepro Safety Eyewear Wear Goggle Full Seal Rubber goggles
People who bought this item also purchased: