Lancer Tactical 9.6v 1600mAh NiMH Nunchuck Battery
[R15C09][21939 / LT9.6V1600N]
( 1 Reviews )
❤ Add to Wishlist
Free Shipping for orders over $149 No Coupon needed
The Lancer Tactical 9.6v 1600mAh NiMH Crane Stock Battery is designed specifically for use with a Crane Stock. The battery is pack is separated into two halves to fit the slots of the crane stock around the buffer tube. This battery will increase the rate of fire of your airsoft gun due to the higher voltage and its higher discharge rate.
Specifications:
Manufacturer: Lancer Tactical
Voltage: 9.6v
Milliampere Hours: 1600mAh
Cell Type: Nickel-metal hydride (NiMH)
Connector Type: Mini
Recommended Fit: M4A1 hand guard, M733 hand guard, M4 Commando hand guard, MP5A5 hand guard, and MP5SD6 hand guard
Please Note:
This battery will fit in the G4, Combat Machine, G&G, VFC, KWA, and TSD crane stock. If you have any questions about which type of crane stock this battery will fit in please call us at (909) 869-0671.
Airsoft GI Battery Disclaimer:
Airsoft GI is not responsible for batteries that have been damaged as a result of improper operation, storage, misuse or abuse, accident or neglect, such as physical damage resulting from misuse; contact with liquid, water, rain, extreme humidity or heavy perspiration, sand, dirt or the like, extreme heat, or food; use of the battery for commercial purposes or subjecting the battery to abnormal usage conditions, or other acts which are not the fault of Airsoft GI. Make sure you understand how your battery should be used and how long it should be charged. If you have any doubt regarding the operation, charging, or storage of your battery and/or charger, ask. A charging battery should not be left unattended and should be picked up periodically while charging to check for overheating. Do not charge batteries near flammable material. For more information regarding batteries please refer to the Frequently Asked Questions or the Airsoft GI Airsoft 101 Guide.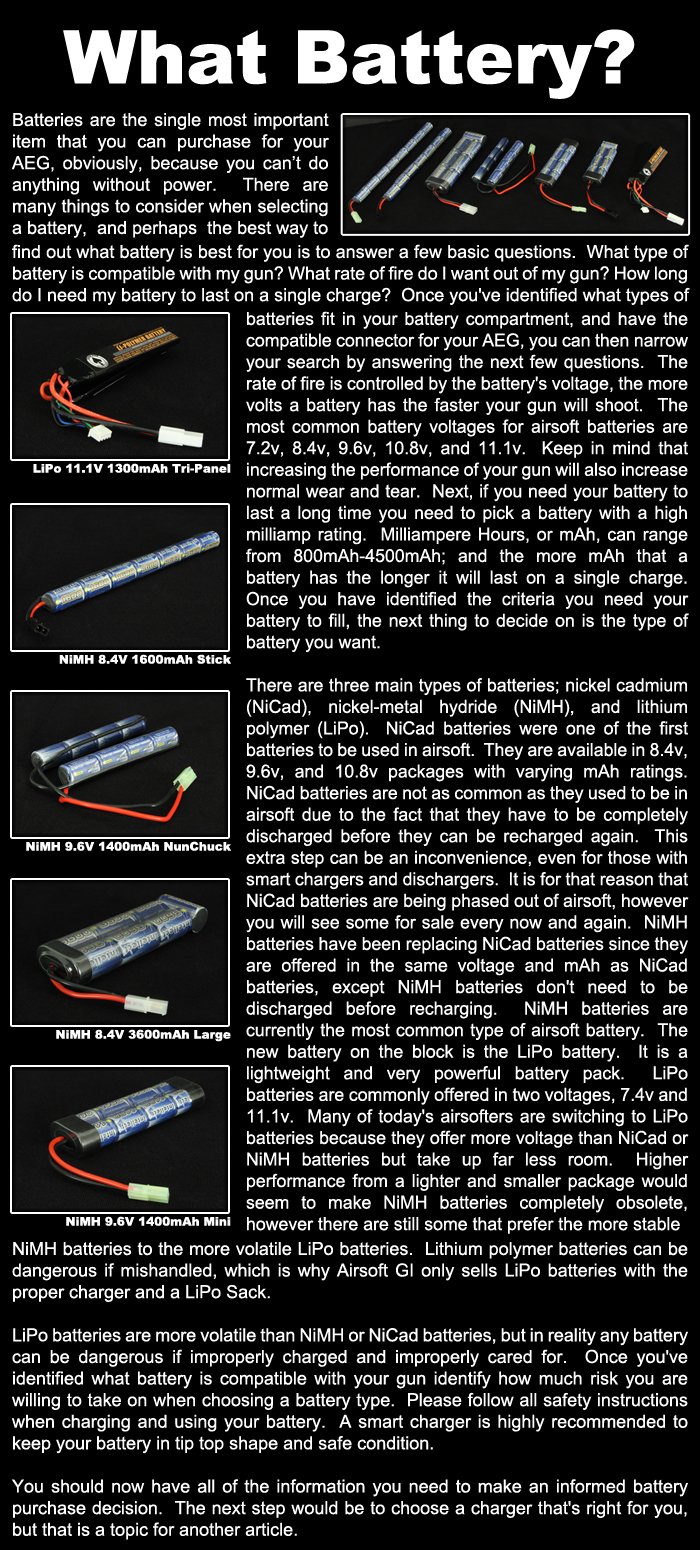 Specifications

Manufacturer: Lancer Tactical
see 1 reviews
|
Write a Review
D. KRAMER | 2018-06-16
Product Information:
I bought the Lancer Tactical Gen 2 Mk18 about 8 months ago as a loaner gun and as my backyard plinker and my two boys each have a Lancer Tactical Sopmod M4. All three of the guns came with this battery. I must say for a stock battery these are pretty damn good quality. They are right on par with my Tenergy 9.6volt 1600mah nimh batteries and are much better than the Elite Force and Jag Precision 9.6\\\'s. I\\\'ve used mine to put well over 40,000 rounds through a few of my M4s and the battery still functions like the day I got it. If you aren\\\'t ready to make the leap to lipo batteries I highly recommend these from Lancer Tactical.

Pros:
-Good trigger response for a 9.6volt battery
-Decent ROF (Way better than the Elite Force 9.6 I own)
-Only $25 pretty standard price for a good airsoft 9.6

Cons:
None. It's a great battery. If you need a good nimh battery pick up a couple of these. You won't be sorry.
will it fit in a lt25????

i have a lt25 and the battery wont work anymore so i was wondering if this would fit in the lt25???

1246 days ago

colton B

0

0

(I have this same question)

Staff Answer:

This should fit just fine.

1244 days ago

1 answers
1 asked

How long should I charge?

I don't have a smart charger so I want to know how long I should charge this for without damaging the battery by overcharging.

1454 days ago

Jonathan L

0

0

(I have this same question)

Staff Answer:

3-4 hours tops.

1453 days ago

1 answers
1 asked

Will it fit in an ARX?

Will it fit in the stock of an ARX?

1960 days ago

Kainin B

0

0

(I have this same question)

Staff Answer:

Yes it should fit.

1354 days ago

1 answers
1 asked
Search Tags: Nickel Metal Hydrate Hydride NiMH NiHM Low Voltage Nunchuck Butterfly Crane Stock 2/3A M4A1 G4 MP5A5 MK5A5 MK36 G36 AEG 8 Cell 9.6 1600
People who bought this item also purchased: