Lancer Tactical 35 X 195mm Barrel Extension (14mm CCW & CW/Tan)
[W00K04][15661 / CA-457T]
( 2 Reviews )
❤ Add to Wishlist
Free Shipping for orders over $99 No Coupon needed
The Lancer Tactical Barrel Extension is constructed from high strength aluminum and fits most airsoft guns with a 14mm counterclockwise thread on the barrel. The extension is finished with a clean, matte coating, to ensure that the barrel isn't bright or shiny under light conditions, and has a flat texture, giving any airsoft gun a clean, extended look. The Lancer Tactical Barrel Extension is an excellent choice to disguise an extended inner barrel or just give your airsoft gun a more tactical look. This barrel extension has both positive and negative threading on both sides of the mock suppressor, giving you multiple options for mounting the unit.
Specifications:
Manufacturer: Lancer Tactical
Thread Type: 14mm Counter-Clockwise AND 14mm Clockwise
Thread Position: The edge of the barrel extension
Recommended fit: M4, M16, AUG, SCAR, MK36, MP5, AK, and pistols
Color: Tan

Features:

Aluminum Tube

Aggressive Look

Both Positive and Negative threading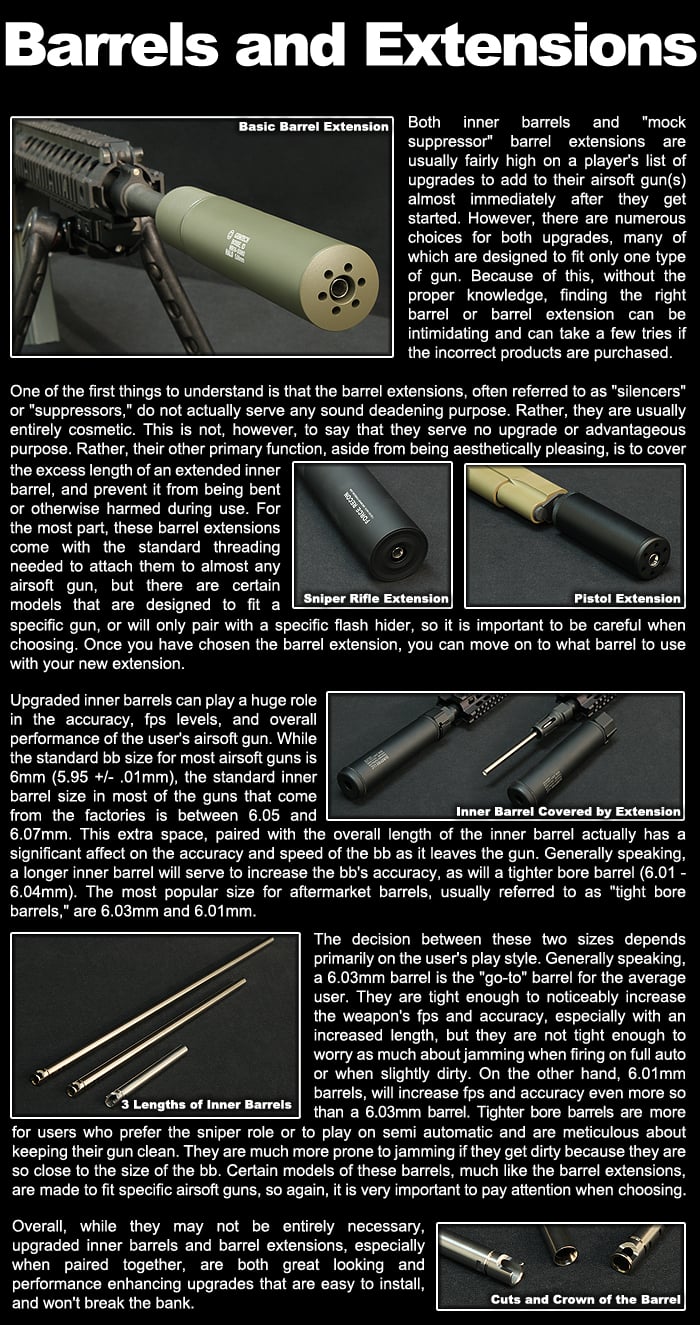 Specifications

Manufacturer: Lancer Tactical
Color: Tan
Size: 35mm x 195mm
Material: Aluminum
Package Includes: One (1) Barrel Extension
see 2 reviews
|
Write a Review
verified buyer
R. MULLIS | 2014-01-07
Product Information:
I put this on my holiday edition G4 after putting a m16 length barrel in. It looks cool and covers the barrel quite nicely. I wouldn't use it on my gun without an extended inner barrel though because bbs get caught inside of it.

Pros:
Looks cool and does exactly what it is meant to do.

Cons:
without a inner barrel that is long enough for it not all the bbs will make it out.
verified buyer
C. HUDSON | 2015-02-01
Product Information:
I put this on my G&G Mk18 Mod 1 it looks amazing compared to the bulky orange tip it comes with and while it is hollow no bb's have gotten caught in it (yet). Note to others with the Mod 1, it didn't seem possible to get the default flash hider off without having to to cut it off (which I did) but I feel it was worth the trouble. If you're looking for a fairly cheap addition for your gun I would recommend this.

Pros:
Very sturdy.
Both CW and CCW threads.
Looks great.
It serves it's purpose.

Cons:
Hollow.
Looks pretty plain but it does NOT look bad at all.
From what i can see the only thing you will have to worry about color wise is scratching it but it would need to be hit pretty hard to do that.
Sniper Rifle Compatibility

Is it compatible with ASG 26rd AW 308 Sniper Rifle? If not, can you recommend me which one does

817 days ago

Giorgi T

0

0

(I have this same question)

Staff Answer:

If the rifle has a CCW thread in 14mm, it will fit.

792 days ago

1 answers
1 asked

Will it fit an KM4 RIS?

Will it fit a KM4 RIS's barrel?

819 days ago

Christina V

0

0

(I have this same question)

Staff Answer:

Yes, it should fit the threads of a KWA.

818 days ago

1 answers
1 asked

Will this fit an A&k svd?

I need one for my new extended inner barrel and was wondering if it would work on my A&k svd aeg.

1078 days ago

Jaden K

0

0

(I have this same question)

Staff Answer:

If your gun uses 14mm CCW threads

926 days ago

1 answers
1 asked

Inside diameter
0 answers
1 asked

will this fit a Cyma M4 CQB Full

because thats the gun i have and i was just wondering if it will fit

1995 days ago

hubert p

0

0

(I have this same question)

Staff Answer:

Yes

1939 days ago

1 answers
1 asked

Will it fit the echo 1 mk16 ?

I'm getting it for the mk16 for my sons birthday and I'm not sure if it would fit

2060 days ago

Lisa B

0

0

(I have this same question)

Staff Answer:

Yes, this item should fit as it accommodates both 14mm CCW and CW threads. <BR><BR> Also keep in mind that replacing the factory blaze orange tip which comes fixed on the airsoft gun does void Airsoft GI�s warranty as well as any Manufacturer warranty.

2058 days ago

1 answers
1 asked

Will It Fit my Apex Bravo 9.5" RIS CQB M4 AEG

Will It Fit my Apex Bravo 9.5" RIS CQB M4 AEG? I cannot tell if my barrel has threading.

2060 days ago

Erik T

0

0

(I have this same question)

Staff Answer:

This gun should be able to accept any outer barrel extension/mock suppressor with 14mm CCW threads on the outer barrel. Make sure that there is adequate space to account for any overlap of the suppressor on the outer barrel. <br> <br> Also keep in mind that replacing the factory blaze orange tip which comes fixed on the airsoft gun does void Airsoft GI�s warranty as well as any Manufacturer warranty.

2058 days ago

1 answers
1 asked

will it fit on my apex R5 M10

want to know before i buy

2065 days ago

andrwe p

0

0

(I have this same question)

Staff Answer:

Yes, however the original orange flashhider will need to be removed. <br><BR>Keep in mind that any modification to the gun will void Airsoft GI/Manufacturer warranties.

2065 days ago

1 answers
1 asked

Does it work with...

Can i put this on my G&G combat machine

2103 days ago

David P

0

0

(I have this same question)

Staff Answer:

It should

2102 days ago

1 answers
1 asked

Will it fit

Will it fit on my g&g armament cm16

2113 days ago

Hunter W

0

0

(I have this same question)

Staff Answer:

It should

2099 days ago

1 answers
1 asked

will it fit
0 answers
1 asked

Do you have to have an extended inner barrel
0 answers
1 asked

JG M4 S-System Airsoft Gun (Enhanced Version/TAN)

Will this fit JG M4 S-System Airsoft Gun (Enhanced Version/TAN) ?

2157 days ago

Gokalp I

0

0

(I have this same question)

Black or tan ?

2155 days ago

Will this fit JG M4 S-System Airsoft Gun (Enhanced Version/TAN) ?

2157 days ago

Gokalp I

0

0

(I have this same question)

Staff Answer:

It should

2157 days ago

2 answers
1 asked

will it fit

will it fit the king arms nylon m4 cqbr aeg?

2165 days ago

Robert R

0

0

(I have this same question)

Staff Answer:

It should

2157 days ago

1 answers
1 asked

length

how long is it

2188 days ago

anthony f

0

0

(I have this same question)

Staff Answer:

195mm as stated in the title

2186 days ago

1 answers
2 asked

will this fit in a krytac crb with a 670mm inner barrel
0 answers
1 asked

will this fit a g and g combat machine

will this fit a g and g combat machine

2240 days ago

trey b

0

0

(I have this same question)

Staff Answer:

It should

2239 days ago

1 answers
1 asked

Will it fit my m14 by firepower?
0 answers
1 asked

will this fit a mk18 mod1

2251 days ago

Jordan A

0

0

(I have this same question)

Staff Answer:

As long as it has 14mm CCW threads

2248 days ago

1 answers
1 asked

will it fit an Echo 1 STAG-15 A4 AEG

i want a silencer for my m16

2276 days ago

mat s

0

0

(I have this same question)

Staff Answer:

It should fit

2275 days ago

1 answers
1 asked

Will it increase my m16's range

???

2315 days ago

Evan H

0

0

(I have this same question)

Staff Answer:

No. If you want more range you will need a newer inner barrel.

2312 days ago

1 answers
1 asked

Will this fit on my beretta arx 160

Just want to make sure I don't go through the hassle of buying the wrong extension.

2334 days ago

Matt H

0

0

(I have this same question)

Staff Answer:

It should fit

2333 days ago

1 answers
1 asked

will it m fit my g4 a5 urx3 custom and extend the range

Im geting the g4 a5 urx3 will this fit and extend my range

2345 days ago

christian p

0

0

(I have this same question)

Staff Answer:

It will not increase range, it is only for looks

2345 days ago

1 answers
1 asked

Will this fit a mk18 mod1

Will this fit an mk18 mod1

2347 days ago

joanna z

0

0

(I have this same question)

Will this fit an mk18 mod1

2347 days ago

joanna z

0

0

(I have this same question)

Staff Answer:

It should fit

2346 days ago

2 answers
1 asked

weight?
0 answers
2 asked

Will this barrel extension be compatible with my Lancer Tactical tactical AK?

I would like to know before I purchase something that doesn't fit... Thanks!

2352 days ago

Landon H

2

0

(I have this same question)

Staff Answer:

If your gun has 14mm counter clockwise threads, it should work

2352 days ago

1 answers
1 asked

will it fit an L96

Looking for a suppressor for my sniper

2352 days ago

daniel W

0

0

(I have this same question)

Staff Answer:

No it will not work with that gun

2352 days ago

1 answers
1 asked

will this fit my a&k magpul masada

i am almost positive this all fit my gun just wanted to make sure!

2363 days ago

Gabriel v

0

0

(I have this same question)

i am almost positive this all fit my gun just wanted to make sure!

2363 days ago

Gabriel v

0

0

(I have this same question)

Staff Answer:

It should fit.

2361 days ago

2 answers
1 asked

Does it come with that shiny finish?

I want a matt tan but all those are only counter clockwise.

2439 days ago

Kimberly K

0

0

(I have this same question)

it does have a slight sheen but not all to much

1729 days ago

1 answers
1 asked

Is the inside hollow?

I have a Madbull Gemtech mock silencer and the way it's made is it has a narrow inner diameter to help trail the BBs along in case you don't have an extended inner barrel. I wanted to know if the inside of the mock supressor is the same way or if it's hollowed out on the inside?

2464 days ago

Kristian B

0

0

(I have this same question)

Staff Answer:

The insides of all the mock suppressors sold on www.airsoftgi.com will not be hollowed.

2464 days ago

1 answers
1 asked
Search Tags: 14mm CCW CW M4 Cosmetic Mock Suppressor Clockwise Counter Clock Wist Positive Negative + - Dark Earth Coyote Brown Mock Fake Suppressor Silencer Barrel Extension Extender Can Cosmetic
People who bought this item also purchased: