Lancer Tactical 30 X 155mm Barrel Extension (14mm CCW/Tan)
[M04C12][15658 / CA-454T]
( 4 Reviews )
❤ Add to Wishlist
The Lancer Tactical Barrel Extension is constructed from high strength aluminum and fits most airsoft guns with a 14mm counterclockwise thread on the barrel. The extension is finished with a clean, matte coating, to ensure that the barrel isn't bright or shiny under light conditions, and is dimpled in the front and the sides to give it a unique look. The Lancer Tactical Barrel Extension is an excellent choice to disguise an extended inner barrel or just give your airsoft gun a more tactical look.
Specifications:
Manufacturer: Lancer Tactical
Thread Type: 14mm Counter-Clockwise
Thread Position: The edge of the barrel extension
Recommended fit: M4, M16, AUG, SCAR, MK36, MP5, AK, and pistols
Color: Tan

Features:

Aluminum Tube

Aggressive Look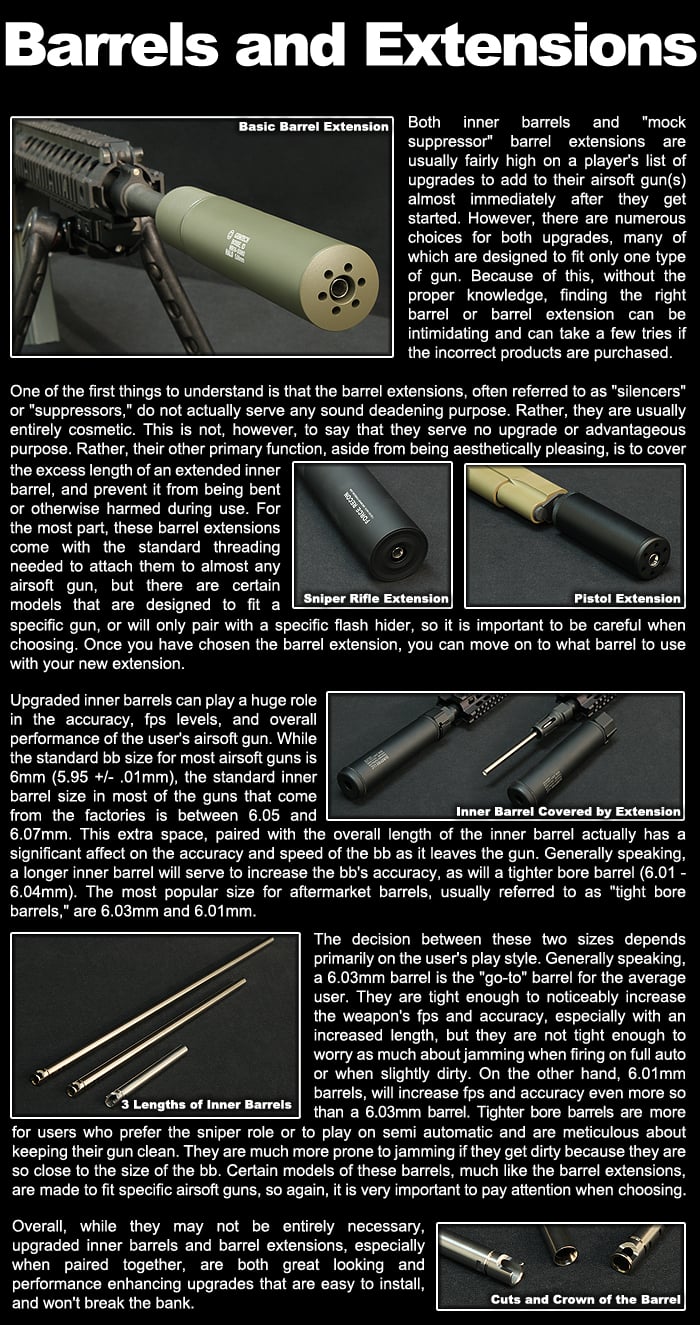 Specifications

Manufacturer: Lancer Tactical
Color: Tan
Size: 30mm x 155mm
Material: Aluminum
Package Includes: One (1) Barrel Extension
see 4 reviews
|
Write a Review
verified buyer
P. COLBERT | 2014-01-28
Product Information:
Im very much new to the sport. So I have been looking at silencers for a while now. When I saw this I knew this was the one for my gg combat machine. It looks AWESOME on my gun!!! The tan sets off the tan body of the machine making it look mean!!!

Pros:
Super easy to put on. Looks killer on the barrel. The weight is perfect. The overall best thing about it was the PRICE!## Super cheap!!!

Cons:
None that I could find..but if I had to mention something..Maybe it coukd be fatter..kinda skinny but like I said for the price its UNBEATABLE!!!
verified buyer
H. LANOVOI | 2014-01-31
Product Information:
This is a nice cheap silencer if you have some threading and would like to put something there.It has a nice solid construction but one of the first things i noticed about it was the how cheap the paint is. It marks up easily and feels powdery on the outside.

Pros:
-cheap
-looks nice if you want a tan silencer
-the details at the end of the silencer add a nice ascetic touch

Cons:
-cheap paint
-marks up easily
-feels powdery and weird (part of why it marks up easy)
verified buyer
H. HWANG | 2016-07-06
Product Information:
Great barrel extension. The metal provides a high quality finish as well as build.. Really gives a gun the very tactical look. This made my budget M4 look like a high end AEG. Many people wowed at the look of my gun after this barrel extension.

Pros:
Look
Build
Quality
Finish

Everything is great about this barrel extension

Cons:
Nothing really. Since it is metal sometimes it makes a horrible noise when screwing on.
Will it fit INSIDE a metal Fast Attack M4 handguard?

I recently purchased the Apex Fast Attack M4 w/ the tan 16" Keymod "Wirecutter" handguard. Will this thread onto the metal outer barrel? AND, will it fit INSIDE this particular handguard? I measured the inner diameter of the handguard to be about 32.5mm. So, if this item is EXACTLY 30mm outer diameter, then it should definitely fit! If so, PLEASE RESTOCK!

2049 days ago

Lucas B

0

0

(I have this same question)

Staff Answer:

We cannot guarantee fitment

2047 days ago

1 answers
1 asked

Will it fit R5 M12
0 answers
1 asked

Inner barrel?
0 answers
1 asked

Will it fit on a m4 s-system.

I want a barrel extension wondering if it will work?

2792 days ago

Delmar G

0

0

(I have this same question)

Staff Answer:

As long as it has 14mm CCW threads

2791 days ago

1 answers
1 asked

Will it fit?

I have an Umarex GBB mp7 and if I use a 12mm+ to 14mm- adapter, will this work?

3143 days ago

Ann G

0

0

(I have this same question)

Staff Answer:

It should. Please contact our customer service for clarification.

3141 days ago

1 answers
1 asked

will it fit

will it fit on the krytac crb

3209 days ago

david s

0

0

(I have this same question)

Staff Answer:

It should

3203 days ago

1 answers
1 asked

Will this work with a G&G combat machine

im wanting to get a barrel extension but idk if this one works

3584 days ago

alex p

0

0

(I have this same question)

Staff Answer:

That one should work.

3582 days ago

1 answers
1 asked

go on

Will this go on the lancer tactical full metal body and gear box tactical ak or do i need an adapter

3589 days ago

Justin B

0

0

(I have this same question)

yes it does

2799 days ago

1 answers
1 asked
Search Tags: 14mm CCW M4 Cosmetic Mock Suppressor Negative Dark Earth Coyote Brown Negative - Counter Clockwise Clock Wise Mock Fake Suppressor Silencer Barrel Extension Extender Can Cosmetic
People who bought this item also purchased: