Lancer Tactical 3-9x40mm Rifle Scope With Mounting Rings
[SF14][14590 / CA-408B]
( 2 Reviews )
❤ Add to Wishlist
This Lancer Tactical 3-9x40mm Rifle Scope is a great, and inexpensive, way to add magnified optics to your airsoft gun. This model is capable of being mounted on multiple platforms via 2 included scope rings. The mil-dot cross hairs are adjustable for both windage and elevation. A knob on the scope will allow for variable zoom, and is capable of 3x to 9x zoom.
Specifications:
Manufacturer: Lancer Tactical
Color: Black
Zoom: 3x - 9x Adjustable
Objective Lens Diameter: 40mm
Tube Diameter: 25mm
Weight: 12.5 Oz
Package Includes: One (1) Lancer Tactical 3 - 9x 40mm Scope, Two (2) 1" Scope Rings,
Features:
Adjustable Zoom
Solid Metal Construction
Windage & Elevation Adjustment Knobs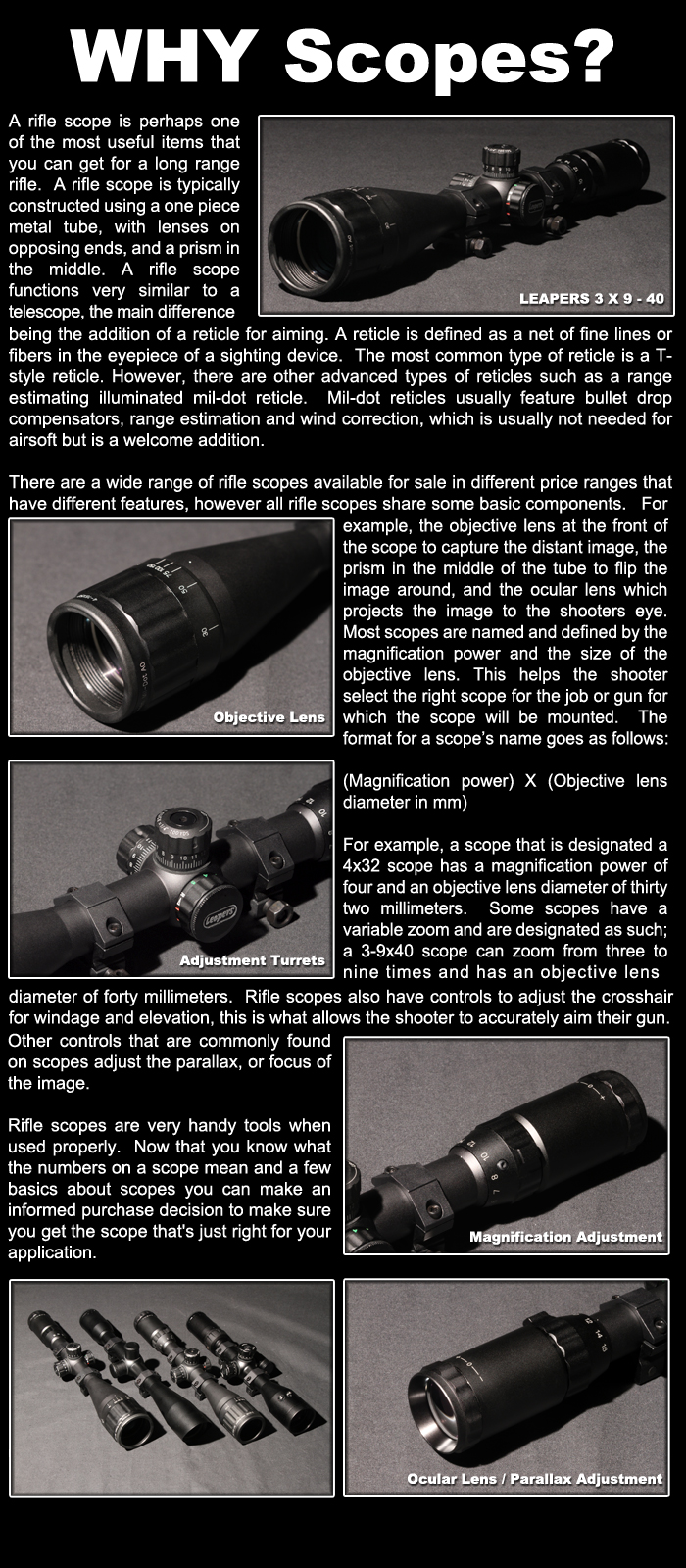 Specifications

Manufacturer: Lancer Tactical
Color: Black
Material: Metal
Package Includes: One (1) Scope
see 2 reviews
|
Write a Review
verified buyer
M. MCCOMB | 2014-07-03
Product Information:
the lancer tactical 3-9x40mm oh my gosh i love this scope the first day i got it i had to go try it out and i will not lie i had so much fun with it hitting people once i go it in sync with my m4 and kjw r700 sniper rifle.

Pros:
the pros.... well this is going to be a long one it dose its job matchs the targets with the cross hair and bang you feel fulfilled when ever you hear HIT and also it cheep only $26.00 thats great for your money and also great quality

Cons:
now.......cons well their is nothing wrong with it.... so far but im not trying to look for that even tho i kind of am well their actually is if you loss one of the caps that come off and you can adjust it and loss it it ruins the reality but still looks cool but not as cool
verified buyer
D. MORALES | 2014-09-11
Product Information:
I got this for my AGM Full Metal MP-001 Bolt Action Sniper Rifle Airsoft Gun and honestly the duo isn't great. I usually have to aim up a bit to hit the target, but for the price it is a decent scope.

Pros:
Very Clear
The Zoom is Great!
Ok Price

Cons:
Depends on gun but have to aim off of your target to hit.
Ring type?

These rings for the scope, are they dovetail, Weaver, Picatinny? Please specify.

1204 days ago

James B

0

0

(I have this same question)

Staff Answer:

The rings should fit standard picatinny style rails.

1204 days ago

1 answers
1 asked

Will this fit?

Will this scope fit on the well l96 bolt action sniper rifle?

1283 days ago

Jordan M

0

0

(I have this same question)

Staff Answer:

It should fit most airsoft guns.

1281 days ago

1 answers
1 asked

Protection

Does it come with lenses for when I'm done playing?

1308 days ago

Zachory S

0

0

(I have this same question)

Staff Answer:

It should

1308 days ago

1 answers
1 asked

Will this fit on the NC Star AK Side Rail Optics Mount?
0 answers
1 asked

Does it work with Rails?

With the scope rings, would it still work with traditional Rail systems?

1809 days ago

Kipling C

0

0

(I have this same question)

Staff Answer:

Yes

1806 days ago

1 answers
1 asked

Is to good

Can I make my lancer tactical m4 into a sniper and if I can I want to know if the rings can raise the scope above the frontal iron sights

2075 days ago

Graham K

0

0

(I have this same question)

Staff Answer:

You can make your Lancer Tactical M4 into a long range rifle but this optic will not clear your front triangle sight. You will need to remove or replace it.

2075 days ago

1 answers
1 asked

can this fit on the lancer tactical fal?

So I don't waste my money on a scope that doesn't fit on my gun

2076 days ago

Jonathan C

0

0

(I have this same question)

Staff Answer:

Yes it can.

2076 days ago

1 answers
1 asked
Search Tags: DMR Sniper Optic Long Range Gun Rifle
People who bought this item also purchased: