King Arms M4/M16 120 rd. AEG Mid Capacity Magazine - 5 Pack (Black)
[U14C00][06582 / MAG-KA M16 120R MTL]
( 2 Reviews )
❤ Add to Wishlist

New to airsoft? Here are some safety tips for airsoft guns that we recommend following.
Description:
These magazines are recommended for use with the A&K, Echo 1, JG, Tokyo Marui, Classic Army, VFC, ICS, G&G, and G&P M4/M16 series AEGs, it may work with other brands AEG but cannot be guaranteed by Airsoft GI.
Specifications:
Manufacturer: King Arms
Magazine Capacity: 120 rounds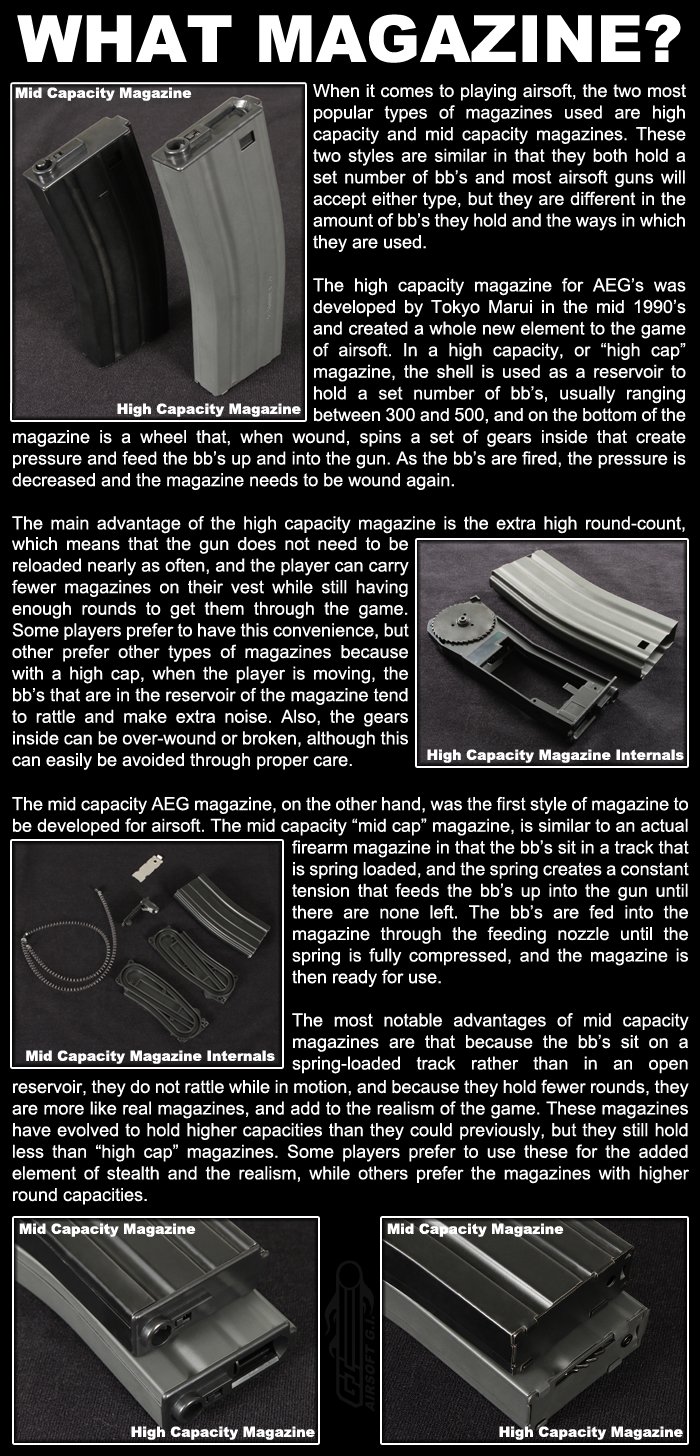 Specifications

Manufacturer: King Arms
see 2 reviews
|
Write a Review
verified buyer
A. RANSON | 2014-02-13
Product Information:
First review! Anyway these midcaps are a great upgrade from the high caps I used before. You may ask why i said upgrade from high caps but there are a few reasons. First, less ammo per mag adds realism. Second, you can shoot all 120 rds because there's only one spring. There is no gear to crank on the bottom. Third, they are easy to load with any normal speed loader. Fourth, there is no rattle of bbs when moving to give away your position. All round these are great mags.

Pros:
Full metal construction
-durability
-realism
All 120 rds w/o having to wind
I recommend these mags!

Cons:
The only con could be the weight. Because these mags are full metal, when they are loaded and all packed on your rig, it adds some weight. It is easy to configure your rig so that not all the mags are puuling the weight to the very front.
verified buyer
J. MORENO | 2014-02-14
Product Information:
I currently was using the kwa 120 but I was having issues with it fitting my A&K Masada. The magazine would fall out so I hade to put tape to keep in. I also had feeding issue in full auto it would skip bbs. The king arms mags work great on my Masada it fits perfectly and no feeding issue.

Pros:
Work great.
Reliable and durable
Compatible with A&K Masada
Feeds great

Cons:
The weight. I have 8 in my plate carrier and it add a lot of weight, but if u look and in a positive way it makes it more realistic.and keeps u in shape.
Do these mags fit the A&K Masada
0 answers
1 asked
Search Tags: Mil Sim Gun Polymer Field M4 M16 Scar Mag Clip Box Set Mid Cap mid cap midcap medium capacity aeg automatic electric gun airsoft mag magazine clip
People who bought this item also purchased: