King Arms M4/M16 120 rd. AEG Mid Capacity Magazine - 10 Pack (OD Green)
[T00B00][09922 / MAG-KA M16 120 OD]
( 3 Reviews )
❤ Add to Wishlist
Free Shipping for orders over $89 No Coupon needed
Description:
This magazine is recommended for use with the A&K, Echo 1, JG, Tokyo Marui, Classic Army, VFC, ICS, G&G, and G&P M4/M16 series AEGs, it may work with other brands AEG but cannot be guaranteed by Airsoft GI.
Specifications:
Manufacturer: King Arms Model: M4/M16 Mid Capacity Magazine
Color: (OD)
Magazine Capacity: 120 rounds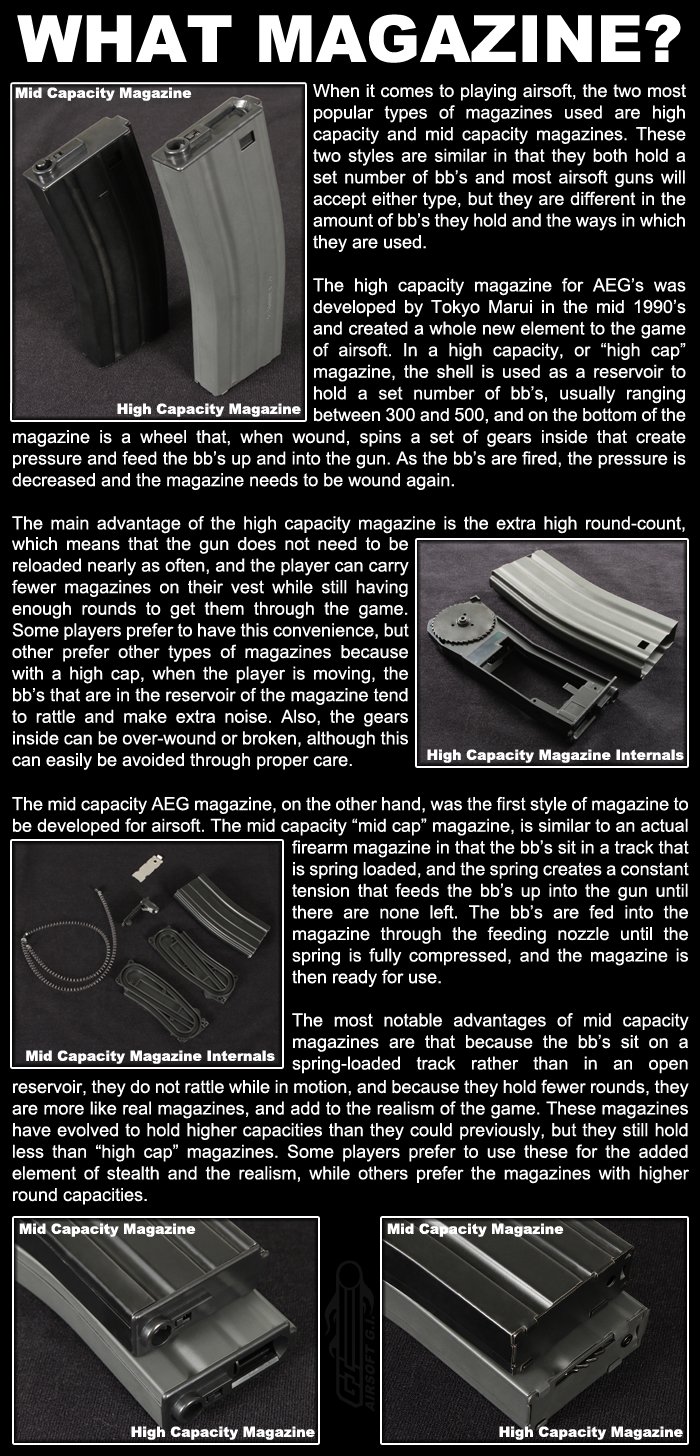 Specifications

Manufacturer: King Arms
see 3 reviews
|
Write a Review
verified buyer
L. PROULX | 2013-05-19
Product Information:
Wow these mags are fantastic. I bought them for my G&G combat machine M4 and they work like a charm. I played with them at the biggest game of Canada (400 players) and we played for 8 hours straight and there was actually no failure of the mags! It will work with any M4 I guess, I gave one to my friend who had another brand of M4 and it worked perfectly too! I like the feel of the mag, it is very sturdy compared to other mags and it is made from a kind of high resistant polymer. These things just look indestructible. They are a little wobbly but they don't misfeed. And actually these are made in Hong Kong, Japan so I guess they are good quality! OH and don't forget to lube your mags with silicon oil spray!

Pros:
Nice looks
Very solid polymer construction
Price is fairly cheap for what you get!
Nice feeding

Cons:
Little wobbly ( I don't care, it doesn't misfeed at all!)
M. FEASEL | 2013-05-16
Product Information:
I got these a while ago and I've run them through their paces. For one I prefer the polymer. My load out is pushing 20 pounds already, plus my 12 pound gun. And I don't even play big games (I use 8 mags and 3 pistol mags). I play outside in a very forested area with only a handful of people. Because of the lack of people, it's not a shoot and survive play style. It's more of hunting. You have a conflict maybe every 5 minutes, rather then every 5 seconds (on average), So sneaking is key. High caps have the bb's loose in an empty void, and rattle like crazy. This gives you away like none other, hence why I changed to mid caps. 110% silent. Also when in a firefight, you can shoot all 120 rounds holding the trigger. High caps I think shoot 30 rounds before you have to wind them up again.

Now loading these things is the only real problem. It requires a speed loader (that or pressing in 120 bbs one at a time) where as high cap you simply pour them in. Also you should fill up to 120, no more, however this mag will fit more. I believe I got 140 into one once. As good as extra bb's sound, trust me it's bad. Basically the bb's stack at in a zig zag lined right? When you force extras in, the bb's stack parallel to each other in the shaft. This makes them stuck. In other words, you will be shooting, only 6 bb's will come out, then the mag will jam. Once loose, shoot another 6 or so shots, then it's jammed again. The parallel bb's usually happen throughout the mag, so it'll jam until all bb's are gone. Now I've learned from experience a firm slap on the side or bottom of the mag is usually enough of a jolt to unjam it. So there's a solution. However a jamed mag will require to be unjammed (slapped) anywhere from 5-20 times during those 140ish bb's. Trust me in a fire fight, this is among one of the top three worst things that could happen to you. So it's very important that you load it to 120, or LESS. No more then that. It helps if you have a speed loader that is visably transparent, and has a measuring line (like a line for 60 bbs, fill it twice with that amount equals 120). I saw on evike tv that some company is making a shotgun looking speed loader specifically for midcaps, but have yet to see it be released yet (highly anticipating that).

On my JG M416, these mags fit the mag-well very tightly. To clarify what I mean, I have to mildly force them into the mag-well. Basically I push them half way (not that hard) then give them a good spank (not that hard) and they click in. Getting them out is some what of a tug, but not a horrible deal. While some don't prefer this, I prefer it over my hi caps that have at times fallen out of my gun due to sheer weight of the metal mag+400 bbs, and because it's not a snug fit. I've also customized the 8 mags I use all with magpuls, and 4 dual mag connectors (1 for a pair).

I do prefer the od, cause it adds to the camo of my gun. My gun is basic black, but i have od and tan rail covers (mixed) tan pistol grip, stock, etc. So it's not a nice paint job camo, but it's better in the woods then black, on black, with some black on it, under some black. Not as bad as a neon color in the woods, but being closer to camo is best.


Pros:
Light weight
100% silent
Pull trigger through 120 rounds (vs hi cap 40 rounds before having to wind it)
Sturdy
Snug fit, not loose
Long lasting


Cons:
Difficult to load (but not impossible)
Easy to overfill if not loaded properly
Overfilling causes overwhelming amounts of mag jams (see review for further details)
verified buyer
B. KORNMILLER | 2013-02-18
Product Information:
First off the color is a bit off; it's a very very dull green far more tan-green then anything. Functionality wise they work well, durable though I did need to take them apart and lube the spring a bit after one or two failed to feed about half of a magazine. They fit in my G&G FNC as they should, price wise for 10 magazines is not bad, given they are modeled after the STANAG type they probably should have been slightly cheaper but they work well. They do seem to hold around 110 or so, I'm not sure I've been able to load all 120 bbs into the magazine. Since these are just normal AR mags there isn't much to say to be honest, they either work well or they don't and these so far have worked well.

Pros:
Function well
Feed properly
Durable construction, again so far
The price for 10 isn't bad


Cons:
Green color is very off
They might not actually hold all 120 bbs
Standard AR type mags, no frills or anything, that can be a pro or con depending on who is buying them.
Does this mag fit to a Black rain ordnance Fallout 15?

Does this mag fit to a Black rain ordnance Fallout 15?

688 days ago

Ilyas Tomas �c

0

0

(I have this same question)

Staff Answer:

The Black Rain Ordinance is made by King Arms. I would assume they'd work, but I haven't tried them.

688 days ago

1 answers
1 asked

Do these work with Apex M4s?

Do these work with Apex m4s

1811 days ago

Cody M

0

0

(I have this same question)

Staff Answer:

Yes

1810 days ago

1 answers
1 asked
Search Tags: Mil Sim Gun KA Polymer Field M4 M16 Scar Mag Clip Box Set Mid Cap mid cap midcap medium capacity aeg automatic electric gun airsoft mag magazine clip
People who bought this item also purchased: