King Arms M4/M16 120 rd. AEG Mid Capacity Magazine - 10 Pack (Flat Dark Earth)
[M09C00][09923 / KA-MAG-16-X-DE / MAG-KA M16 120 DE]
( 1 Reviews )
❤ Add to Wishlist

New to airsoft? Here are some safety tips for airsoft guns that we recommend following.
Description:
This magazine is recommended for use with the A&K, Echo 1, JG, Tokyo Marui, Classic Army, VFC, ICS, G&G, and G&P M4/M16 series AEGs, it may work with other brands AEG but cannot be guaranteed by Airsoft GI.
Specifications:
Manufacturer: King Arms Model: M4/M16 Mid Capacity Magazine
Color: Dark Earth
Magazine Capacity: 120 rounds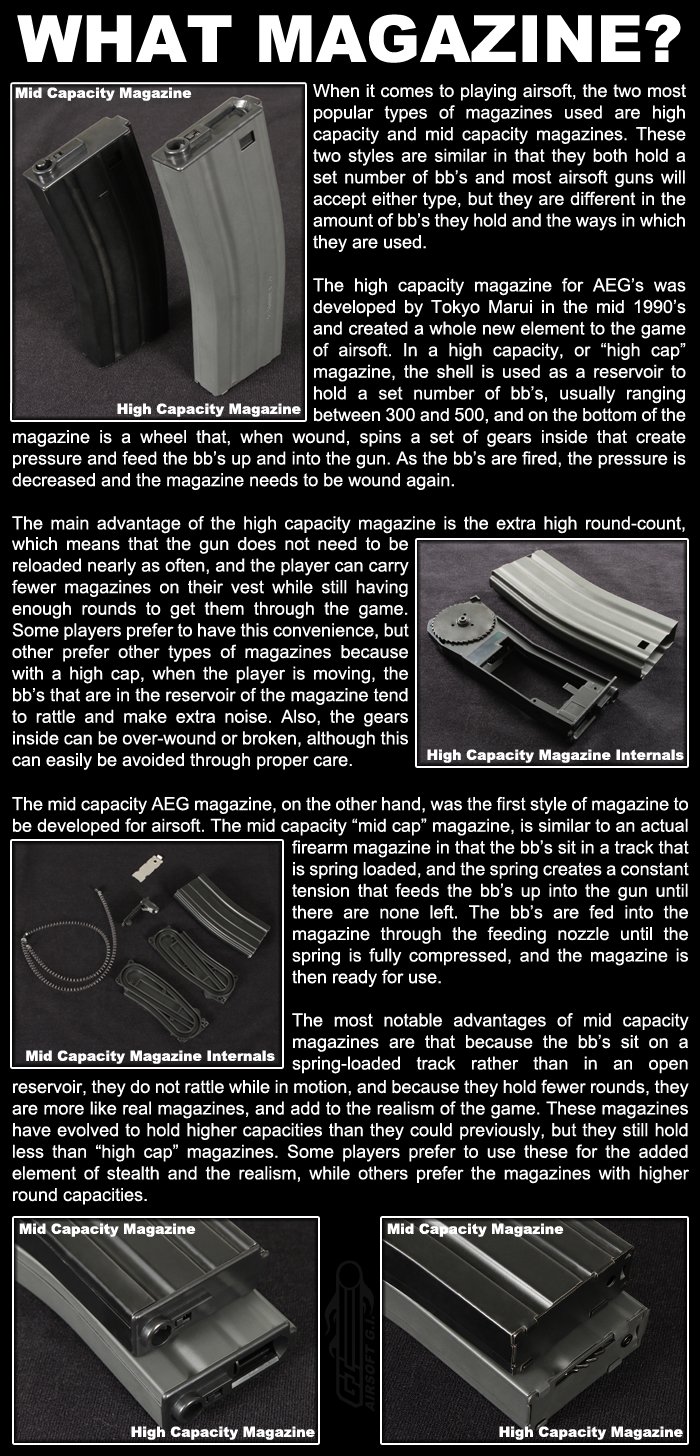 Specifications

Manufacturer: King Arms
see 1 reviews
|
Write a Review
verified buyer
D. GORDON | 2013-01-07
Product Information:
Even coat of DE green all around the plastic magazine. About .75" shorter than a STANAG magazine. Holds between 118 and 122 BBs, depending on how lazy you get while counting. Good magazine package for your money.

Pros:
7 bucks a magazine is nice. The DE color keeps you from having to paint your boring black or grey magazines and offers a little more concealment. Quiet magazines with an easily manipulative release on top if you have to dump BBs out. I've never had an issue with them not feeding into the hopper.

Cons:
I have had a problem with them jamming up inside of the magazine, usually around the first bend. 2/10 magazines have this problem. I just marked them and make sure I slap them when they start misfeeding... usually the problem is quickly correctable.
Will these work with...

I was wondering if these mags will work for my, WE Full Metal SCAR-L MK16 STD AEG

3117 days ago

Evan F

0

0

(I have this same question)

Staff Answer:

They should work

3114 days ago

1 answers
1 asked

will these work on the a&k masada acr

thinking about purchasing the item listed above and wondered if these mags would fit my acr

3264 days ago

Bryce M

0

0

(I have this same question)

Staff Answer:

They should work

3263 days ago

1 answers
1 asked

Compatible with KWA AEGs? Specifically the SR10.

I like the look of standard GI metal mags over polymer (pmags/troy) for airsoft. This is perfect package for me but have no experience with king arms and KWA.

3271 days ago

Artez H

0

0

(I have this same question)

Staff Answer:

That gun should be able to take any M4 style magazine

3270 days ago

1 answers
1 asked

what are they made of

i want to know if they will tear up easily

3287 days ago

johnny w

0

0

(I have this same question)

Staff Answer:

They are made of plastic

3286 days ago

1 answers
1 asked

will these work with a G&G Combat Machine CM16 mod 0

3296 days ago

marti m

0

0

(I have this same question)

Staff Answer:

They should work.

3296 days ago

1 answers
1 asked

I have a great gun but made my an unknown company.

My standard M4 made by an unpopular brand called gameface has no problem feeding bb's from magazines from mags that are originally made for Echo 1. However, since these mags can feed for echo 1 guns, im wondering if they'll do the same for my gun.

3320 days ago

Ethan G

0

0

(I have this same question)

Staff Answer:

These magazines should work with any M4 style gun.

3320 days ago

1 answers
1 asked
Search Tags: Mil Sim Gun KA Polymer Field M4 M16 Scar Mag Clip Box Set Mid Cap mid cap midcap medium capacity aeg automatic electric gun airsoft mag magazine clip
People who bought this item also purchased: