Intellect 9.6v 2000mAh NiMH Nunchuck Battery
[V07B05A][02772 / ERBAT6 / 603235]
( 20 Reviews )
❤ Add to Wishlist
Free Shipping for orders over $99 No Coupon needed
Description:
The 9.6v 2000mah Intellect Cell battery pack is designed to fit into the hand guard of the M4 series that normally only have space for a conventional mini battery. The battery fits in the M4 hand guard by splitting the battery pack into 2 sections that go around the barrel. Due to its higher voltage this battery will give your AEG a faster rate of fire and it is a must for your upgraded M4.
Specifications:
Manufacturer: Intellect
Voltage: 9.6v
Milliampere Hours: 2000mAh
Cell Type: Nickel-metal hydride (NiMH)
Connector Type: Mini
Recommended Fit: ICS M4 Battery Box, M4A1 hand guard, M733 hand guard, and M4 Commando hand guard
Please Note:
For best performance we recommend insulating
the wire connections with electrical tape.
Airsoft GI Battery Disclaimer:
Airsoft GI is not responsible for batteries that have been damaged as a result of improper operation, storage, misuse or abuse, accident or neglect, such as physical damage resulting from misuse; contact with liquid, water, rain, extreme humidity or heavy perspiration, sand, dirt or the like, extreme heat, or food; use of the battery for commercial purposes or subjecting the battery to abnormal usage conditions, or other acts which are not the fault of Airsoft GI. Make sure you understand how your battery should be used and how long it should be charged. If you have any doubt regarding the operation, charging, or storage of your battery and/or charger, ask. A charging battery should not be left unattended and should be picked up periodically while charging to check for overheating. Do not charge batteries near flammable material. For more information regarding batteries please refer to the Frequently Asked Questions or the Airsoft GI Airsoft 101 Guide.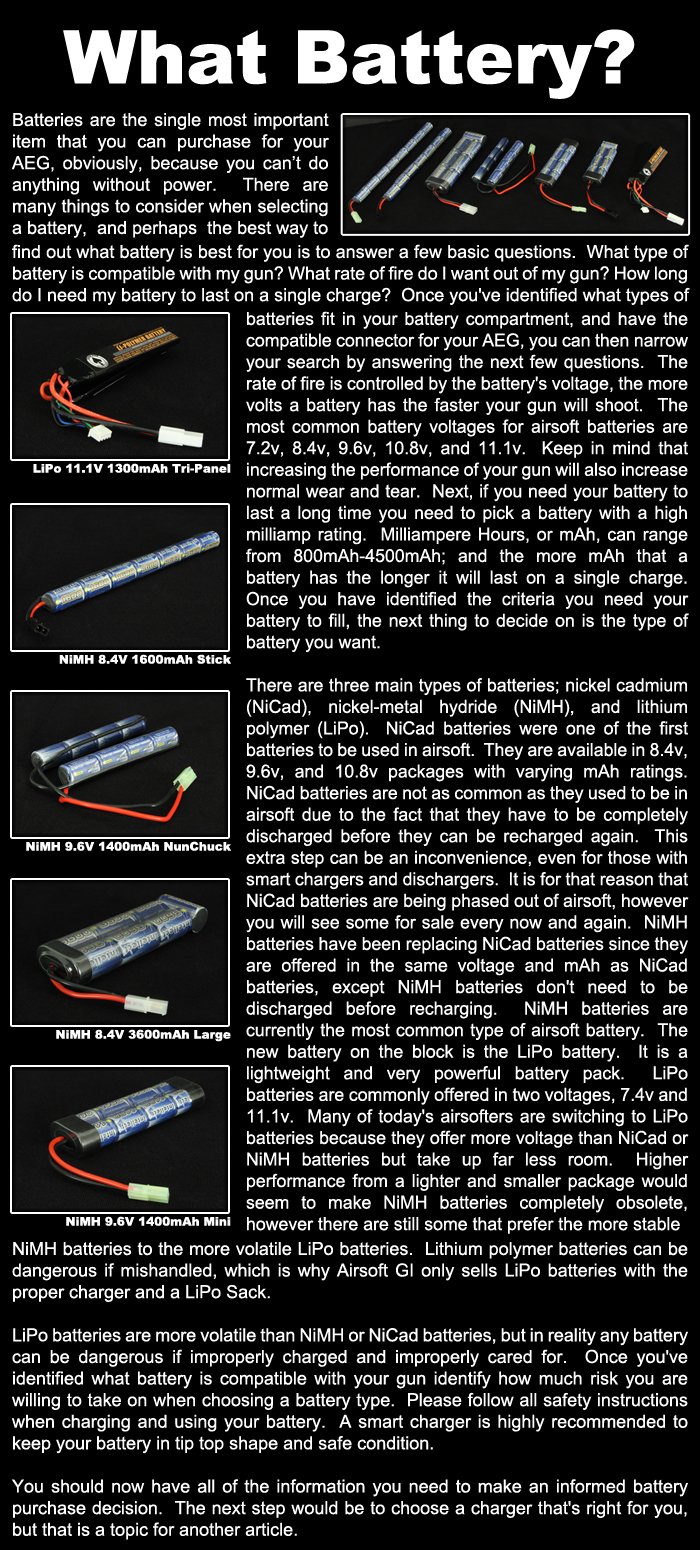 Specifications

Manufacturer: Intellect
see 20 reviews
|
Write a Review
K. FISCHER | 2010-07-13
Product Information:
I bought this for my socom gear DD M4, and it is pretty much amazing.
But the real question for me was if it would fit in my magpul moe hanguard.

After taking the metal shell off my mofset (prolly not the greatest idea but whatever) then wrapping the mofset wires on one side, the battery on top and bottom, and the tamiya connectors on the other side, i manage to get it to fit, which i am so tahnkful for. Amazing bang for teh buck!

Pros:


Cons:
verified buyer
E. SANTAMARIA | 2013-10-18
Product Information:
I ordered two of these batteries for my Masada and they did not disappoint! I had a 9.6 small that died so quick, but these batteries last, and not to mention that they give you a higher fire rate! Overall, they're great and I love them. Would run them on any gun with the space for these batteries.

Pros:
Insane Duration- I tested them all day on my Masada and my friend tested one on his M4 S-System and they were phenomenal on how long they lasted!
Fire rate- My Masada's fire rate(even though it's high on an 8.4 already) it took a jump on the fire rate.

Cons:
I don't see any cons, but they do take up some significant space in my gun's handguard, and not to mention they don't fit on certain guns.
verified buyer
C. YI | 2013-12-11
Product Information:
I ordered one with one of the airsoft gi custom CQRs, and this battery exceeded my expectations. The battery has a large amount of life to it, and it gives my weapon a great trigger response and great ROF. Intellect is a great battery company overall, and I would definitely suggest this battery.

Pros:
- Large battery life (Went through an entire night operation without any sign of it losing life)
- Great voltage output
- Does what you think it does!

Cons:
- size might be cumbersome (I use it in a PEQ2 box)
- For all I know, it doesn't fit inside of a MOE handguard. I might be wrong, I haven't actually tested this, but the dimensions might be too big.
play time

how long will this battery last before i have to recharge?

2238 days ago

christopher s

0

0

(I have this same question)

Staff Answer:

It depends on how much you are shooting

2237 days ago

1 answers
1 asked

will this fit in a lancer tacticak m4 mk18.

hi

2255 days ago

garett e

0

0

(I have this same question)

Staff Answer:

No

2255 days ago

1 answers
1 asked

KWA G36C/KWA Magpul PTS RM4

Will this battery fit in a KWA H&K G36C or KWA Magpul PTS RM4 Scout Electric Recoil (ERG)?

2259 days ago

Stefan S

0

0

(I have this same question)

Staff Answer:

Most likely not

2259 days ago

1 answers
1 asked

fit ?
0 answers
1 asked

Will it fit

PEQ 15

2299 days ago

jakob N

0

0

(I have this same question)

Staff Answer:

No

2297 days ago

1 answers
1 asked

will this fit?

will it fit in the Umarex H&K Full Metal MP5 SD5 AEG

2303 days ago

matt k

0

0

(I have this same question)

Staff Answer:

It should be able to fit in the stock.

2300 days ago

1 answers
1 asked

Will this fit ?

In a Umarex H&K Full Metal MP5A5 AEG Airsoft Gun (3 Round Burst/by VFC) [R14A00][14989/2278063] Crane stock style battery

2319 days ago

Mason G

0

0

(I have this same question)

Staff Answer:

No it will not

2317 days ago

1 answers
1 asked

Will this fit a JG M4 Tactical system handgaurs

what will want fast fire rate

2346 days ago

Ed M

0

0

(I have this same question)

Staff Answer:

You will need a 9.6v 1600 mAh crane stock battery

2345 days ago

1 answers
1 asked

G&G GR4 G26 w/ built in laser and light
0 answers
1 asked

Will this fit?

Would this battery fit in the MagPul USA MOE M4 Rifle Length Handguard even if very tight?

2366 days ago

Brandon W

0

0

(I have this same question)

Staff Answer:

This battery should be able to fit.

2366 days ago

1 answers
1 asked

will it fit in the umarex tavor tar 21

im tempted to get this battery along with the tar 21 but i need to make sure it will fit. if it doesnt, what do u suggest?

2390 days ago

sean n

0

0

(I have this same question)

Staff Answer:

It should not. A 9.6v nunchuck 1600 Mah or 1600 Mah in Mini configuration should work.

2388 days ago

1 answers
1 asked

will this fit in a g and g m4 hand gaurd

and if it doesn't what batty will

2393 days ago

randall a

0

0

(I have this same question)

Staff Answer:

It should fit.

2388 days ago

1 answers
1 asked

will this fit in a Apex Full Metal Carbine MK13 Mod 3 AEG or a Airsoft GI Desert G4-A3 Version 2 Carbine?

will this fit in a Apex Full Metal Carbine MK13 Mod 3 AEG or a Airsoft GI Desert G4-A3 Version 2 Carbine?

2396 days ago

Alex S

0

0

(I have this same question)

Staff Answer:

This battery will not fit in either airsoft gun.

2394 days ago

1 answers
1 asked

will this fit in g&g crane stock

Will this fit in g&g crane stock

2414 days ago

Michael H

0

0

(I have this same question)

Staff Answer:

This will not fit in a crane stock very well. The 1600Mah variant of the battery should fit in a crane stock.

2414 days ago

1 answers
1 asked

Will this fit in the cyma cm042 ak47 battery in stock version?

I want to know if it will fit in the stock of the gun?

2454 days ago

Daniel P

0

0

(I have this same question)

Staff Answer:

It should fit okay.

2454 days ago

1 answers
1 asked

would this be good for a Mk18

Would this be good for a G&G Combat machine mk18

2464 days ago

nathan m

0

0

(I have this same question)

Staff Answer:

This battery will not fit in the crane stock of a G&G Mk18 Combat Machine. You will need to buy a 9.6V 1600Mah Nunchuck battery: http://www.airsoftgi.com/product_info.php?products_id=14727

2463 days ago

1 answers
1 asked
Search Tags: Nickel Metal Hydride NiMH NiHM Low Voltage Butterfly AA M4A1 AEG 8 Cell 9.6 2000
People who bought this item also purchased: