G&G PSBP .20g 1kg. 5000 ct. BBs 3 Bag Special (White)
[R02E03][15377 / G-07-096]
( 4 Reviews )
❤ Add to Wishlist
Free Shipping for orders over $179
No Coupon needed
New to airsoft? Here are some
safety tips for airsoft guns
that we recommend following.
3 Bag BB Special
The Airsoft GI three bag BB Special is one of the few ways you can save money. If each bag of BBs were to be purchased separately, it would cost much more than the cost of this three bags special. Overall, you would be saving you a few bucks with this special.
G&G PSBP BBs are high quality BBs suitable for any airsoft replica, especially high end rifles. The BBs weigh in at .20gram which is the airsoft industry standard for velocity testing and the perfect weight for use in any replica, regardless of quality. G&G manufactures their BBs under very tight tolerances to 5.95mm and are surface polished for excellent consistency in airsoft replicas.
These BBs come in 5000 count bags. This is a three bag special, the package includes three bags of BBs.
Specifications:
Manufacturer: G&G
Dimensions: 5.95mm
Quantity: 5000 rounds per bag
Design: All electric guns, high power spring guns, gas guns
Features:

Precision Construction

Polished for Accuracy

Designed for Airsoft Guns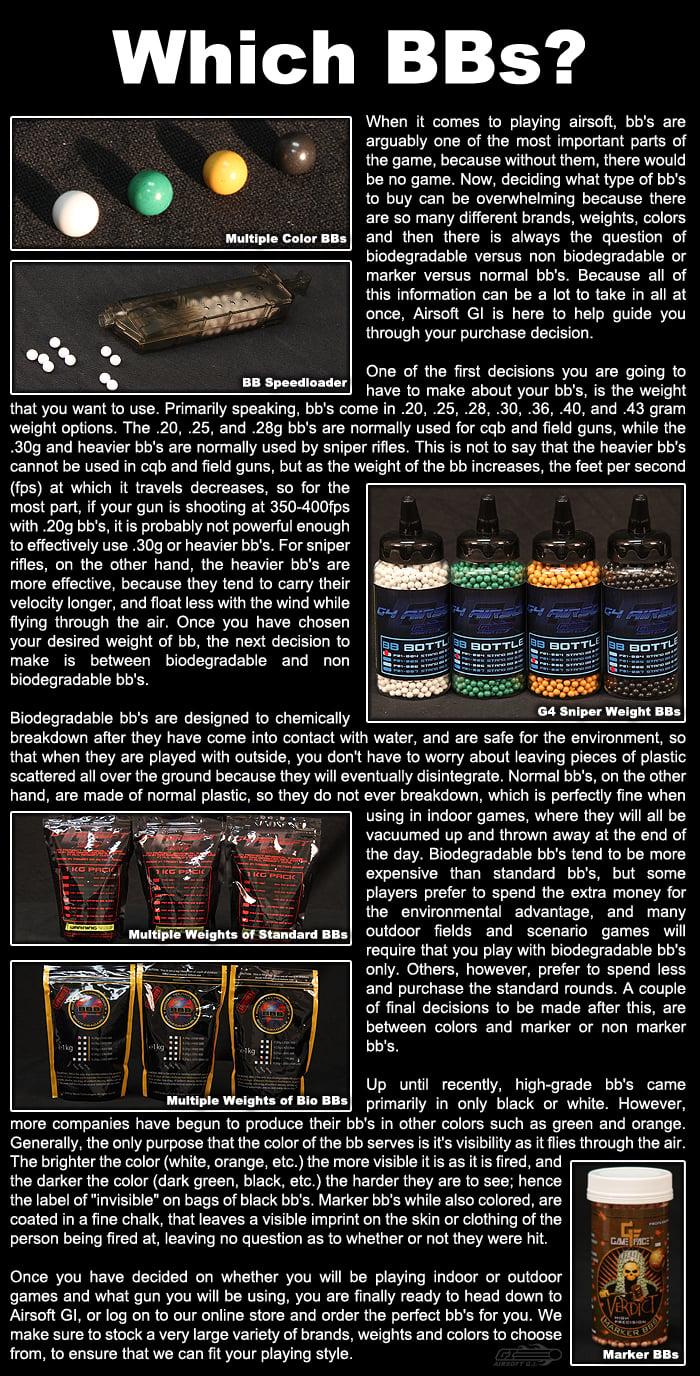 Specifications

Manufacturer: G&G
see 4 reviews
|
Write a Review
verified buyer
R. MUELLER | 2013-12-10
Product Information:
This is definitely a good buy, 15K bb's near the price of 10K wal-mart bb's I'm not complaining.

Pros:
Great bb's don't jam up your gun and are really reliable. Very precise and accurate and about 50 ft. even with a large bore barrel. I would definitely recommend these to anyone I play with.

Cons:
None really it is a great package deal worth every penny
verified buyer
N. CAMPIONE | 2014-02-07
Product Information:
These bbs are very nice they never jam in my gun and I've used them quite a few times at my local fields.

Pros:
Never jam
Come in set of 3
Saving good amount of money
Great deal!

Cons:
None!
verified buyer
S. RICHARDS | 2019-09-23
Product Information:
I will never use any other company again these bb's never jam in my gun and I never have had a miss feed

Pros:
Polished bb's
great deal for 3 bags

Cons:

Are they seem less

Just want to know

2287 days ago

Conner C

0

0

(I have this same question)

Staff Answer:

Yes, these are high quality seamless BBs.

2039 days ago

1 answers
1 asked
Search Tags: High Quality Precision Grade Seamless Polished Ammo BBs 0.20g .20g BB Bag .20 20g 20
People who bought this item also purchased: