G&G M4/M16 30 rd. AEG Standard Capacity Magazine (Black)
[B12E01][14479 / G-08-052]
( 2 Reviews )
❤ Add to Wishlist

The G&G 30 Round M4 "STANAG" magazine is a "Real capacity" style magazine that holds exactly 30 rounds, and is made for M4 platform rifles, or rifles that accept M4 magazines.
This magazine is recommended for use with the A&K, Echo 1, JG, Tokyo Marui, Classic Army, VFC, ICS, G&G, and G&P M4/M16 series AEGs, it may work with other brands AEG but cannot be guaranteed by Airsoft GI.
Specifications:
Manufacturer: G&G
Magazine Capacity: 30 rounds

Features:

Extended BB Feeder Loads Every BB Into Airsoft Gun
Metal Construction
Realistic 30 Round Capacity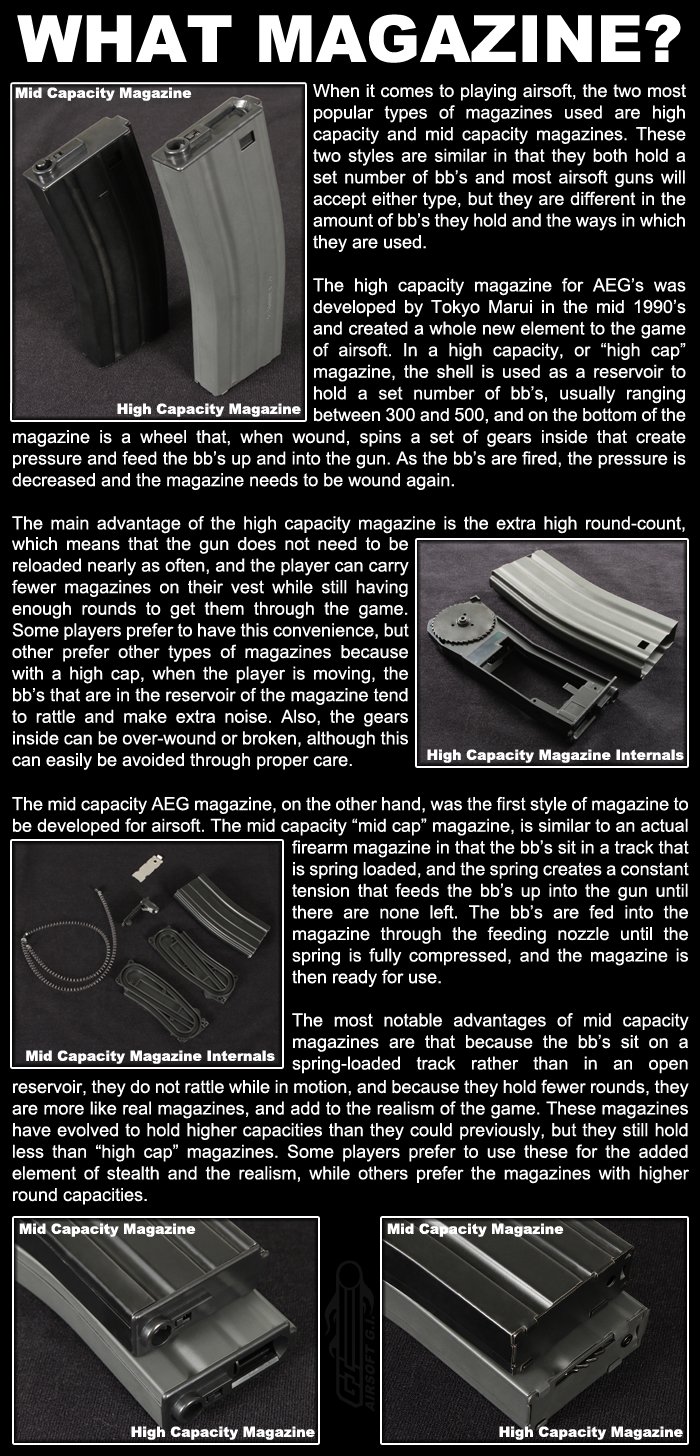 Specifications

Manufacturer: G&G
Color: Grey
Size: 30 Rounds
Material: Metal
Package Includes: One (1) Magazine
see 2 reviews
|
Write a Review
J. SMITH | 2014-02-06
Product Information:
For starters it fits my m4 perfectly with barely no wiggle. These are great inexpensive and have a realistic feel to them with only having 30 rounds so you actually have to reload not jut wind up.

Pros:
Has a more realist I feel to it
Not very expensive
Almost no wobble
Light weight
Durable
Barely any jam ever

Cons:
If your not into the low caps than it's not really for you but still a great buy.
The bottom of the mag is easy to bend if you replace the spring.
No other complaints on this product.
verified buyer
G. FLIEG | 2015-03-10
Product Information:
This is the best magazine I have. It feeds all 30 rounds. It even has 5.56mm x 45 on the side . It is full metal construction. It has a nice greyish finish. Perfect for realism. Its a little costly though. I think I got one of the last ones for a while because they have been out of stock since December (when I got it).

Pros:
Full Metal
5.56mm x 45 on the side
Feeds Every BB


Cons:
The Price
Other Than That, Nothing
You Don't Have One Yet
feed with 416
0 answers
3 asked

does it quick reload
0 answers
1 asked

Work?

Will this magazine work in the KWA SR10? Thanks.

3084 days ago

Andrew H

0

0

(I have this same question)

Staff Answer:

It should

3084 days ago

1 answers
1 asked

Would this work with Oberland Arms OA-15?
0 answers
1 asked
Search Tags: Stock Replacement OEM MilSim MIL SIM AEG Rifle Box Set M4 M16 Mag Clip 30 Round Rounds STanAG Mid Cap
People who bought this item also purchased: