G&G GR16 79 rd. AEG Mid Capacity Magazine (Tan)
[M02H05][10409 / G-08-082]
( 1 Reviews )
❤ Add to Wishlist
Free Shipping for orders over $89 No Coupon needed
This magazine is recommended for use with the A&K, Echo 1, JG, Tokyo Marui, Classic Army, VFC, ICS, G&G, and G&P M4/M16 series AEGs, it may work with other brands AEG but cannot be guaranteed by Airsoft GI.
Specifications:
Manufacturer: G&G
Magazine Capacity: 79 rounds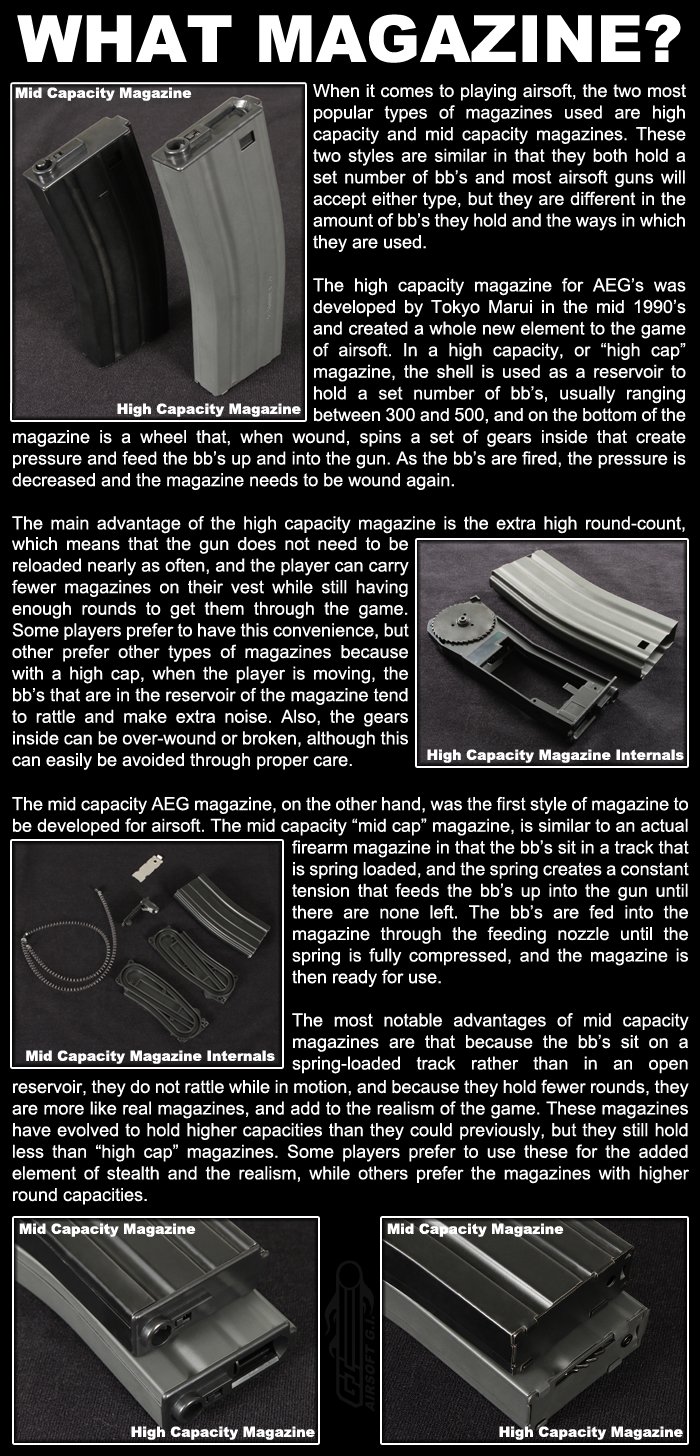 Specifications

Manufacturer: G&G
see 1 reviews
|
Write a Review
verified buyer
B. MEADE | 2014-01-29
Product Information:
Best magazine I have used. They feed every bb and have had no problems at all. Solid construction and don't make noise like the high-caps, bb's shaking inside. I bought the GI custom G4-A1 Daniel defense desert sand rifle and these magazines matched the color perfect. A bit of movement after in the rifle, but I added a strip of black duct tape around the top of the mag. Fixed the moving and no noise. They are metal too.

Pros:
Metal
Feed flawlessly
Quiet
Solid
Load easy

Cons:
None here, don't think I will ever.
Compatibility

Will these work with a Lancer Tactical M4 EVO?

1915 days ago

Colin R

0

0

(I have this same question)

Staff Answer:

Yes it should.

1895 days ago

1 answers
1 asked

what material are these made from

Are these metal, polymer, or what. on a side note this will work with a G&G GC16 m4 right?

2222 days ago

Shane S

0

0

(I have this same question)

Staff Answer:

The shell is metal, internally it is plastic

2220 days ago

1 answers
1 asked

Will these work with a G&G top tech TR4 mod 0?

Looking for new mags

2256 days ago

cody s

0

0

(I have this same question)

Staff Answer:

These should work

2255 days ago

1 answers
1 asked
Search Tags: Stock Replacement OEM MilSim AEG Rifle M4 M16 SCAR Mag Clip Mid Cap Desert Dark Earth Brown 79 Round Rounds mid cap midcap medium capacity aeg automatic electric gun airsoft mag magazine clip
People who bought this item also purchased: