G&G AK74 600 rd. AEG High Capacity Magazine (Orange)
[X08C08][03318 / G-08-037]
( 2 Reviews )
❤ Add to Wishlist
Free Shipping for orders over $149
No Coupon needed
This magazine is recommended for use with the Classic Army, VFC, ICS, and G&G AK74 series AEGs, it may work with other brands AEG but cannot be guaranteed by Airsoft GI.
Specifications:
Manufacturer: G&G
Magazine Capacity: 600 rounds

High Capacity Magazine Operation:
Find the trap door, usually located on the top of the magazine near the loading nozzle.
Open trap door and fill reservoir with high quality BBs.
Wind the wheel at the bottom of the magazine (notice the pitch and volume of the click).
Continue to wind wheel until pitch changes. Once the click gets louder, or begins to "double click," the magazine is fully wound.
Insert magazine into gun and fire. You may need to rewind the wheel during play.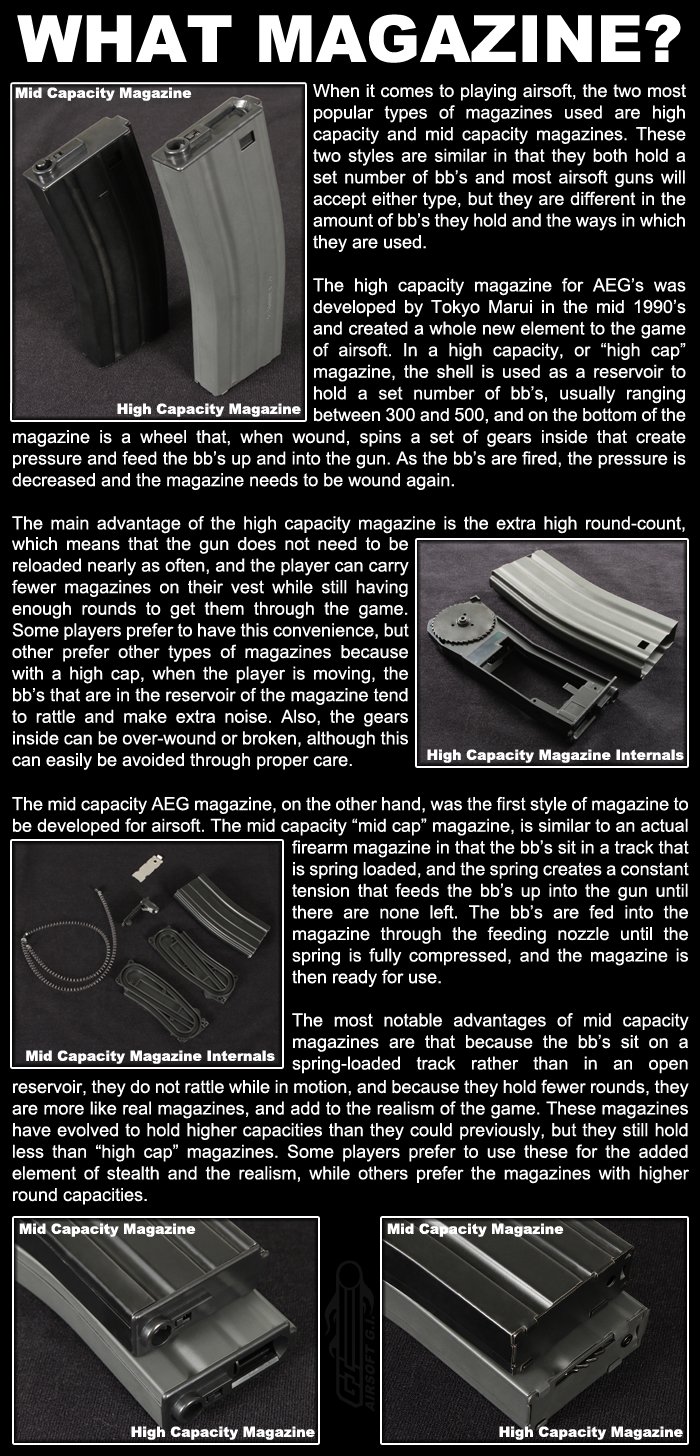 Specifications

Manufacturer: G&G
see 2 reviews
|
Write a Review
N. GABRI | 2008-07-29
Product Information:
this is one of the collest and most durable mags ive ever had it feed great (ive had no problems with feeding whatsoever not even 1 bb!)it look great in an ak 74u and it is vry universal will probably work in all cyma, TM, and tsd aks mine works in cyma and i have cyma ak 74u

Pros:
-very cool looking
-isnt so bright that it will give u away in the forest
-perfect feeding!
-durable
-universal mag catch
-large capcity can u se almost 1/4 of the resvoir of bbs with 6 winds

Cons:
none
verified buyer
A. ALLER | 2013-11-01
Product Information:
So I bought one of these just so I can get the style of an AK74u for my G&G Beta. I really only got an AK cause I wanted something new and reloading by hitting the magazine with another magazine (for style or flare I guess).

Pros:
Looks good
Feeds well
Body doesn't feel cheap
Good size
(Can't think of anything else to say good about this so)


Cons:
Breaks super easily, atleast with the lip for when you start part 1 of a reload
The back lip will probably break just as fast
This design needs to be fixed, the lips need to either be part of the body in a better manor or made out of metal for consistency's sake
-Side story-
This broke in my first game doing an AK style reload.
I highly suggest DO NOT BUY THIS, GET THE METAL 47 600 ROUND MAGAZINE INSTEAD, WAY MORE RELIABLE, HAS A METAL LIP WHEN YOU RELOAD IT SO LASTING WAY LONGER.
Search Tags: Mil Sim GG Gun Field AK Mag Clip hicap high cap capacity highcap hi highcapacity magazine g&g ak47 ak74 47 74 600rd 600 rd orange
People who bought this item also purchased: