G&G 9.6v 1500mAh NiMh Split Battery for G&G G26
[V09G11][09174 / G-11-038]
( 1 Reviews )
❤ Add to Wishlist
Free Shipping for orders over $179
No Coupon needed
New to airsoft? Here are some
safety tips for airsoft guns
that we recommend following.
The 9.6v 1500mah High Output NiMH 2-piece battery pack is designed to be used with the G&G GR4 G26 airsoft gun. The battery is pack is separated into two halves to fit around the barrel inside the hand guard. This battery will increase the rate of fire of your airsoft gun due to the higher voltage and its higher discharge rate. It is a must for G&G GR4 G26.
Specifications:
Manufacturer: G&G
Voltage: 9.6v
Milliampere Hours: 1500mAh
Cell Type: Nickel-metal hydride (NiMH)
Connector Type: Mini
Recommended Fit: GR4 G26 hand guard
Please Note:
This battery may fit in the hand guards of other airsoft guns as well, but this cannot be guaranteed by Airsoft GI.
Airsoft GI Battery Disclaimer:
Airsoft GI is not responsible for batteries that have been damaged as a result of improper operation, storage, misuse or abuse, accident or neglect, such as physical damage resulting from misuse; contact with liquid, water, rain, extreme humidity or heavy perspiration, sand, dirt or the like, extreme heat, or food; use of the battery for commercial purposes or subjecting the battery to abnormal usage conditions, or other acts which are not the fault of Airsoft GI. Make sure you understand how your battery should be used and how long it should be charged. If you have any doubt regarding the operation, charging, or storage of your battery and/or charger, ask. A charging battery should not be left unattended and should be picked up periodically while charging to check for overheating. Do not charge batteries near flammable material. For more information regarding batteries please refer to the Frequently Asked Questions or the Airsoft GI Airsoft 101 Guide.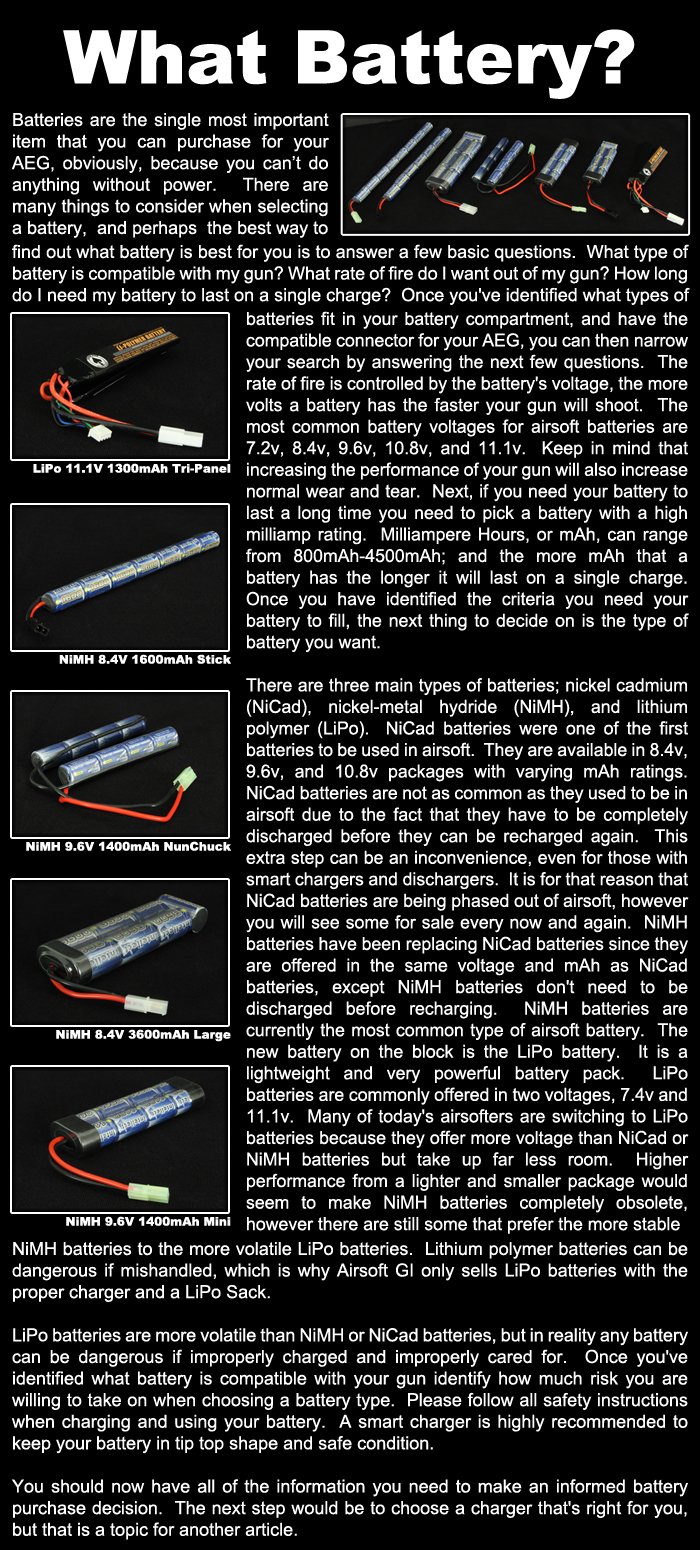 Specifications

Manufacturer: G&G
see 1 reviews
|
Write a Review
verified buyer
J. POLLOCK | 2013-12-09
Product Information:
This is the battery designed specifically for the G&G GR4 G26.

Pros:
Pros: -Fits perfectly in the front of the gun
-All specs are the recommended values for the gun
-Adds a nice amount of weight to the front of the G&G GR4 G26
-Utilizes a universal smart charger

Cons:
Con: -its visible when in use, however that is not strictly its fault
when will you get these in stock again???

whats the ETA?!

3252 days ago

Paul M

0

0

(I have this same question)

Staff Answer:

We are working on getting more of these back in stock

3251 days ago

1 answers
1 asked

stock

when will you get these in stock again?

3307 days ago

Benjy W

0

0

(I have this same question)

Staff Answer:

We don't have an ETA at this time.

3307 days ago

1 answers
1 asked
Search Tags: Nickel Metal 2/3A 8 Cell M4A1 AEG 9.6 1500 Hydride NiMH NiHM Low Voltage
People who bought this item also purchased: