Emerson Armored Half Finger Gloves (OD Green/L)
[V07G02B][09107 / AC-223L]
( 2 Reviews )
❤ Add to Wishlist
Free Shipping for orders over $99 No Coupon needed
The Emerson Armored Half Finger Gloves are an excellent form of protection from both BBs and heat for the palms and backs of your hands. The knuckles and back of the hand feature a hard plastic cover, and there is a double layer of leather reinforcement on the palm. The cuff is adjustable for a secure fit on any size wrist. These are the perfect option for hand protection for airsoft.

Specifications:
Manufacturer: Emerson
Color: OD
Size: Large

Features:
Padded Palm
Hard Knuckle and back
Adjustable Cuff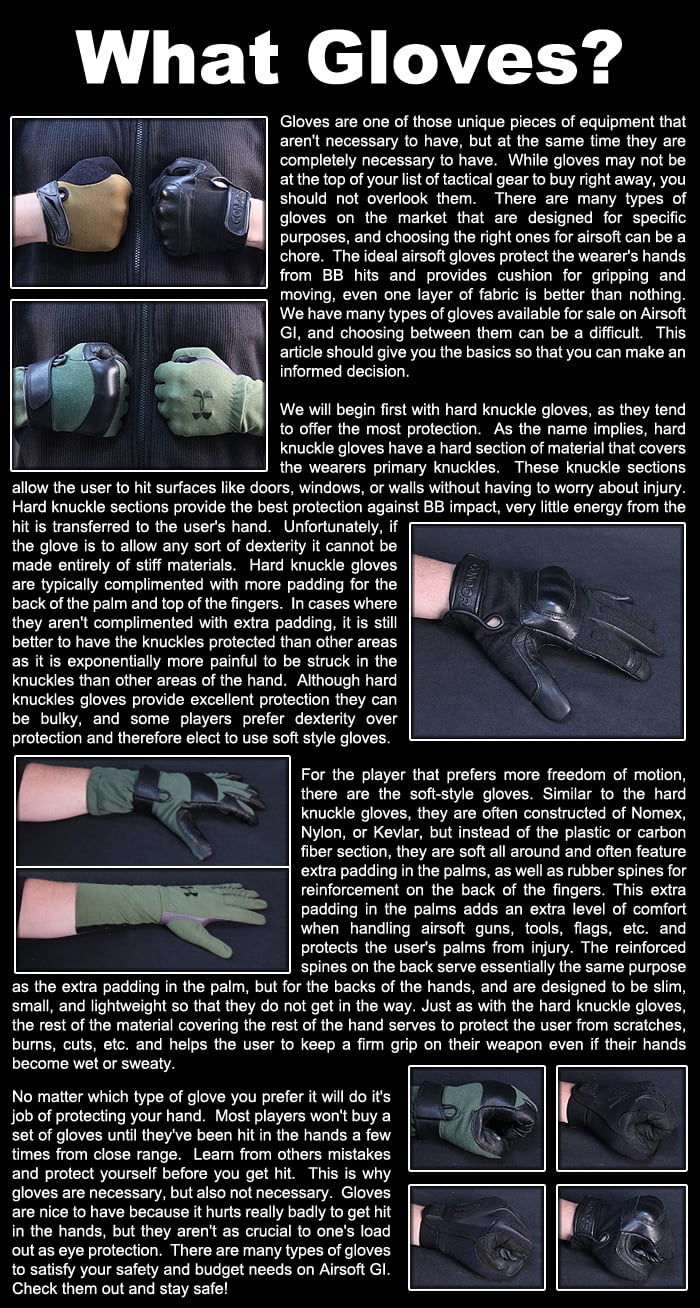 Specifications

Manufacturer: Lancer Tactical
Color: Olive Drab
Size: Large
Material: Synthetic Leather / Polymer
Package Includes: One (1) Pair of Armored Half Finger Gloves
see 2 reviews
|
Write a Review
B. BRADY | 2014-01-31
Product Information:
Bought these gloves a couple weeks ago and got them mostly cause I thought they looked cool. I used them shortly after in a game and they were surprisingly comfortable and effective. normally I don't like wearing gloves unless I'm in CQB because other gloves I've tried just seemed to get in the way. These gloves however never really got in the way. A bit reason why is probably due to it being half finger but the gloves as a whole are not as bulky as you may think.

Pros:
Some pros are:
Half finger so they don't get in the way
comfortable
protects your knuckles with rubber/plastic

Cons:
Some cons are:
Can be a bit stiff at first
Doesnt protect the ends of your fingers (I personally do not care but some people do)
verified buyer
N. KRAUDEL | 2014-03-25
Product Information:
Bought these gloves to protect my hands from basic shots and to keep a good grip on my guns. They fit GREAT and being fingerless, allow easy access to the trigger and other necessary components of your gun. Make you feel legit as well.

Pros:
-Hard plastic REALLY does help against shots
-Somewhat cool (temperature wise)
-Comfortable to an extent
-Fingerless
-Awesome looking

Cons:
-Plastic bit is slightly sharp
-Thumb hole is slightly small on right glove.
How big are the Large gloves?
0 answers
1 asked
Search Tags: Protection Grip Hand Glove Rubber Armor Knuckle Finger Less Fingerless Olive Drab Forest Green
People who bought this item also purchased: