Elite Force Premium Biodegradable .25g 5000 ct. BBs (White)
[N05B05 / SF13][09726 / 2279061]
( 4 Reviews )
❤ Add to Wishlist
One of the newest BB brand on the airsoft market, and sure to be a huge hit. These BB's are as close to a perfect 6.00mm as you can get. Rather than keeping their bb's in a flimsy, hard to handle and reseal bag like other brands, Elite Force BBs come in an easy to handle and easy to store bottle so you don't have to worry about a bag tipping over and making a mess. To make them even better, these Biodegradable BBs will even decompose over time in a non-toxic, environmentally friendly way. They are great for extended outdoor operations that require players to use biodegradable BBs.

Specifications:
Manufacturer: Elite Force
Dimensions: 5.98mm
BB Weight: .25g biodegradable
Quantity: 5000 rounds per bottle
Design: All electric guns, high power spring guns, gas guns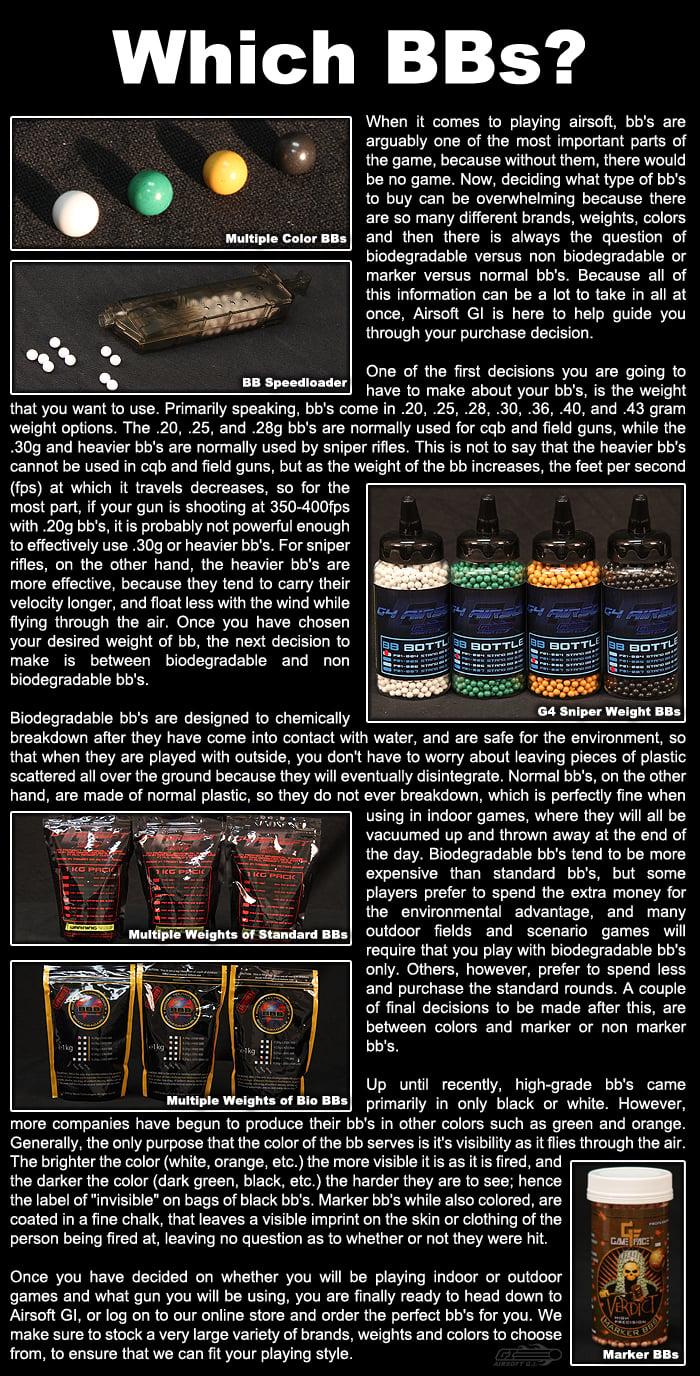 Specifications

Manufacturer: Elite Force / Umarex USA
Color: White
Material: Plastic
Package Includes: 5000 BBs
see 4 reviews
|
Write a Review
G. FURE | 2014-01-29
Product Information:
These are amazingly smooth and round BB's. I haven't ever had a problem with them. They are .25 and bio, so they are accurate and are good for the environment.nElite force bb's are the best I have used. They have actually increased my accuracy, and I haven't had a jam!

Pros:
High Quality
Accurate
Pourable container
Biodegradable
no jams

Cons:
Nothing that I can think of right now, except if you open the bottle in the rain and water gets inside, the bbs get a little gross after a while and start to degrade. So stay under a roof when you're loading your mags.
J. WATTS | 2014-04-02
Product Information:
Great set! I live in the woods so it's nice to have these at hand so I don't have to worry about harming the area around me

Pros:
Reasonable price for the amount + the fact that they're biodegradable
Great in my G&G AR
Bottleneck makes it easy to quickly fill up my quickloader

Cons:
None, seem to be pretty good so far haven't had any issue with these or with them in my AR
verified buyer
A. SANTANA | 2014-04-17
Product Information:
BBs are by far the best I have tested. They are perfectly round and follow very predictable trajectory.

Pros:
Everything about them is really good.

Cons:
They are a bit more expensive but that is understandable due to the nature of the process.
Will the higher weight bb the less fps

I have a fps limit of 400 fps. And they chrono with .25s. But my m4 shoots 400 fps with .20s if I use .25 will it lower my fps or will I need a different spring

249 days ago

Braddy S

0

0

(I have this same question)

Staff Answer:

It will lower your FPS if you use higher weight BB's but you need to make sure you are shooting within legal limits for your field still.

248 days ago

1 answers
1 asked

how long until they are bad to use in gun after opening

i have a game every other week so over a month would be ideal and its out door so bio is preferred

1797 days ago

ben w

0

0

(I have this same question)

Staff Answer:

They will be fine as long as the BB itself does not come in contact with dirt or water.

1797 days ago

1 answers
1 asked
Search Tags: High Quality Precision Grade Seamless Polished Ammo BBs BB .25 .25g 25g 25 g Bag bio bios biodegradable Bottle Bottles
This product was added to our catalog on Wednesday 14 December, 2011.
People who bought this item also purchased: