Elite Force MilSim Max Biodegradable .32g 2700 ct. BBs (White)
[N05D05 / SF13][10162 / 2279064]
( 2 Reviews )
❤ Add to Wishlist
Elite Force is one of the newest BB manufacturers on today's airsoft market, and their BB's have been a huge hit. These BB's are as close to a perfect 6.00mm as you can get. Rather than keeping their bb's in a flimsy, hard to handle and reseal bag like other brands, Elite Force BBs come in an easy to handle and easy to store bottle so you don't have to worry about a bag tipping over and making a mess. To make them even better, these Biodegradable BBs will even decompose over time in a non-toxic, environmentally friendly way. They are great for extended outdoor operations that require players to use biodegradable BBs. The heavier weight makes them significantly less susceptible to cross winds and can greatly help increase the accuracy of your shots.

Specifications:
Manufacturer: Elite Force
BB Weight: .32g biodegradable
Quantity: 2700 rounds per bottle
Design: All electric guns, high power spring guns, gas guns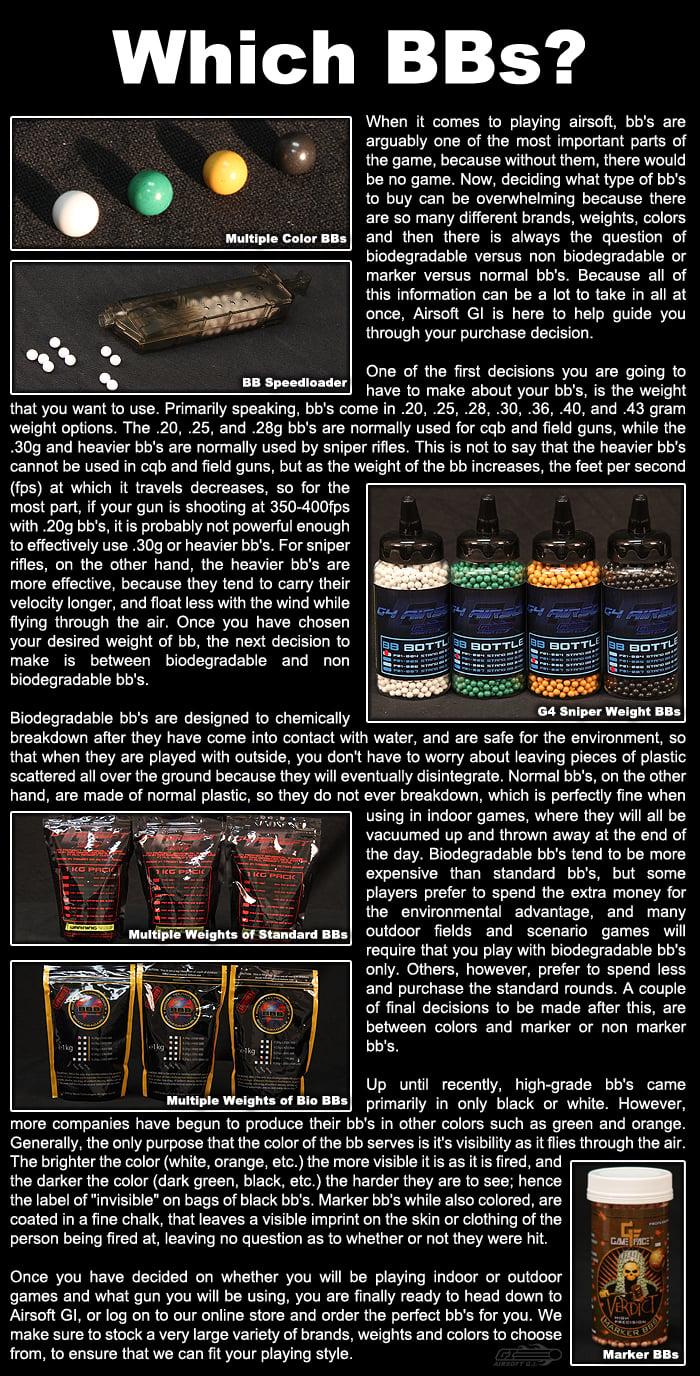 Specifications

Manufacturer: Elite Force / Umarex USA
see 2 reviews
|
Write a Review
verified buyer
B. FRATIANNE | 2014-07-29
Product Information:
High quality BB's there the only BB's that i uses.

Pros:
Great polish and a really good quality controller.

Cons:
they are great BB's and i have nothing bad to say about them.
verified buyer
J. WILLIAMS | 2014-11-21
Product Information:
These Elite Force .32s come in white......FINALLY!!!
They used to only come in brown that I am aware of and I read one of the questions that they are getting a batch of whites in soon. So I called and asked and they did...wohoo. So my last batch I ordered 6 bottles. I really hope Elite Force continues to make these in white but I really wish they would make 5000ct too. Reason being, these REALLY work good with my Wolverine SMP CA M249 with a hard type bucking. These are in my opinion the best brand of BBs on the market. I am very pleased with the performance and quality of Elite force BBs. They are all I use and all I will ever use.
You get what you pay for.

Pros:
They come in white now!
They are Heavy Weight BIO BB's
Performance and quality is untouched....period.

Cons:
The only con....if you consider it a con is that they don't make them in 5000 count.
Hopefully somebody from airsoft GI will call and whisper this idea in there ear??
I'll be calling and making this suggestion.
Are these brown or white?

Are these brown or white?

1797 days ago

Carey F

0

0

(I have this same question)

Staff Answer:

The newer batch of these BBs will be white.

1797 days ago

1 answers
1 asked
Search Tags: High Quality Precision Grade Seamless Polished Ammo BBs Bag .32g .32 32 32g bio bios biodegradable Bottle Bottles
This product was added to our catalog on Tuesday 03 July, 2012.
People who bought this item also purchased: