Elite Force M4/M16 140 rd. AEG Mid Capacity Magazine - 10 Pack (Tan)
[S-22-F-00/ SF20][10164 / 2279067 / MAG-HK-2279067-10PK]
( 7 Reviews )
❤ Add to Wishlist
Free Shipping for orders over $149
No Coupon needed
These magazines are recommended for use with the Elite Force, ARES, Echo 1, JG, Tokyo Marui, Classic Army, VFC, ICS, G&G and G&P M4/M16 series AEGs. They may work with other brands AEG but cannot be guaranteed by Airsoft GI.
Specifications:
Manufacturer: Elite Force
Magazine Capacity: 140 rounds
Color: Desert
Package Includes: 10 Magazines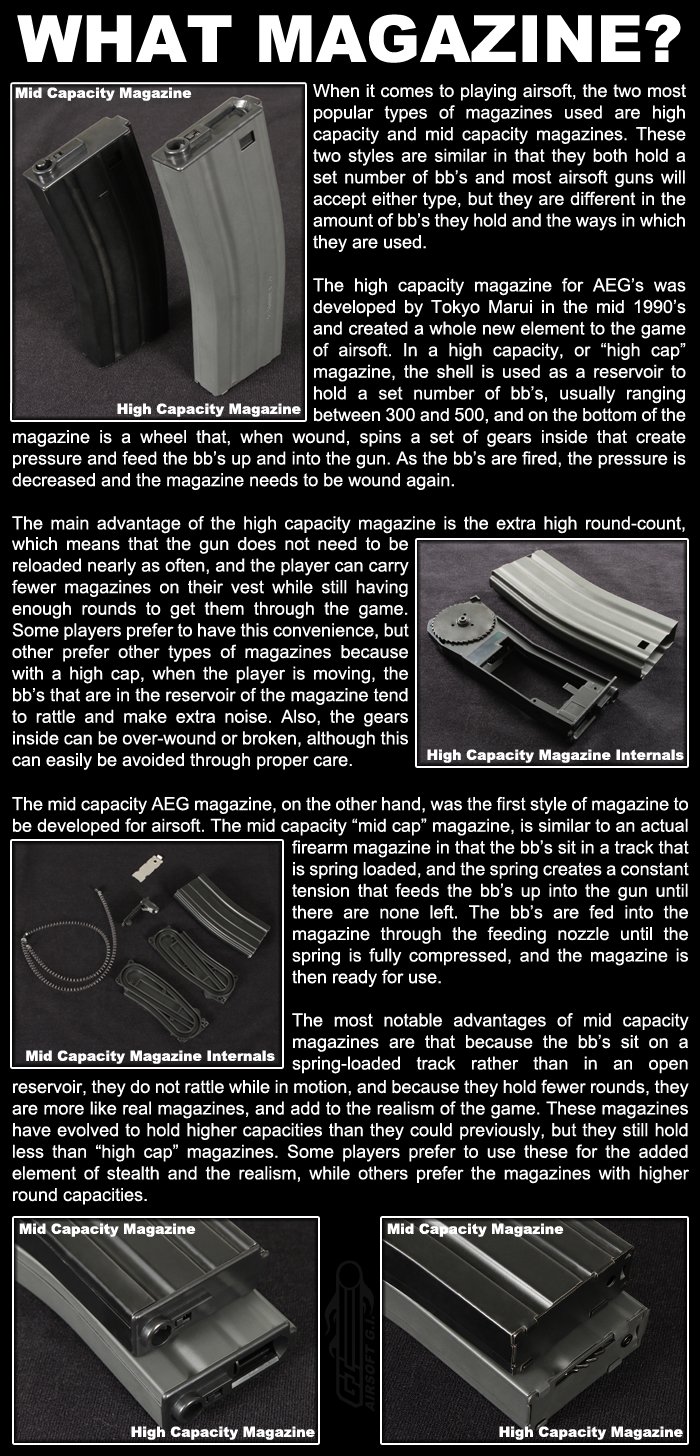 Specifications

Manufacturer: Elite Force / Umarex USA
see 7 reviews
|
Write a Review
M. LEMING | 2014-01-08
Product Information:
I own the black mags, but my friend got a box of these and they work just as good! Only downside is that the tan looks really fake. Doesn't match any other tan color he or I wear.

Work well in my VFC Baby M4. Very little wobble in the mag-well, nothing to write home about. Feeds flawlessly. Solid construction. Obviously plastic but are far from ugly.

9/10 work perfectly. Only one of these mags I got won't hold BBs. Some defect in the little tab that keeps them in. Still, 9 great working mags and an easy fix on the one lemon. Still the best deal on M4 mags.

Pros:
The Price is Right!
Lightweight!
Feed and function smoothly!

Cons:
Plastic, so really fake looking
The tan is really silly, doesn't match anything
One of mine had a busted retention tab, but oh well!
verified buyer
M. BRAUDRICK | 2014-02-09
Product Information:
Elite Force M4 mid cap is a very nice magazine. it has some what of a big capacity of ammo for a mid cap and feeds very good.

Pros:
feeds well, and and good mag capacity

Cons:
it cant fit in KWA's guns. (but the solution to this is to file down the mag,easy stuff)
A. CIFFER | 2015-01-01
Product Information:
Does NOT FEED IN G & G GUNS. AT ALL. It says that these mags are compatible with G & G guns, and these mags failed me in the middle of a CQC match, leaving me nothing to use. I was using a CM16 raider. When you put in the mags, the first five shots fire, then nothing. They just don't feed. There is probably a reason that these mags are $60 for 10, because they hardly work, and not to mention they are made out of plastic. I also tried it in a KWA CQR, I put in the mag and held down the trigger on full auto. It feed 3 BBs, then stopped, then 10 seconds later, another 3.

Pros:
-140 Round Capacity
-No more pros.

Cons:
-Cheap, light plastic.
-Hard to speedload BBs into it.
-Doesn't work in one of the most common brands of airsoft guns. *cough* Combat Machines *cough*
-Doesn't work in KWA CQR.
-Terrible mags
Fit
0 answers
1 asked

Will this fit my Classic Army M4

will this fit my Classic army M4?

2598 days ago

Carson B

0

0

(I have this same question)

Staff Answer:

It should fit

2596 days ago

1 answers
1 asked

Will these work?

Will these work in the G4-A5 Dune Knight Carbine?

2601 days ago

Steven S

0

0

(I have this same question)

Staff Answer:

Yes

2600 days ago

1 answers
1 asked

Will these magazines fit an ARES Amoeba AM-008?

Ares Amoeba M4 CQB Rifle

2798 days ago

Tanner R

0

0

(I have this same question)

Staff Answer:

They should fit

2781 days ago

1 answers
1 asked

Will these fit the G&G CM16?

CM16 Raider DTS

2866 days ago

Jamie B

0

0

(I have this same question)

Staff Answer:

They should

2866 days ago

1 answers
1 asked

will this fit my scar L?

???????

2883 days ago

Sheri H

0

0

(I have this same question)

Staff Answer:

They should fit

2879 days ago

1 answers
1 asked

do these fit lancer tactical m4s

i want to get the lancer tactical m4 ris will these fit it

2912 days ago

michael d

0

0

(I have this same question)

Staff Answer:

It should

2912 days ago

1 answers
1 asked

will these work for an ics cxp 08
0 answers
1 asked

Coloring
0 answers
1 asked

Do these work with the magpul moe carbine

I want to be sure before I buy

2980 days ago

Katherine H

0

0

(I have this same question)

Staff Answer:

They should

2978 days ago

1 answers
1 asked

do these work with any m4/16

i bought a g and g m4

3058 days ago

freddy h

0

0

(I have this same question)

Staff Answer:

It should be compatible with most m4/m16's.

3058 days ago

1 answers
1 asked

VFC mk16

Would it fit?

3099 days ago

Blank B

0

0

(I have this same question)

Staff Answer:

It should fit.

3097 days ago

1 answers
1 asked

do these work with the A&K masada?

i run a tan A&K masada and wondered if these fit

3162 days ago

Jacob S

0

0

(I have this same question)

Staff Answer:

These should work.

3160 days ago

1 answers
1 asked
Search Tags: Mil Sim Gun Umarex Polymer Field M4 M16 Scar Mag Clip Box Set Midcap Mid Capacity Mid Cap Tan Dark Earth 120 120rds 120rd 120 mid cap midcap medium capacity aeg automatic electric gun airsoft mag magazine clip
People who bought this item also purchased: