Elite Force M4/M16 140 rd. AEG Mid Capacity Magazine - 10 Pack (Black)
[S22E00 / SF20][10163 / HK-2279066-10PK-BLK / 2279066]
( 18 Reviews )
❤ Add to Wishlist

New to airsoft? Here are some safety tips for airsoft guns that we recommend following.
These magazines are recommended for use with the Elite Force, ARES, Echo 1, JG, Tokyo Marui, Classic Army, VFC, ICS, G&G and G&P M4/M16 series AEGs. They may work with other brands AEG but cannot be guaranteed by Airsoft GI.
Specifications:
Manufacturer: Elite Force
Magazine Capacity: 140 rounds
Color: Black
Package Includes: 10 Magazines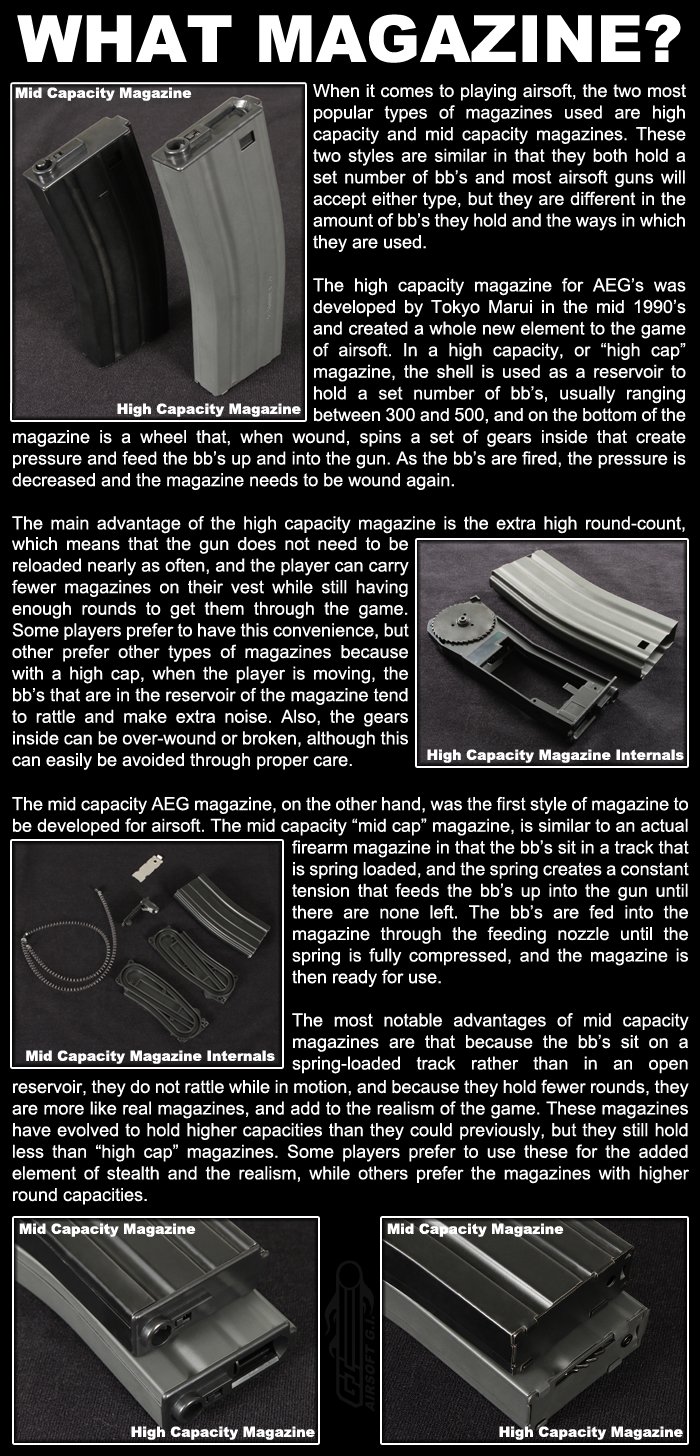 Specifications

Manufacturer: Elite Force / Umarex USA
see 18 reviews
|
Write a Review
verified buyer
T. NUTTER | 2014-04-29
Product Information:
For: Elite Force M4 / M16 140rd Mid-Cap (10 Pack)

I bought these mags knowing they might not fit in KWA guns, but did not know they would not be metal or at least some type of it, I was a bit sad at that. After I took some sand paper to it to get rid of that shiny gloss on the mags they looked better. These did fit in my KWA RIS m4, very tight fit, but a fit non the less!

I do have TWO mags that do not feed or hold bb's at all, when I put the speed loader in and push the plunger down, and fill the mag up (To only 100 rounds), Pull it out... The BB's fly out. Not sure if this is a lube problem or if this is something wrong with the mag.

Pros:
- 140 rounds

-Light weight

- Good feed! (On the ones that work)

- Solid feel and easy to grab on the go. (Despite the plastic gloss crap)


Cons:
- Two of my mags didn't work at all

- Plastic

- Very glossy

- Some of them have a very slight "Rattle" when full.
verified buyer
S. LAU | 2014-11-09
Product Information:
From my experience, I have 3 mags that actually do feed without me having to hold them up in my gun. Around 5 of them actually shoot when I do hold them in, but from reviews these mags seem really good. Some mags only work on semi and others work on auto, so it may be my gun. Otherwise, I am very disappointed with how many mags have failed with my custom ASGI gun.

Pros:
Good Price
Durable
Large Capacity
Lightweight

Cons:
Do not feed (maybe just my gun)
Feel cheap
Polymer (pro/con)
verified buyer
D. VO | 2019-10-01
Product Information:
Best magazines I've ever used. Such a good deal and with two boxes I'm never gonna need more.

Pros:


Cons:

Will they fit?

Will they fit the Lancer Tactical LT24T M4 URX 3.1 Carbine AEG Airsoft Gun (Flat Dark Earth)

2137 days ago

Austin B

0

0

(I have this same question)

Staff Answer:

yes, these will fit the LT24T M4.

1848 days ago

1 answers
1 asked

Will these work with the Elite Force HK416?

Will these work with the Elite Force Sport HK416 Carbine AEG Airsoft Gun?

2176 days ago

Steven L

0

0

(I have this same question)

Staff Answer:

They should fit and feed fine.

1865 days ago

1 answers
1 asked

Will they fit in a lancer tactical m4 lt-02c

Will this mag fit my lancer tactical m4 lt-02c

2259 days ago

Nathan T

0

0

(I have this same question)

Staff Answer:

The should fit and feed with it.

1865 days ago

1 answers
1 asked

Fit on my gun?

I have a G&G GR15 Raider and need midcaps for it. Will these work?

2271 days ago

Nicholas D

0

0

(I have this same question)

Staff Answer:

Yes, they should fit and feed fine.

1865 days ago

1 answers
1 asked

Will it work in Apex?

Will it work in the Apex Full Metal Tactics Bravo 10" RIS CQB M4 AEG?

2536 days ago

Romana J

0

0

(I have this same question)

Staff Answer:

It should

2536 days ago

1 answers
1 asked

Fit
0 answers
1 asked

Will these work in?
0 answers
1 asked

work with elite force 4crs?

Just wondering before I purchase

2960 days ago

Will P

0

0

(I have this same question)

Staff Answer:

Yes

2955 days ago

1 answers
1 asked

will these work?

will this work for the KWA Full Metal KM4 RIS 2GX AEG Airsoft Gun??

3102 days ago

FREDDY b

0

0

(I have this same question)

Staff Answer:

They should

3083 days ago

1 answers
1 asked

Will they fit?

Will these magazines fit into a HK 416 CQB Elite or would I have to get a different mid-cap magazine?

3127 days ago

Andrew M

0

0

(I have this same question)

Staff Answer:

They should fit

3124 days ago

1 answers
1 asked

G4 Series

Will these magazines be compatible with the Airsoft GI G4-A1 Daniel Defense Cutlass rifle?

3131 days ago

Nathaniel O

0

0

(I have this same question)

Staff Answer:

They should work

3124 days ago

1 answers
1 asked

Will it fit

Will this mag fit inside of a combat machine m4 raider shorty?

3137 days ago

Matthew V

0

0

(I have this same question)

Staff Answer:

They should

3137 days ago

1 answers
1 asked

Material

Are these made of plastic or metal ?

3152 days ago

Thomas M

0

0

(I have this same question)

Staff Answer:

The should be made out of polymer/plastic.

3151 days ago

1 answers
1 asked

Will These work with the Lancer Tactical M4 CQBR Mk 18 AEG??

Will These work with the Lancer Tactical M4 CQBR Mk 18 AEG??

3211 days ago

Brooks H

0

0

(I have this same question)

Staff Answer:

They should

3208 days ago

1 answers
1 asked

will these fit?

will these fit Lancer tacticcal

3216 days ago

Daniel C

0

0

(I have this same question)

Staff Answer:

They should

3215 days ago

1 answers
1 asked

Work in HK UMEREX 417

Will these work in HK 417

3238 days ago

Tyler H

0

0

(I have this same question)

Staff Answer:

No, it requires 417 magazines

3237 days ago

1 answers
1 asked

will these work in

Will these work in the a&k Masada

3300 days ago

David K

0

0

(I have this same question)

Staff Answer:

These should be able to work with the A&K Masada.

3300 days ago

1 answers
1 asked

Will these be able to use the magpul magazine assist (thingys)?

I am getting an M16 and I want to put the Magpul stuff on the magzines.

3321 days ago

Oscar N

0

0

(I have this same question)

Staff Answer:

Yes the Magpul magazine pulls will work.

3321 days ago

1 answers
1 asked

How many mid cap mags do you think you need for a field game?

???

3332 days ago

Jason L

0

0

(I have this same question)

Depends on your style of play, how many people are at the games, how much ammo you use per game, etc.

3331 days ago

1 answers
1 asked

Will this fit in a Umarex Tar-21?

I must know

3332 days ago

Kamps L

0

0

(I have this same question)

Staff Answer:

The magazines should work with any gun that uses standard M4 magazines.

3332 days ago

I must know

3332 days ago

Kamps L

0

0

(I have this same question)

Staff Answer:

Yes it should be able to work.

3332 days ago

2 answers
1 asked

Will these work in

Will these fit a Airsoft GI FMG4-A1 Knights Armament URX 3 Airsoft Gun?

3367 days ago

Steven W

0

0

(I have this same question)

Staff Answer:

This should fit.

3367 days ago

1 answers
1 asked

will these mags work in bolt b4a1 sopmod?
0 answers
2 asked

Will these work in KWA's?

Will these magazines work in the KWA SR series of AEGs?

3386 days ago

Nick C

0

0

(I have this same question)

Staff Answer:

This should work.

3384 days ago

1 answers
1 asked
Search Tags: Mil Sim Gun Umarex Polymer Field M4 M16 Scar Mag Clip Box Set mid cap midcap medium capacity aeg automatic electric gun airsoft mag magazine clip
People who bought this item also purchased: