Elite Force H&K UMP 400 rd. AEG High Capacity Magazine (Black)
[F04A00][10171 / HK-2275006 / 2275006]
( 3 Reviews )
❤ Add to Wishlist

New to airsoft? Here are some safety tips for airsoft guns that we recommend following.
This is an OEM replacement high capacity magazine for the Umarex H&K UMP Sportline AEG Airsoft Gun. It may work with other brands AEG but cannot be guaranteed by Airsoft GI.
Specifications:
Manufacturer: Umarex
Magazine Capacity: 400 rounds
Color: Black
Package includes: One (1) magazine
High Capacity Magazine Operation:
Find the trap door, usually located on the top of the magazine near the loading nozzle.
Open trap door and fill reservoir with high quality BBs.
Wind the wheel at the bottom of the magazine (notice the pitch and volume of the click).
Continue to wind wheel until pitch changes. Once the click gets louder, or begins to "double click," the magazine is fully wound.
Insert magazine into gun and fire. You may need to rewind the wheel during play.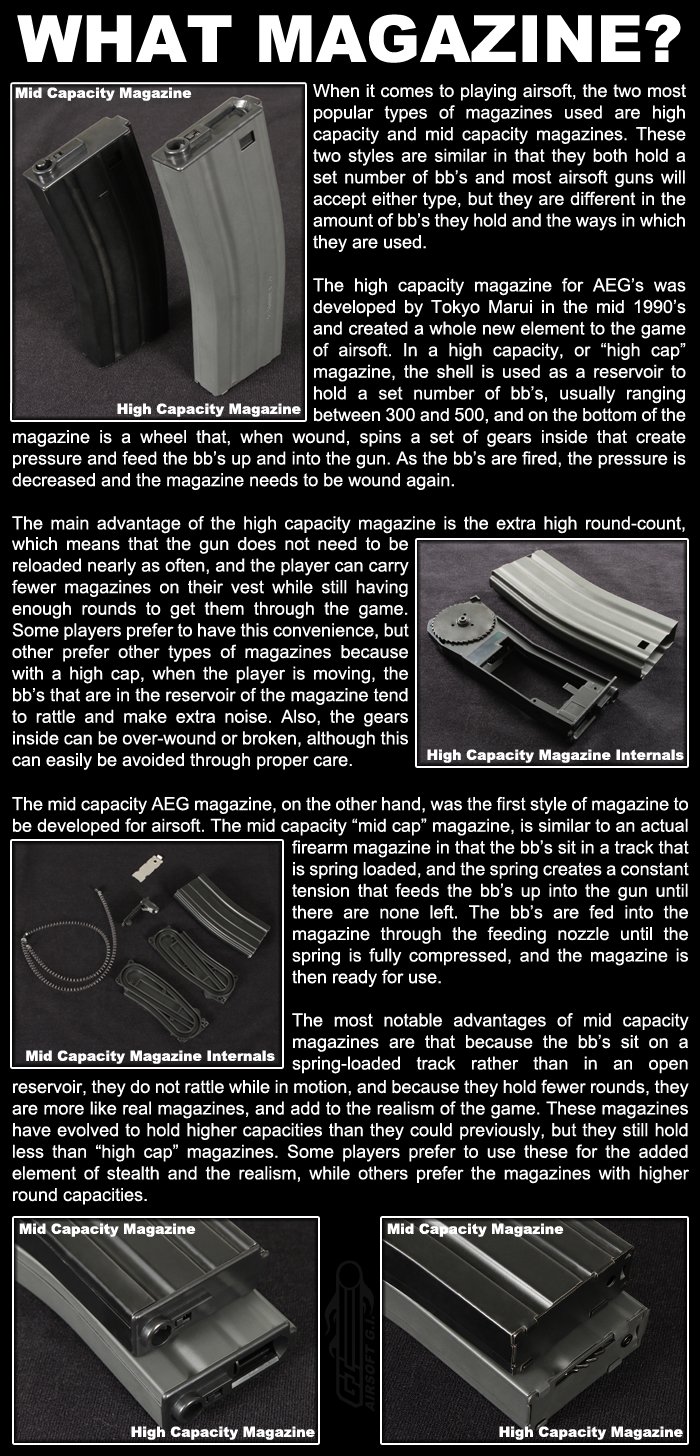 Specifications

Manufacturer: Elite Force / Umarex USA
see 3 reviews
|
Write a Review
J. MIKES | 2013-04-29
Product Information:
Great Magazine.
-Just like the one that come with the Umarex H&K UMP. The high-capacity is a great thing. But the hole to pour bb's is very small. Great to have extra magazines even thought with the high-cap I barely get to the third magazine.

I recommend this magazine to the buyers of the Umarex H&K UMP.

Pros:
-High-capacity magazine
-Heavy-duty polymer structure
-Easy winding
-Feeds fantastically


Cons:
-Very small hole to pour bb's

It's always great to have extra magazines. Especially at a price like that.
verified buyer
J. FOSTER | 2014-01-09
Product Information:
This is the H&K UMP High Cap magazine, I recently bought this for my Umarex H&K UMP. Pretty solid mag, only complaint is that there isn't a metal version, so you're stuck with polymer.

Pros:
- Very lightweight, it won't add a ton of baggage on your tactical loadout
- fits snug into the mag well
- feeds very well into the UMP

Cons:
- polymer construction, while tough, can be a bit sketchy sometimes.
- the "fake ammunition" shown in the mag is cheesy but its not that big of a deal, cant be picky when theres not much to choose from. Functionality is more important than cosmetics anyway
verified buyer
K. YOUNG | 2014-04-15
Product Information:
Gotta love extra mags, and with 400 more rounds jam packed into this officially backed and made Hi-Cap by H&K, you also gotta love the end result of that on the field. Its made of the same high quality materials the gun is made from so its durable. It also looks like they have the market cornered on these as you can only use the official ones in the UMP/45 guns. I wish they would have painted the mock bullets or left them out completely as the "Elite" version of the mags bullets have been painted.

Pros:
Officially Backed and made
400 round hi-cap for SMG goodness
Durable


Cons:
Can ONLY use these in the H&K UMP/45 guns
Mock Bullets aren't painted like the "Elite" version
Why won't my mag feed

Recently my mag won't turn anymore and feed BB's. I don't know what to do. It came with the gun and really don't want to take it apart. HELP PLEASE.

3160 days ago

Erik S

0

0

(I have this same question)

Staff Answer:

Please call our customer service for troubleshoot information

3158 days ago

1 answers
1 asked

is this a long magazine in the pic it looks stuby

the mag looks like its 4 in i need to know what im buying

3441 days ago

WIlliam R

0

0

(I have this same question)

Staff Answer:

It is the same standard size

3439 days ago

1 answers
1 asked
Search Tags: Mil Sim Gun UMG KA Polymer Mag Clip
People who bought this item also purchased: