Elite Force H&K MP7 GBB Airsoft SMG by KWA (Dark Earth)
[M01A00][17521 / 2279019]
( 3 Reviews )
❤ Add to Wishlist
The KWA H&K MP7 is a fully trademarked gas blowback SMG. KWA did an amazing job with the build quality of the MP7, the body is made of a high quality high impact resistant ABS plastic, similar to the real steel counterpart. The metal parts include the retractable stock, iron sights, and the picatinny rails. The vertical grip can fold up or down for the user's comfort. The stock has two positions, closed and open. The iron sights work in the down position and can be flipped up for longer range target acquisition. Every function on the MP7 is ambidextrous; the fire selector, the magazine release, the slide release, and the charging handle. The button to release the stock is the only thing that isn't on both sides, but the gun is so small, and the button is located on the rear most portion of the gun that it can be accessed with either hand. With the H&K trademarks legally placed all over the gun, and KWA's immaculate construction, this could easily be the most realistic airsoft MP7 to date.
Specifications:
Manufacturer: KWA
Muzzle Velocity:400+ FPS
Magazine Capacity: 48 rounds
Power Source: Green Gas
Package Includes: gun, magazine, manual

Please Note:

Product Does Not Include Red Dot.
Airsoft GI recommends using Green Gas to power this product.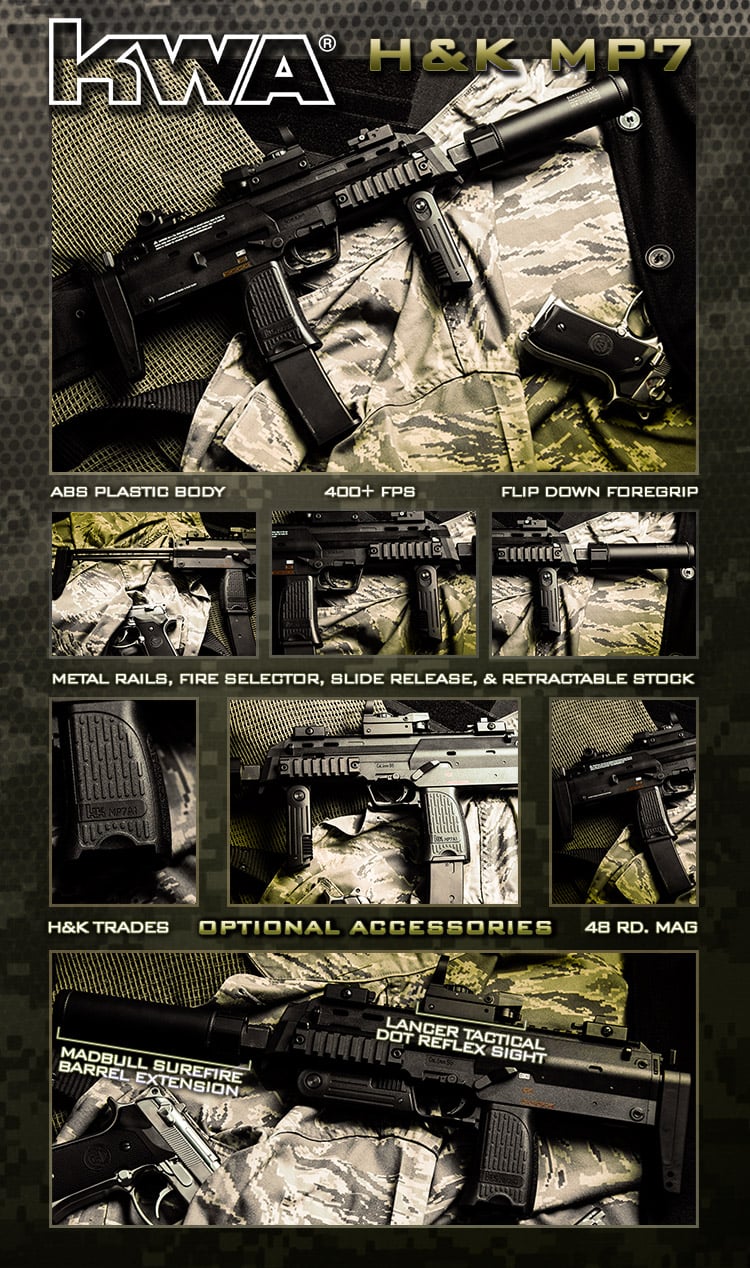 Specifications

Manufacturer: Elite Force / Umarex USA
Muzzle Velocity: 380-400
see 3 reviews
|
Write a Review
verified buyer
J. SOLLNER | 2014-07-15
Product Information:
I own the black KWA MP7 and I've had the tan one for about a week already. Awesome gun and it's nice to be able to get a tan version of it. The performance is amazing. It is my favorite airsoft gun by far.

Pros:
Price
Accuracy
Range (Far for a short barrel)
Solid
Recoil

Cons:
Mags are pricey (Hey it is a gas gun)
verified buyer
A. GUNKEL | 2015-02-03
Product Information:
This is possibly one of the best guns i have ever had. It feels really solid and has a great kick. It also has a great range and accuracy for such a small barrel. Also it works great as a primary or a secondary in my experiences. I completely
recommend this to anyone!

Pros:
Accuracy/range (for a small barrel)
Hard kick
Power
Changeable (putting in a lower powered bolt is extremely easy)
Solid stock
Solid gun
Folding grip
Ambidextrous fire selector
Good gas efficiency (compared to other guns)
Great ROF


Cons:
Price of extra magazines (expected because its a gas gun)
Doesn't work well in cold weather (expected for a gas gun)
Friends might steal it cause they are so jealous
S. RIGGS | 2015-07-16
Product Information:
As a ref at an airsoft arena, this gun is very consistent! initially out of the box, this gun shoots hot! but once you put the appropriate cqb bolt in this gun, this thing is amazing in an indoor arena. If you love gbb pistols and want to move into a rifle, this is one stop you might want to take! (p.s. i bugged my co-workers who are techs, "They are fun guns, but can be finicky at times.") hope this helps.

Pros:
-I put a cheap $12 red-dot sight on this... it shoots lasers! very accurate!!!
-very consistent with FPS
-Using propane; I'm able to dump one 40rd. mag no problem with extra gas.
-My co-worker refs are Jelly!

Cons:
-Mags are on the expensive side
-Wait for special deals, I kicked myself for missing the "4th of the July Sale"
-The cqb bolt is not cheap, and tech service may be involves.
-Clean this gun regularly!!!! "not a con for me, I'm slightly OCD"
Barrel length?

What is the length of the barrel on this mp7

644 days ago

Kyle M

0

0

(I have this same question)

Staff Answer:

The inner barrel should be 160mm in length.

435 days ago

1 answers
1 asked

flash hider

what kinds of metal flash hiders can fit on this gun? what is the thread/

1567 days ago

hudson w

0

0

(I have this same question)

Staff Answer:

Only 12mm MP7 style flashhiders will fit on this gun, unless a threaded adapter is used.

1566 days ago

1 answers
1 asked

Will the Elite Force 40rd H&K MP7 Navy GBB magazine work with this gun?

Will the Elite Force 40rd H&K MP7 Navy GBB magazine work with this gun?

1578 days ago

victor g

0

0

(I have this same question)

Staff Answer:

This gun uses KWA MP7 NS2 magazines ONLY. We have listed the correct magazine below: <BR><BR> <a href="http://www.airsoftgi.com/product_info.php?products_id=5881">KWA 40rd H&K MP7 Magazine [Link]</a>

1577 days ago

1 answers
1 asked

Barrel thread?

Barrel thread?

1697 days ago

EJ J

0

0

(I have this same question)

1 answers
2 asked

Half and half

Can I plot the upper and lower on this one and a black mp7 and make a multi toned gun?

1832 days ago

Shayne G

0

0

(I have this same question)

Staff Answer:

It may be possible

1829 days ago

1 answers
1 asked
Search Tags: Secondary Backup Realistic Polymer Construction Lightweight Folding Forward Grip Retractable Stock Railed GBB Folding Gas Blow Back Sub Machine Gun Submachine Blowback MP-7 SMG PDW
This product was added to our catalog on Friday 20 June, 2014.
People who bought this item also purchased: