Elite Force H&K MP7 GBB Airsoft SMG by KWA (Black)
[M01A00][05635 / HK-2279020 / 2279020]
( 67 Reviews )
❤ Add to Wishlist
Free Shipping for orders over $179
No Coupon needed
New to airsoft? Here are some
safety tips for airsoft guns
that we recommend following.
The KWA H&K MP7 is a fully trademarked gas blowback SMG. The build quality is excellent. The body is a high quality, high impact, ABS plastic. Metal parts include the rails, fire selector, slide release, iron sights, and retractable stock. The vertical grip can fold up or down for the user's comfort. The stock has two positions, closed and open. The iron sights work in the down position and can be flipped up for longer range target acquisition. Every function on the MP7 is ambidextrous; the fire selector, the magazine release, the slide release, and the charging handle. The button to release the stock is the only thing that isn't on both sides, but the gun is so small, and the button is located on the rear most portion of the gun that it can be accessed with either hand. With the H&K trademarks legally placed all over the gun, and KWA's immaculate construction, this could easily be the most realistic airsoft SMG to date.
Specifications:
Manufacturer: KWA
Muzzle Velocity:420-430 FPS
Magazine Capacity: 48 rounds
Power Source: Green Gas
Package Includes: gun, magazine, manual

Please Note:
Product Does Not Include Red Dot.

Airsoft GI recommends using Green Gas to power this product.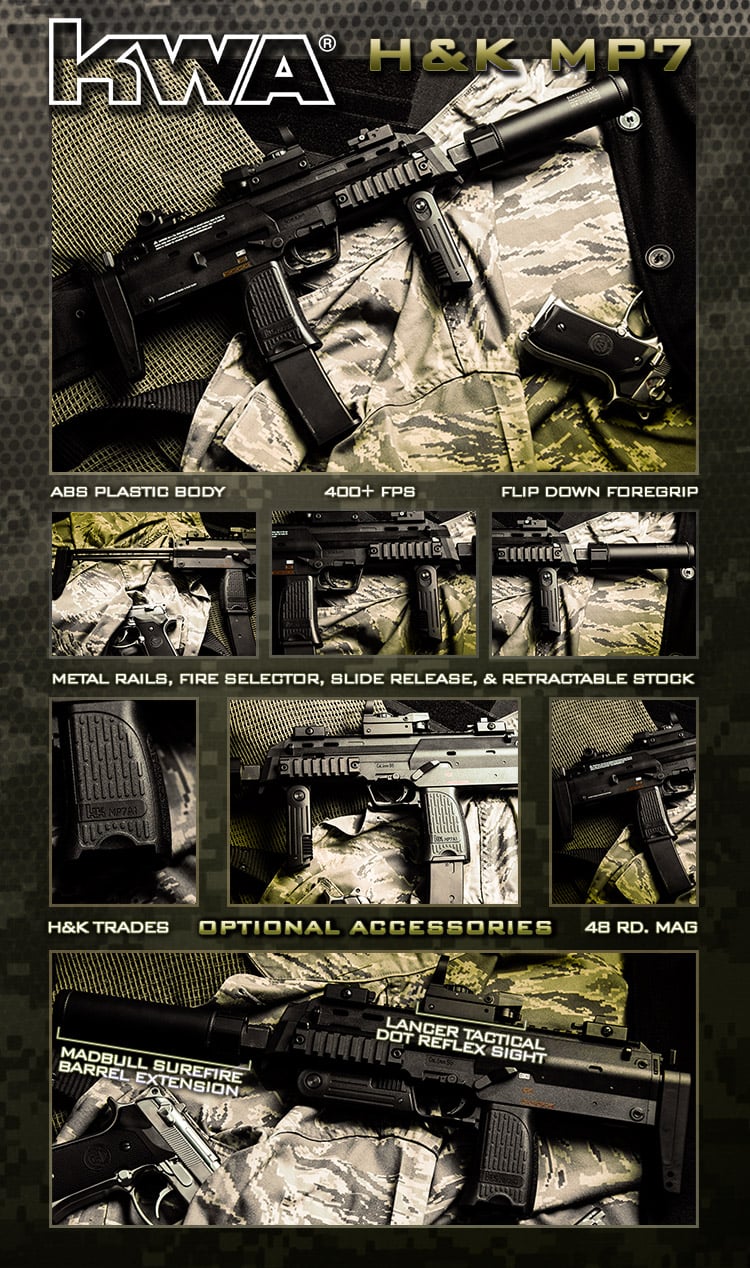 Specifications

Manufacturer: Elite Force / Umarex USA
Muzzle Velocity: 420-430 FPS
see 67 reviews
|
Write a Review
E. HOPE | 2015-02-16
Product Information:
it is a good gun and it is very accurate but there was one thing that i did not like it was when i was done shooting all the bb's out the bolt would not stay back and it would keep firing green gas and the bolt is supposed to stay back when you r done firing. If anyone could tell me what to do to make the bolt stay back after shooting all the bb"s please do so.

Pros:
light
it has a fast ROF
compact
shoots far
very accurate
fun to use


Cons:
the thing with the bolt
a little mag wobble
all my friends want to use it
verified buyer
K. ROGGIO | 2016-04-23
Product Information:
I hate this gun it doesnt work at all the gas leaks out of the magazine

Pros:
Beautiful gun it looks nice and is a good gun in your hands

Cons:
Gas leaks and doesnt shoot and runs out of gas too quick
V. MOORE | 2019-02-01
Product Information:
build quality of weapon is fantastic. I would like to see more of this quality from OEM's. Action is smooth and no rattle, metal internals give it realistic weight. FPS is great, if you need something a little slower, just use heavier BB's and it should lower the FPS and give you more accurate hits for windage. No one is going to feel it much after stacking on all of their tactical Bat Shit_tm_ anyway at range and the more you use your can of gas the less pressure you will have with every shot due to the neutral buoyancy law of physics so sure the first shots on a full fill from a fresh can will be over the limit but judging from the expected behavior of green gas guns this should drop off fairly quickly to a nice 400 fps. Full auto at point blank range on a fresh mag would be a little rude though, so I say this is up to how you handle the gun. I would fully expect to drop this several times without damage. Report is nice and satisfying. When I hear a lot of AEG's I giggle but the gas effect f this weapon is more respectable. Rate of fire is great and very realistic the paddle style mag release is a little hard to reach for a rapid combat reload but you should adapt with practice. sling mounts are too small for most slings but get some small keyring and that will fix that. The controls are all plastic and that's a bummer because they all need to be metal to resist wear. Out of the box the fire selector on the right side is loose and wobbles if you hold the left side selector in place and that tells me it is already worn. If I switch hands and hold it with my left that selector doesn't engage positively without breaking my attention to make sure it is on the right setting and moving the weapon off target. I'm pretty sure the real version from H&K wouldn't do that because that single little detail could be disastrous. Build quality on the magazine is fantastic. Right now they are listed at 60 bucks per mag and that is a little steep considering real mags usually cost around 20 bucks but if you keep in mind that it is not a simple metal tube with a spring in it but a gas tank with two pressure valves, a firing cap to release the gas and a locking follower then you understand it takes more engineering and a better quality of materials Since I can't afford the real version this is a unique chance to work with a realistic replica. I"m so impressed I find myself considering fund raising options to buy the real thing and that should please H&K. The pre-sales marketing effect has done it's job for this weapon. It's like a hybrid of the best features between the Uzi and the American muscle of the Mac 10 and the Weaponology report on it says it fires the .40 cal round on the real version as opposed to the 9mm and that is good stopping power in my book. The real version internals are improvements on the AR gas impingement system and they borrow some features from the AR platform. A very good collection of design and engineering and the only real design flaw I can find in the weapon is the placement of the paddle mag release but I can't think of an alternative either right now. This weapon will make a formidable side kick to your load-out.

Pros:
Very tough and rugged build materials, should take some rigorous field conditions
awesome placement of accessory rails to clip on tactical gear
realistic weight gives it higher training value
very satisfying velocity and rate of fire means business
all parts are tight with almost no rattle and positive click into place except 1
stick style mags will fit into many BDU thigh pockets with mag dividers

Cons:
controls are all made from the same polymerand might wear after long term use, need to be metal instead
price for magazine is a little high but fair-might cost a lot for a full load of magazines to take on the field and this would be necessary giving their capacity-this is a better gun for mil-sim events
Estimated range

Whats the max range you can get out of this gun??

3061 days ago

Ryan B

1

0

(I have this same question)

Staff Answer:

ITS OVER 9000!!!!!!!!!!!!!!!!!!!!!! (crushes scouter) (its probably about 150 feet max)

3061 days ago

1 answers
1 asked

Barrel Extensions
0 answers
1 asked

Mock Suppressor
0 answers
3 asked

are the iron sights removable

sorry but this is a pet peev of mine if they are not removable but i will still get if not

3290 days ago

Luke J

0

0

(I have this same question)

Staff Answer:

Yes they are removable

3288 days ago

1 answers
1 asked

threads
0 answers
6 asked

Electric or Gass

Im a bit confused, does this use gas, electricity, or both. I found it in the electric smg section, but it says GBB.

3352 days ago

colin m

0

0

(I have this same question)

Staff Answer:

This is powered by a gas source like green gas.

3351 days ago

1 answers
1 asked

Length

What is the guns length extended and retracted?

3361 days ago

Joseph L

0

0

(I have this same question)

Staff Answer:

It should be around 380mm / 590mm (extended)

3361 days ago

1 answers
1 asked

Help

Iv had it for a few months but now the bbs roll out the barrel any suggestions on a fix? I maintaine it and all I clean it live it.

3383 days ago

Regina S

0

0

(I have this same question)

Staff Answer:

Sometimes if your hop-up is not adjusted properly, that can happen

3383 days ago

1 answers
1 asked

Lower FPS

How can I bring the fps on this to somewhere in the 300-350 range?

3475 days ago

Stephanie C

0

0

(I have this same question)

Buy a Cqb low power bolt for it.

3465 days ago

How can I bring the fps on this to somewhere in the 300-350 range?

3475 days ago

Stephanie C

0

0

(I have this same question)

http://www.airsoftgi.com/product_info.php?products_id=8933

3465 days ago

2 answers
1 asked

O-ring replacement?
0 answers
1 asked

Barrel Extension?
0 answers
3 asked

Recommended BBs I should use since it's FPS is so high?

.25g or .28g

3530 days ago

Cha X

0

0

(I have this same question)

Staff Answer:

KWA .25g BBs only.

3530 days ago

1 answers
1 asked

Is this gun Canada legal?

Hi I live in Canada and I'm wondering if i could get this shipped to Canada?

3566 days ago

Paul M

0

0

(I have this same question)

Staff Answer:

Due to the unpredictable nature of gas blow back airsoft guns, in regards to muzzle velocity, we are not currently offering them for our Canadian customers.

3566 days ago

1 answers
2 asked

what other mags can i use for this

mags

3585 days ago

Tyler S

0

0

(I have this same question)

Staff Answer:

These will use exclusively the H&K KWA MP7 magazines.

3582 days ago

1 answers
1 asked
Other Great Deals and Accessories:
Select the item from the Drop Down Menu and click add.
Search Tags: GBB Folding Gas Blow Back Sub Machine Gun Submachine Blowback MP-7 SMG PDW MP7 HK Heckler & Koch MP7 GBB H&K Elite Force KWA EF CQB CQC
People who bought this item also purchased: