Elite Force H&K G36 420 rd. AEG High Capacity Magazine - 5 Pack (Black)
[T00A00][13312 / HK-MAG-2267750 / 2267750]

New to airsoft? Here are some safety tips for airsoft guns that we recommend following.
Never run out of ammo again with this 5 pack of magazines. Each magazine holds 420 rounds which is perfect for a long day at the field. This magazine is recommended for use with the H&K G36, it may work with other brands AEG but cannot be guaranteed by Airsoft GI.
Specifications:
Manufacturer: Umarex
Magazine Capacity: 420 rounds

Features:

Polymer Construction
Integrated Snap Coupler
Smoked Body
Licensed Trademarks
High Capacity Magazine Operation:
Find the trap door, usually located on the top of the magazine near the loading nozzle.
Open trap door and fill reservoir with high quality BBs.
Wind the wheel at the bottom of the magazine (notice the pitch and volume of the click).
Continue to wind wheel until pitch changes. Once the click gets louder, or begins to "double click," the magazine is fully wound.
Insert magazine into gun and fire. You may need to rewind the wheel during play.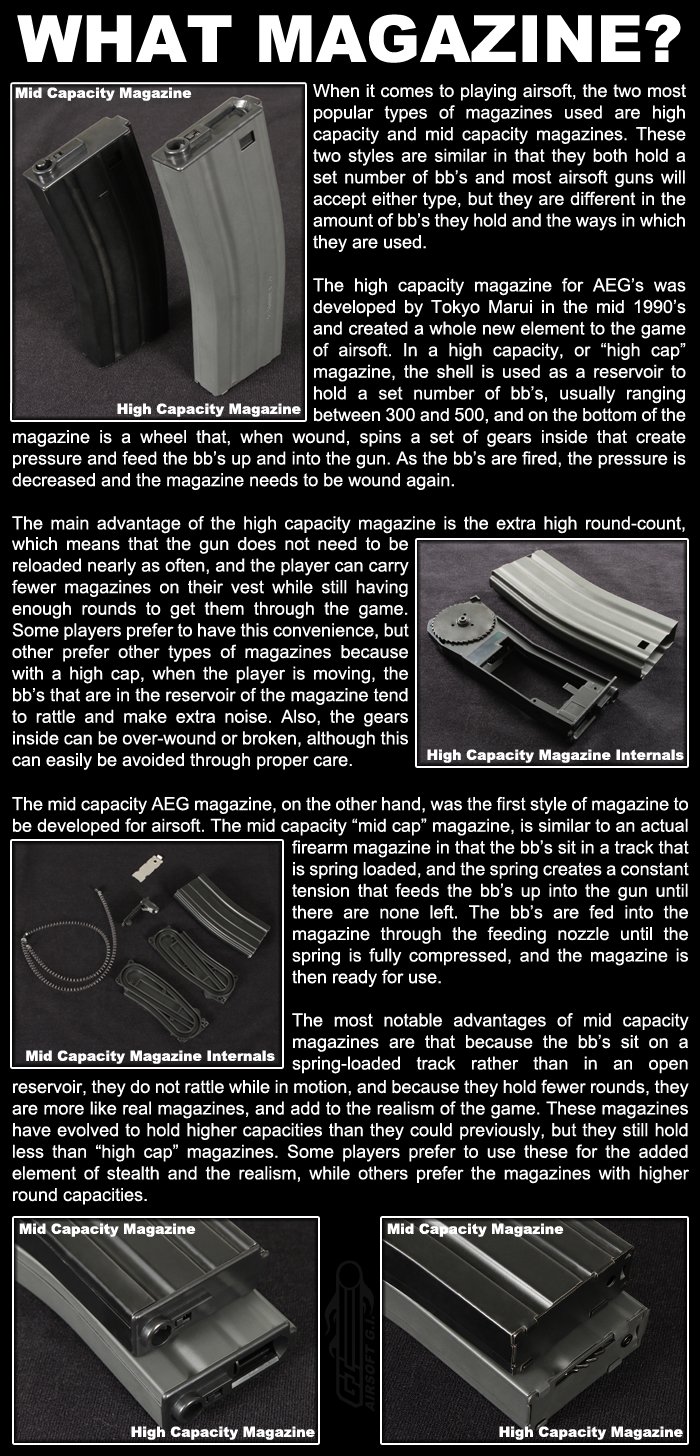 Specifications

Manufacturer: Elite Force / Umarex USA
Color: Black
Size: 420 Rounds
Material: Polymer
Package Includes: Five (5) Magazines
serve para a g36c toy da umarex?

temho uma g36c toy da umarex e estou precisando de um magazine ou mais para poder jogar

2144 days ago

Everson Luiz A

0

0

(I have this same question)

Staff Answer:

Sim, estes devem funcionar

1862 days ago

1 answers
1 asked

Will these work with the GSG G14?
0 answers
1 asked

Will these work with the JG g36K(608-4)?
0 answers
1 asked
Search Tags: Gun Field Mk Polymer HK G36 Mag Clip Hi Cap Hi-Cap Hicap 420 Rounds Round Rds Rnds Packs G36C G36K MK36 Mk36c
People who bought this item also purchased: