Elite Force 9.6v 1600mAh Nunchuck Mini Battery
[K15B01][19427 / HK-2211008 / 2211008]
( 3 Reviews )
❤ Add to Wishlist
Free Shipping for orders over $179
No Coupon needed
New to airsoft? Here are some
safety tips for airsoft guns
that we recommend following.
The Elite Force 9.6v 1600mAh NiMH Crane Stock Battery is designed specifically for use with a Crane Stock. The battery is pack is separated into two halves to fit the slots of the crane stock around the buffer tube. This battery is the baseline for performance in a wide range of airsoft replicas, and will work with any replica. This battery is also designed to fit in any crane stock as well as the plastic handguard for M4 replicas.
Specifications:
Manufacturer: Elite Force
Voltage: 9.6v
Milliampere Hours: 1600mAh
Cell Type: Nickel-metal hydride (NiMH)
Connector Type: Mini
Recommended Fit: M4A1 hand guard, M733 hand guard, M4 Commando hand guard, MP5A5 hand guard, and MP5SD6 hand guard
Please Note:
This battery will fit in the G4, Elite Force, Combat Machine, G&G, VFC, KWA, and TSD crane stock. If you have any questions about which type of crane stock this battery will fit in please call us at (909) 869-0671.
Airsoft GI Battery Disclaimer:
Airsoft GI is not responsible for batteries that have been damaged as a result of improper operation, storage, misuse or abuse, accident or neglect, such as physical damage resulting from misuse; contact with liquid, water, rain, extreme humidity or heavy perspiration, sand, dirt or the like, extreme heat, or food; use of the battery for commercial purposes or subjecting the battery to abnormal usage conditions, or other acts which are not the fault of Airsoft GI. Make sure you understand how your battery should be used and how long it should be charged. If you have any doubt regarding the operation, charging, or storage of your battery and/or charger, ask. A charging battery should not be left unattended and should be picked up periodically while charging to check for overheating. Do not charge batteries near flammable material. For more information regarding batteries please refer to the Frequently Asked Questions or the Airsoft GI Airsoft 101 Guide.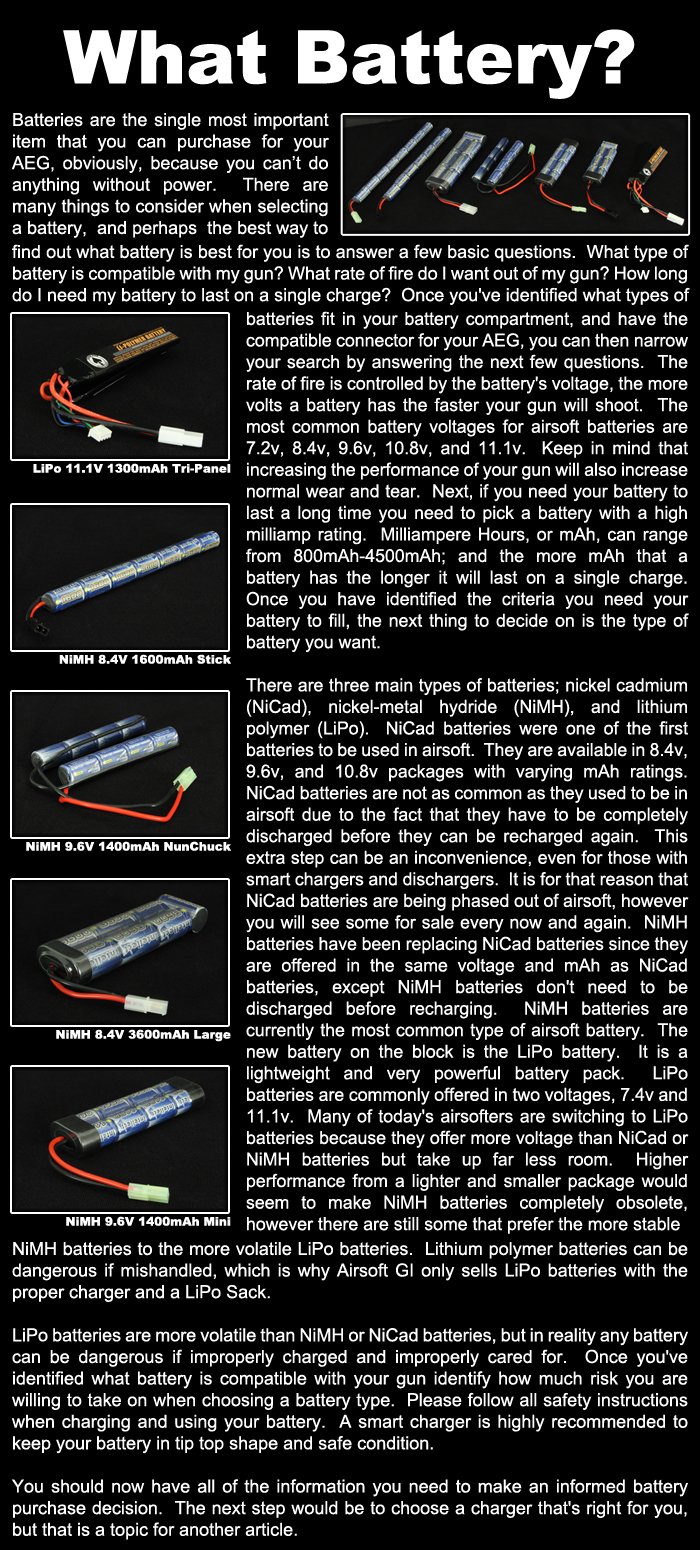 Specifications

Manufacturer: Elite Force / Umarex USA
Color: Black
Package Includes: One (1) Battery
see 3 reviews
|
Write a Review
verified buyer
D. WEST | 2015-04-28
Product Information:


Pros:
Holds a charge well.
Lasts all day.

Cons:
Could be difficult to fit in some hangurads.
verified buyer
K. GOVERNSON | 2016-11-26
Product Information:
This is a great battery it work perfect and have not had any problems.
I use it with my KWA KM4 Commando

**Important** battery is not black as seen in the picture it is green color

Pros:
It is a great battery and have no regrets buying it lasts about 45 minutes to an hour.

Cons:
I do not see any bad cons for the battery at this point.
verified buyer
J. JOHNSON | 2017-10-03
Product Information:
High quality, high performance, budget friendly 9.6v battery. I bought this to upgrade from the 8.4v my lancer tactical came with and i'm very pleased.

Pros:
Charges from out of the package in about two hours, and holds charge for several hours of continuous play.
fits perfect in crane stocks and has a slightly longer cable than my stock lancer tactical battery, allowing me to fully extend my stock.

Cons:
battery charges hotter than my 8.4v, but I charged it with a smart charger and had no leaks, bulges, or fire.
Will it fit?

Will it fit in a buffer tube?

1706 days ago

Ryan L

0

0

(I have this same question)

Staff Answer:

no. this is designed for a crane stock.

1695 days ago

1 answers
1 asked

Will it fit?

Will it fit in a buffer tube?

1706 days ago

Ryan L

0

0

(I have this same question)

Staff Answer:

no. this is designed for a crane stock

1695 days ago

1 answers
1 asked

fit?

will the fit in the lancer tactical LT-14B

2408 days ago

William R

0

0

(I have this same question)

Staff Answer:

It should fit fine, yes.

1981 days ago

1 answers
1 asked

How long does it last?

Gonna buy one soon.

2750 days ago

Shane D

0

0

(I have this same question)

Staff Answer:

It depends on how much you are shooting, but will generally last a day of gameplay.

2745 days ago

1 answers
1 asked

Will it fit a Lancer Tactical MMC?

Need to know if it will fit a Lancer Tactical MMC.

2962 days ago

Stuart Y

0

0

(I have this same question)

Staff Answer:

It should fit

2960 days ago

1 answers
1 asked

will it fit ?

can this battery fit a m27 iar by VFC

2976 days ago

samuel g

1

0

(I have this same question)

Staff Answer:

It should fit

2976 days ago

1 answers
1 asked

battery

would this battery fit in the A&K full metal m60

2985 days ago

Andrew M

0

0

(I have this same question)

Staff Answer:

Yes

2984 days ago

1 answers
1 asked

Will it fit?

Will it fit Combat Machine R8-L AEG Airsoft Gun (Tan)

3009 days ago

Casper V

0

0

(I have this same question)

Staff Answer:

It should

2998 days ago

1 answers
1 asked

will it fit???

will it work in a echo 1 platinum edition M4

3041 days ago

zach g

0

0

(I have this same question)

Staff Answer:

It should

3037 days ago

1 answers
1 asked

Will It Fit

Will it fit Lancer Tactical M4 CQBR MK18 AEG? Thanks

3048 days ago

Aidan F

0

0

(I have this same question)

Staff Answer:

Yes

2988 days ago

1 answers
1 asked

Will it fit?

Will it fit the Airsoft GI Desert G4-A2 Silent Death Blowback Version AEG

3063 days ago

Liam D

0

0

(I have this same question)

Staff Answer:

Yes.

3061 days ago

1 answers
1 asked

Will it fit?

Will this gun fit a Scar - L

3066 days ago

Erik S

0

0

(I have this same question)

Staff Answer:

Yes

3066 days ago

1 answers
1 asked

Will it fit?

will it fit the Airsoft GI G4 Daniel Defense MFR 9" Blowback AEG

3072 days ago

Liam D

0

0

(I have this same question)

Staff Answer:

Yes it should.

3071 days ago

1 answers
1 asked

Will it fit

will this fit aKWA M4 Shorty CQR MOD 2 AEG Airsoft Gun with a Magpul PTS MOE M4 Handguard?

3077 days ago

Ben F

0

0

(I have this same question)

Staff Answer:

It should with a little work.

3075 days ago

1 answers
1 asked

Does the Mah matter

I'm pretty sure you have to have the right voltage but can I have a higher Mah.

3083 days ago

Erik S

0

0

(I have this same question)

Staff Answer:

No, it is a 1600 mAh battery

3081 days ago

1 answers
1 asked

Will it fit

Will this fit the JG AUG A3? I know it's not a crane stock obviously, but the battery space is stupid small, and I just want to make sure. Thanks!

3090 days ago

Nate L

0

0

(I have this same question)

Staff Answer:

with modification they can be made to fit, however an 8.4 brick will fit best

3089 days ago

1 answers
1 asked

Does it come with a charger

Where

3101 days ago

Ike L

0

0

(I have this same question)

Staff Answer:

No, however, we would recommend: <BR><BR> <a href="http://www.airsoftgi.com/product_info.php?products_id=16041">D Power Universal Smart Charger [Link]</a><br>

3100 days ago

Where

3101 days ago

Ike L

0

0

(I have this same question)

Staff Answer:

No, however, we would recommend: <BR><BR> <a href="http://www.airsoftgi.com/product_info.php?products_id=16041">D Power Universal Smart Charger [Link]</a><br>

3100 days ago

2 answers
1 asked

Will it fit?

Will this battery fit a G&G m16 front wired?

3106 days ago

Patrick T

0

0

(I have this same question)

Staff Answer:

Yes! This item should fit.

3106 days ago

1 answers
1 asked

Will it fit?

Will it fit in the air soft gi G4 PWS blowback Version?

3109 days ago

Chris D

0

0

(I have this same question)

Staff Answer:

Yes, this item should fit without any issue.

3107 days ago

1 answers
1 asked

Will it fit?

Will it fit in a Combat Machine R8-L AEG Airsoft Gun (Tan)

3111 days ago

Parker F

0

0

(I have this same question)

Staff Answer:

Yes!

3110 days ago

1 answers
1 asked

Will it fit?

Will this fit in a crane stock? More specifically the Elite Force Next. Gen CQB?? thanks for the help:)

3126 days ago

Frank C

0

0

(I have this same question)

Staff Answer:

It should

3124 days ago

1 answers
1 asked

How good are these compared to Tenergy or Intellect ?

3130 days ago

gidon l

0

0

(I have this same question)

Staff Answer:

Battery composition and quality is comparable to either brand. We have experienced no issues with these batteries.

3130 days ago

1 answers
1 asked
Search Tags: Nickel Metal Hydrate Hydride Nunchuck Butterfly Crane Stock 2/3A M4A1 G4 MP5A5 MK5A5 MK36 G36 AEG 8 Cell 9.6 1600
People who bought this item also purchased: