Elite Force 8.4v 1600mAh Nunchuck Mini Battery
[K15F02][19428 / HK-2211010 / 2211010]
( 2 Reviews )
❤ Add to Wishlist
Free Shipping for orders over $89 No Coupon needed
The Elite Force 8.4v 1600mAh NiMH Crane Stock Battery is designed specifically for use with a Crane Stock. The battery is pack is separated into two halves to fit the slots of the crane stock around the buffer tube. This battery is the baseline for performance in a wide range of airsoft replicas, and will work with any replica. This battery is also designed to fit in any crane stock as well as the plastic handguard for M4 replicas.
Specifications:
Manufacturer: Elite Force
Voltage: 8.4v
Milliampere Hours: 1600mAh
Cell Type: Nickel-metal hydride (NiMH)
Connector Type: Mini
Recommended Fit: M4A1 hand guard, M733 hand guard, M4 Commando hand guard, MP5A5 hand guard, and MP5SD6 hand guard
Please Note:
This battery will fit in the G4, Elite Force, Combat Machine, G&G, VFC, KWA, and TSD crane stock. If you have any questions about which type of crane stock this battery will fit in please call us at (909) 869-0671.
Airsoft GI Battery Disclaimer:
Airsoft GI is not responsible for batteries that have been damaged as a result of improper operation, storage, misuse or abuse, accident or neglect, such as physical damage resulting from misuse; contact with liquid, water, rain, extreme humidity or heavy perspiration, sand, dirt or the like, extreme heat, or food; use of the battery for commercial purposes or subjecting the battery to abnormal usage conditions, or other acts which are not the fault of Airsoft GI. Make sure you understand how your battery should be used and how long it should be charged. If you have any doubt regarding the operation, charging, or storage of your battery and/or charger, ask. A charging battery should not be left unattended and should be picked up periodically while charging to check for overheating. Do not charge batteries near flammable material. For more information regarding batteries please refer to the Frequently Asked Questions or the Airsoft GI Airsoft 101 Guide.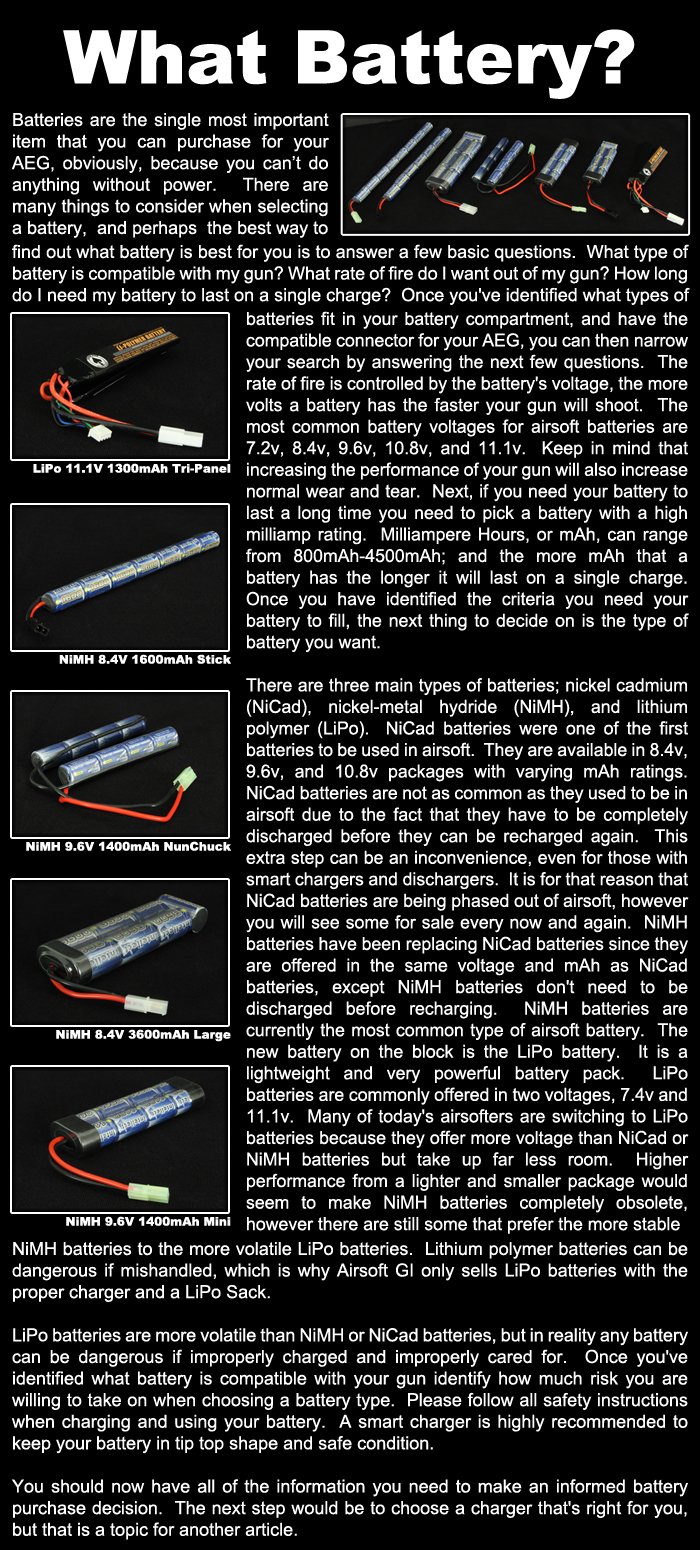 Specifications

Manufacturer: Elite Force / Umarex USA
Color: Black
Package Includes: One (1) Battery
see 2 reviews
|
Write a Review
verified buyer
J. HOOKS | 2015-03-14
Product Information:
Elite force mini battery that you should not buy! For your own sake do not buy it. It is such a waste of money and you will not be happy :l

Pros:
DONT MAKE THE SAME MISTAKE THAT I MADE!! Although this battery was great and increased my fps it is VERY poorly made and I hate it. I am so mad and I want a refund so badly

Cons:
One of the wires broke off of the battery and now I have to use electrical tape to keep it there. Also the charge is horrible, I had to charge my battery twice in one day, so over all DO NOT BUY IT!
J. DRISCOLL | 2016-07-26
Product Information:
this is a good product, it works with my krytac crb, not as good as a lipo but does the job with not many issues

Pros:
good price
dosent take long to charge
fits good
wires are strong
lightweight

Cons:
it seems to loose charge in storage

no other i just needed space :)
Fit in Lancer tactical

Will this also fit Lancer Tactical crane stocks? I'm looking to get the 95 dollar M4 CQB and I need an extra battery

1175 days ago

Rocco B

0

0

(I have this same question)

Staff Answer:

This should fit fine without issues.

834 days ago

1 answers
1 asked

Fit in a SCAR

I just bought a scar and saw it does not come with a battery so I ned to look for one. It is a classic army FN Scar-L. If this one won't fit, what will?

1947 days ago

Derek W

0

0

(I have this same question)

Staff Answer:

This battery should fit easily.

1930 days ago

1 answers
1 asked
Search Tags: Nickel Metal Hydrate Hydride Nunchuck Butterfly Crane Stock 2/3A M4A1 G4 MP5A5 MK5A5 MK36 G36 AEG 7 Cell 8.4 1600
People who bought this item also purchased: