Echo 1 Red Star IGOR 150 rd. AEG High Capacity Magazine (Black)
[SF24][16722 / MAG-ECHO IGOR HC]
( 1 Reviews )
❤ Add to Wishlist
Free Shipping for orders over $149
No Coupon needed
The Echo 1 150rd Red Star IGOR High Capacity AEG Magazine was designed specifically for the Echo 1 Red Star IGOR AEG. Compatibility with other AEG's is not guaranteed by Airsoft GI.
Specifications:
Manufacturer: Echo 1
Model: IGOR High Capacity Magazine
Material: Plastic
Magazine Capacity: 150 Rounds
Magazine Style: Wind Up High Capacity
Package Includes: One (1) Magazine
High Capacity Magazine Operation:
Find the trap door, usually located on the top of the magazine near the loading nozzle.
Open trap door and fill reservoir with high quality BBs.
Wind the wheel at the bottom of the magazine (notice the pitch and volume of the click).
Continue to wind wheel until pitch changes. Once the click gets louder, or begins to "double click," the magazine is fully wound.
Insert magazine into gun and fire. You may need to rewind the wheel during play.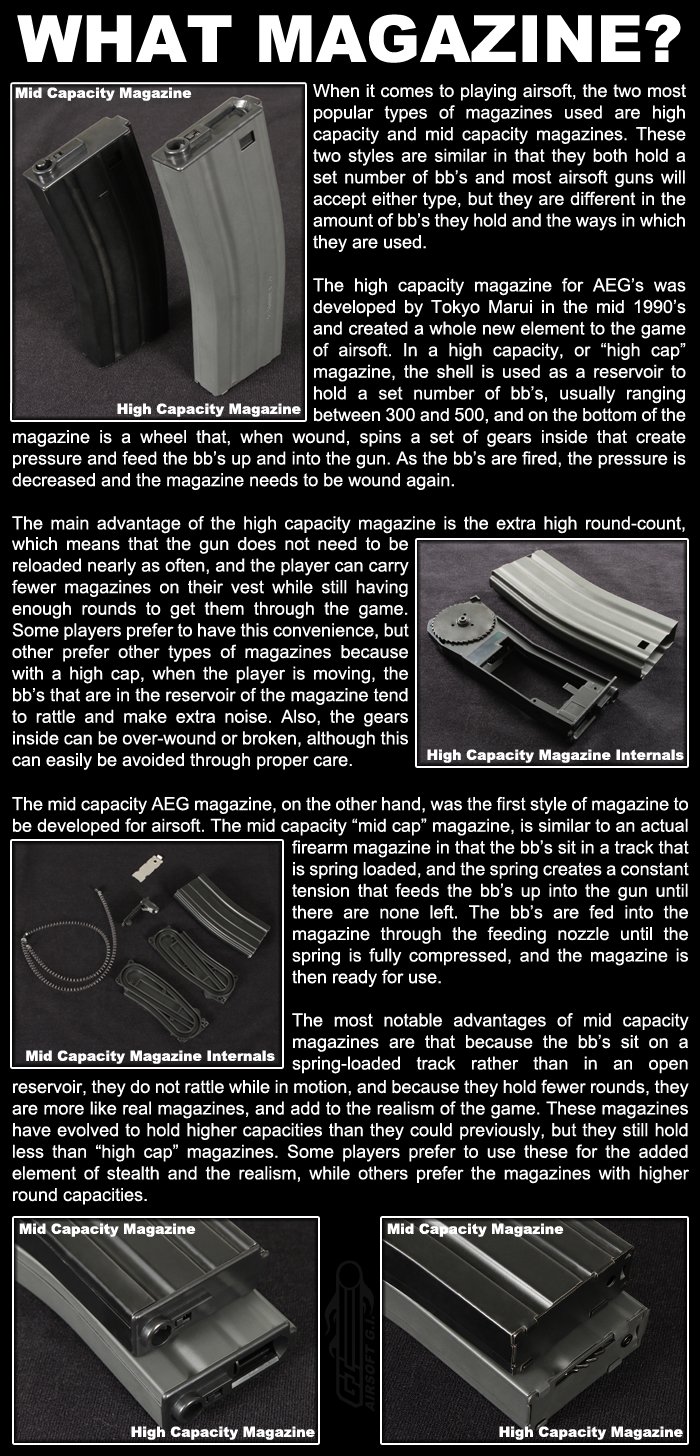 Specifications

Manufacturer: ECHO 1
Color: Black
Size: 150 Rounds
Material: Plastic
Package Includes: One (1) magazine
see 1 reviews
|
Write a Review
verified buyer
B. SAULS | 2016-05-20
Product Information:
These mags are the only ones available for the Echo 1 IGOR so theres nothing to compare them to. Its nice that 2 come with the gun but I ordered 2 more as spare. Wish there were some metal options though...


Pros:
Feed Very Well
Plenty of rounds for such a small mag.

Cons:
Only mags available.
Lots of winding as this mag is short
mag
0 answers
3 asked

fit

what guns can this mag fit in

2977 days ago

Austen S

0

0

(I have this same question)

Staff Answer:

Only the Red Star IGOR

2975 days ago

1 answers
1 asked
Search Tags: Mil Sim Echo1 Gun Field AK Mag Clip Mag Clip VSS Redstar Echo1 150 Rounds Round Rnd Rnds Rd Rds Hicap High Cap High-cap hi-cap Hi Echo1
People who bought this item also purchased: