Echo 1 MK1 SR556 7.5" Quick Detach Barrel Extension (Black/Flash Hider Included)
[K-02-G-02][15637 / ECHO BE MK1 75]
The Echo1 Mk1 SR556 7.5" Quick Detach Barrel Extension in Black is a high quality barrel extension from Echo 1 that is made from a high quality t6 aluminum, adding to the authenticity and feel of a real firearm. The Barrel Extension incorporates a QD feature into its design that can attached to the included flash hider that must be accompanied to use the extension. With the included flash hider attached to your rifle, the mock suppressor can be attached by simply placing the extension on the comp and securely seating it. The extension can be taken off by simply reversing the procedure, making this attachment extremely versatile for those who wish to change the look and feel of their firearms in a snap!
Specifications:
Manufacturer: Echo 1
Material: T6 Aluminum
Package includes: One (1) Suppressor, One (1) flash hider
Features
Quick Detach design

High quality build construction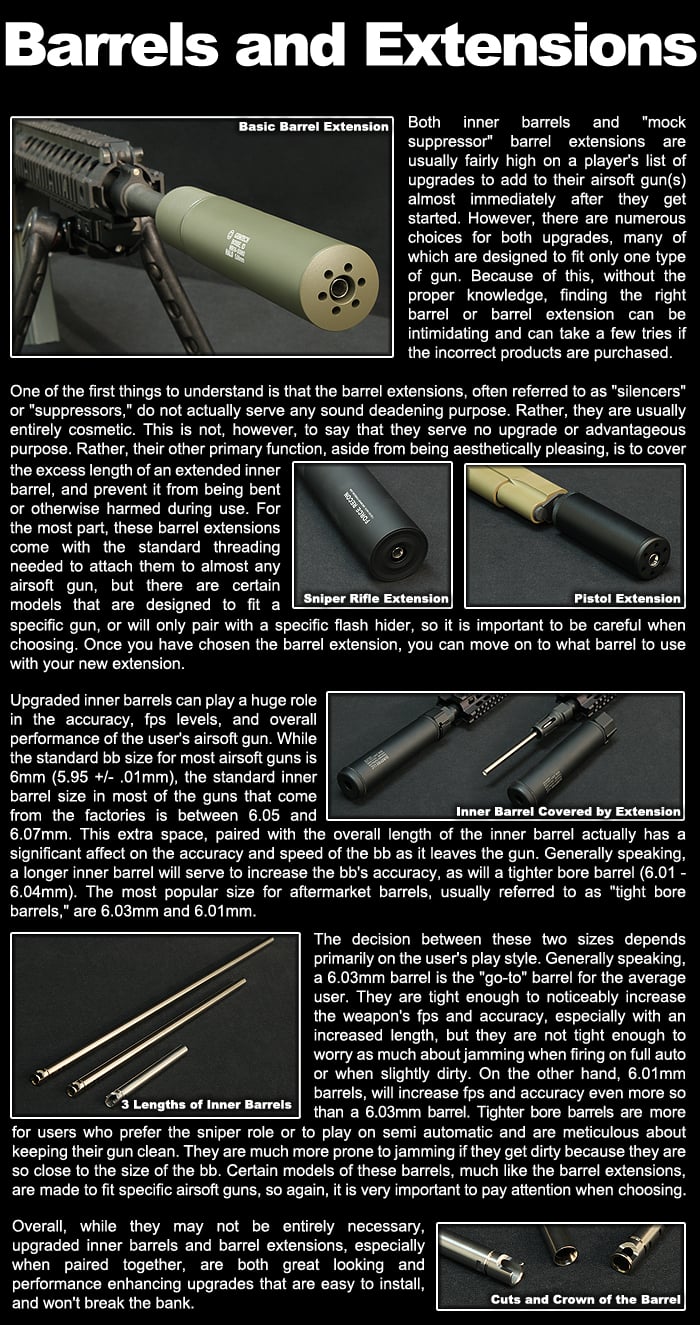 Specifications

Manufacturer: ECHO 1
Color: Black
Size: 7.5"L
Material: Aluminum
Package Includes: One (1) Mock Supressor, One (1) Flash Hider
Fit

I have a Lancer Tactical model LT-14A. Would this be able to fit? if not, is there another piece that I can put on the barrel to make it compatible?

223 days ago

Thomas C

0

0

(I have this same question)

Staff Answer:

Yes it would fit, however the threads are recessed and might not make it all the way on before it hits the rail system.

221 days ago

1 answers
1 asked

will it fit?
0 answers
1 asked

CCW/CW

Is this a CCW or CW threading on the flash hider

1837 days ago

Leland D

0

0

(I have this same question)

Staff Answer:

The threading should be for 14mm counter-clockwise.

1836 days ago

1 answers
1 asked

fitting

Will this fit on the echo 1 redstar OMG?

1859 days ago

Ryan C

1

0

(I have this same question)

Staff Answer:

It should fit. Minor modifications may be needed in regards to the front sight post pin.

1858 days ago

1 answers
1 asked
Search Tags: Mock Suppressor Silencer Accessory SF 14mm CCW M4 Cosmetic OD Covert Quiet Special Forces
This product was added to our catalog on Monday 14 October, 2013.
People who bought this item also purchased: