Echo 1 MK1 SR556 6.75" Quick Detach Barrel Extension (Black/Flash Hider Included)
[SF23][15638 / ECHO BE MK1 675]
( 4 Reviews )
❤ Add to Wishlist
Free Shipping for orders over $99 No Coupon needed
The Echo1 Mk1 SR556 7.5" Quick Detach Barrel Extension is a high quality barrel accessory from Echo 1 that is made from a high quality t6 aluminum, adding to the authenticity and feel of a real firearm. The Barrel Extension incorporates a QD feature into its design that can attached to the included flash hider that must be accompanied to use the extension. With the included flash hider attached to your rifle, the mock suppressor can be attached by simply placing the extension on the comp and securely seating it. The extension can be taken off by simply reversing the procedure, making this attachment extremely versatile for those who wish to change the look and feel of their firearms in a snap!
Specifications:
Manufacturer: Echo 1
Material: T6 Aluminum
Package includes: One (1) Suppressor, One (1) flash hider
Features
Quick Detach design

High quality build construction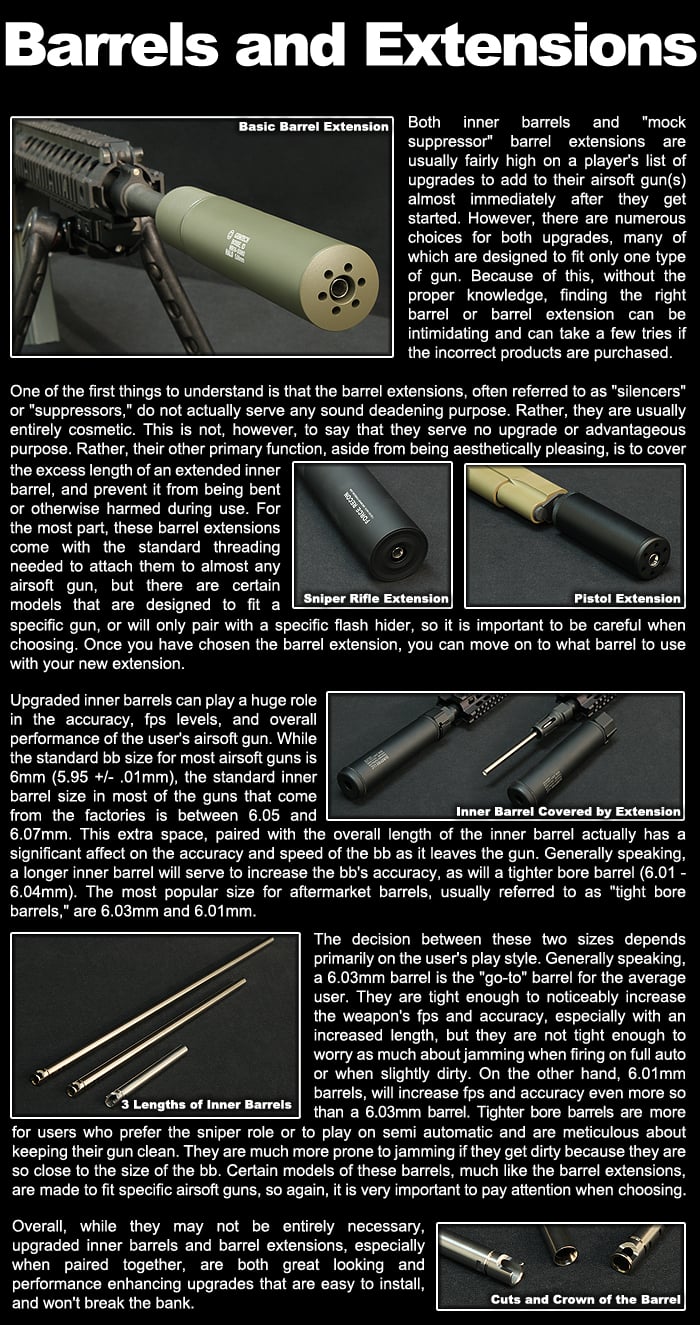 Specifications

Manufacturer: ECHO 1
Color: Black
Size: 6.75"L
Material: Black
Package Includes: One (1) Mock Supressor, One (1) Flash Hider
see 4 reviews
|
Write a Review
verified buyer
C. CHO | 2014-01-06
Product Information:
I got this because I wanted to increase the inner barrel length of my gun. Knowing that it was QD was a pretty cool option as well as the flash hider it comes with. The trades look sick and come up at a 90 degree angle (not like the other guy's). It is a bit snug tho and I had to use a wrench to get it on all the way. Other than that this was an excellent purchase.

Pros:
Quick Detach
Cool trades
Included flash hider
Lets me increase my inner barrel

Cons:
Snug fit
Paint scratches easily.
Other than that, this was a solid purchase from AirsoftGi
verified buyer
M. CHAN | 2014-02-14
Product Information:
I got this for my Echo 1 Platinum RIS M4 to cover the tight bore barrel that I installed. It has a great finish to it and the black color matches well the the gun! I had no problems with installing this, just pop in and you are all set. Overall very satisfied with the purchase.

Pros:
Easy install
Quick Detach
Nice Trades
Included flash hider
Hides my inner barrel


Cons:
Price is alittle steep but good quality
other than that, pretty happy with it.
verified buyer
J. HAWKINS | 2019-03-05
Product Information:
Just to let you all know. This will work on all Krytac Trident MK2 and it fits my CRB and PDW perfect. Hope this helps as I could not find any info on this subject. So pick one up there very nice.

Pros:
High quality
Looks great
Fits Krytac CRB
Cheap

Cons:
A little heavy
Paint is easy to scratch
Will this fit

Will this fit my Echo 1 ER-25KR

1158 days ago

Chris G

0

0

(I have this same question)

Staff Answer:

As long as the gun has a 14mm counter clockwise threading.

874 days ago

1 answers
1 asked

Will it fit on a Knight's Armament SR-16E3 CQB MOD 2 AEG

Hey I was just wondering if this would fit on my Knight's Armament SR-16E3 CQB MOD 2 AEG

1833 days ago

Matthew R

0

0

(I have this same question)

Staff Answer:

It should fit most airsoft guns

1832 days ago

1 answers
1 asked

What are the threads

CW or CCW

1989 days ago

Morgan W

0

0

(I have this same question)

Staff Answer:

CCW

1989 days ago

1 answers
1 asked

Negative or positive?

Is the included flash hider a 14mm- or a 14mm+?

2009 days ago

Ryan R

0

0

(I have this same question)

Staff Answer:

CCW-, or 14mm negative, threads.

2008 days ago

1 answers
1 asked

will it fit

Will it fit a g&g combat machine cm18

2026 days ago

mat s

0

0

(I have this same question)

Staff Answer:

Yes, however, installation will require removal of the orange flash hider which comes on the gun from the factory. <br><BR>Keep in mind that any modification to the gun will void Airsoft GI/Manufacturer warranties.

2024 days ago

1 answers
1 asked

Will this fit my king arms m&p15 moe?
0 answers
1 asked

FMG4-A1 Knights Armament URX 3 

Wondering if it whould fit

2254 days ago

Kaden S

0

0

(I have this same question)

Staff Answer:

Yes

2254 days ago

1 answers
1 asked

Can this fit a xcr-l?

and what is the highest compatible spring I can put into it?

2317 days ago

Joshua M

0

0

(I have this same question)

Staff Answer:

It should be able to fit that gun

2317 days ago

1 answers
1 asked

mp7 compatible?

I have an umarex mp7 and i was not entirely sure if this would fit my barrel if you could let me know I'd appreciate it.

2361 days ago

deven b

0

0

(I have this same question)

Staff Answer:

This will not fit your airsoft gun.

2358 days ago

1 answers
1 asked
Search Tags: Mock Suppressor Silencer Accessory SF 14mm CCW M4 Cosmetic OD Covert Quiet Special Forces Mock Fake Suppressor Silencer Barrel Extension Extender Can Cosmetic
People who bought this item also purchased: