Echo 1 M28 Barrel Extension
[Y02B02][08137 / ECHO BE M28 FR]
( 4 Reviews )
❤ Add to Wishlist
Free Shipping for orders over $149
No Coupon needed
The ECHO 1 M28 Barrel Extension is made to interface perfectly with the Echo 1 M28 and is sturdily constructed out of a high quality metal. The Echo 1 M28 barrel extension features Force Recon trade marks on the end of the extension. The base of this Barrel Extension is textured to ensure that the users hand does not slip while attaching or removing the extension. Weighing in at almost 2 pounds and measuring 12 inches, the Echo 1 M28 barrel extension is a serious piece of equipment that makes the M28 stand out from the crowd.
Specifications:
Manufacturer: Echo 1
Weight: 1.78 pounds
Length: 12"
Color: Black
Material: Metal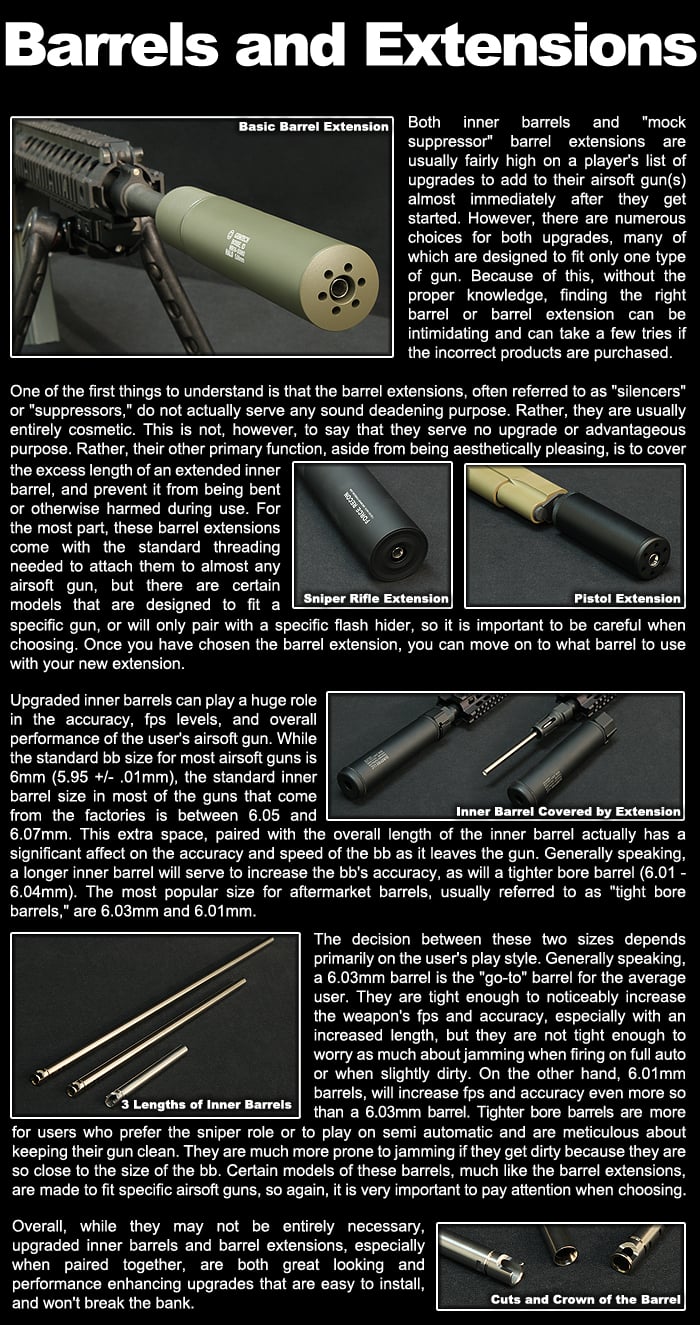 Specifications

Manufacturer: ECHO 1
Color: Black
Material: Metal
Package Includes: One (1) Barrel Extension
see 4 reviews
|
Write a Review
verified buyer
J. SOMMERS | 2011-12-12
Product Information:
First off, I wanna say that this barrel extension is BIG and HEAVY, so if your not strong then it definitely weighs down the end of the gun. Besides that, I love it. The only legitimate problem I have with it is that when you are screwing it on, you have to stop at a certain point or else it will screw back off WITH the barrel adapter attached to it. This also means that it is somewhat loose and rattles around a little bit, but this can mostly be fixed by making the adapter VERY tight on the end of the gun. Overall, I'm very happy with it.

Pros:
Looks AWESOME
Big
No annoying orange tip
Made specifically for the M28

Cons:
Paint scratches kinda easily
Heavy (Could be a pro)
Barrel adapter issue
Can be somewhat loose, this can be fixed however.
verified buyer
K. ST MARTIN | 2013-01-02
Product Information:
Like the others say, it is in fact very large and heavy, but it looks amazing for a stealthy sniper look. The only issue, if you could call it that, is the threading, being that it threads the same direction as the adapter. Solving that is as easy as getting thread lock and tightening it very tight. Overall its a very nice piece for a stealthy sniper look.

Pros:
Large
Intimidating
Adds stealthy look
Adds more weight for extra realism

Cons:
Threading issue (very minor)
If you are not very strong, putting a two pound weight at the end of your sniper isn't the best idea for long games.
Z. BROWN | 2013-02-18
Product Information:
Does this barrel extension fit on all of the echo 1 sniper rifles ????

Pros:
I think it world look awesom on my sniper

Cons:
I don't have any cons it looks like a good barrel extension
Echo 1 PSR
0 answers
1 asked

what are the threads

would this fit on the 14mm ccw jg m16a3

2656 days ago

angie k

0

0

(I have this same question)

Staff Answer:

This will not fit

2648 days ago

1 answers
1 asked

threads
0 answers
3 asked

will this fit on my SR7 and will it make a impact on the fps
0 answers
3 asked

M4??
0 answers
1 asked

KWA CQR MOD 2

Will this fit my KWA CQR MOD 2

2934 days ago

Logan R

0

0

(I have this same question)

Staff Answer:

No it will not fit

2933 days ago

1 answers
1 asked

Barrel

Is this able to work on the well L96? I know that the barrel extension fits halfway over the barrel then treads on.

2969 days ago

Thomas M

0

0

(I have this same question)

Staff Answer:

It all depends on which L96 and whether the threads match.

2966 days ago

1 answers
1 asked

barrel size
0 answers
1 asked

Is this barrel extension and the adapter for it compatible with the UK Arms M24?
0 answers
1 asked
Search Tags: 14mm CCW Cosmetic Mock Suppressor Mock Fake Suppressor Silencer Barrel Extension Extender Can Cosmetic
People who bought this item also purchased: