Echo 1 M14 400 rd. AEG High Capacity Magazine (Black)
[SF27][02392 / MAG-ECHO M14 HC]
( 3 Reviews )
❤ Add to Wishlist
Free Shipping for orders over $149
No Coupon needed
This magazine is recommended for use with the Cyma, Echo 1, UTG, and KART M14 series AEGs, it may work with other brands AEG but cannot be guaranteed by Airsoft GI.
Specifications:
Manufacturer: Echo 1
Magazine Capacity: 400 rounds

High Capacity Magazine Operation:
Find the trap door, usually located on the top of the magazine near the loading nozzle.
Open trap door and fill reservoir with high quality BBs.
Wind the wheel at the bottom of the magazine (notice the pitch and volume of the click).
Continue to wind wheel until pitch changes. Once the click gets louder, or begins to "double click," the magazine is fully wound.
Insert magazine into gun and fire. You may need to rewind the wheel during play.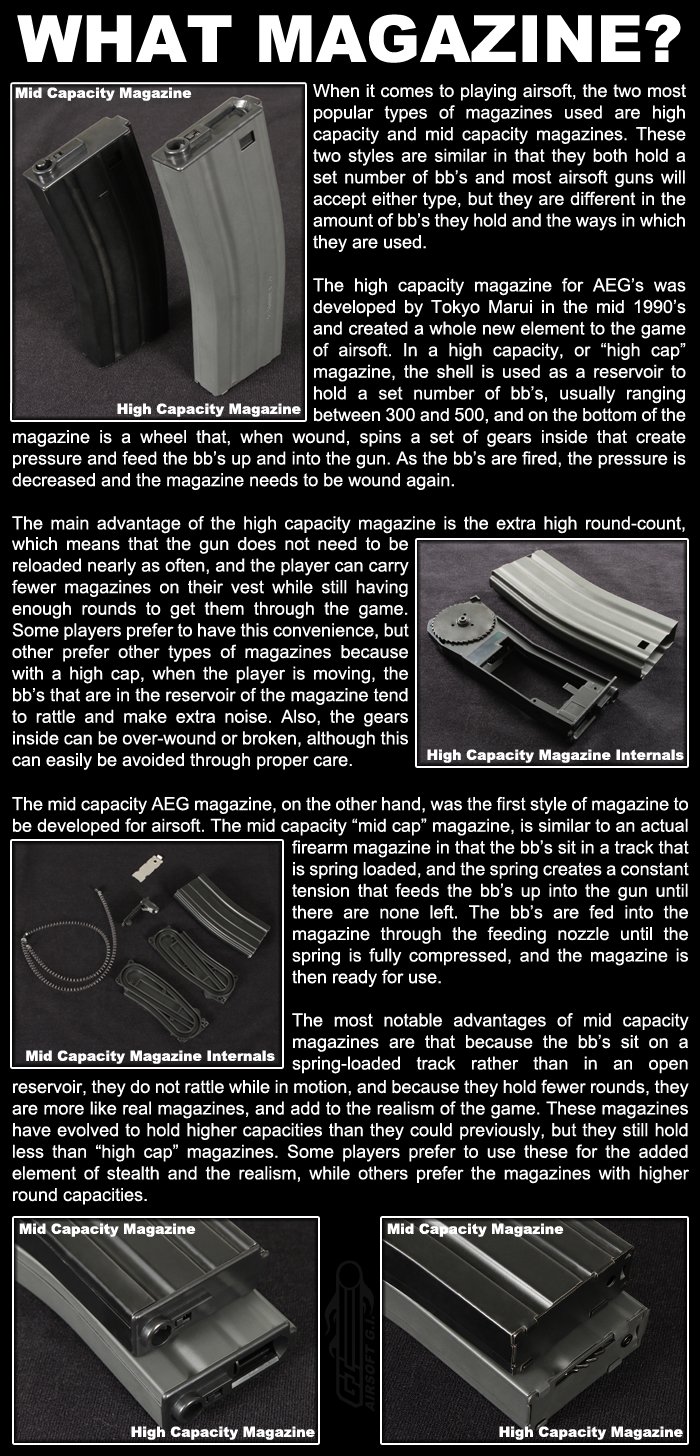 Specifications

Manufacturer: ECHO 1
Color: Black
Size: 400 Rounds
Material: Metal
Package Includes: One (1) Magazine
see 3 reviews
|
Write a Review
J. SEYLE | 2008-05-23
this mag works with KART M14 as well. I love this mag!!!
verified buyer
J. MARTIN | 2008-06-06
I would give this a 4.5. I has a really nice finish. It looks powder coated. It is a little bit snug in my CYMA CM032 front to back. No modification needed but it is tight. I do like the sliding top compared to the flip up top that came with the gun. It don't like the bottom of the magazine as much as the bottom of the Cyma mag but it does unwind easier.

Overall a great spare clip.
verified buyer
J. CURREY | 2008-08-17
Product Information:
Echo 1 mags were reccommended for my socom 16 (cyma) awsome gun and what makes the fire power is these mags.

Pros:
great feeding

low jamming rate

nice fit into my gun

when it does jam u need to remove the mag thts it no bbs get caught up no double feeding


Cons:
runs fast with my rate of fire

constant cracking to feed bbs

reloading can be difficult (kinda tight in there so when removing it somtimes its stuck)
Will this fit a CYMA M14 EBR RIS

Will this fit a CYMA M14 EBR RIS

3039 days ago

Drew K

0

0

(I have this same question)

Staff Answer:

It should

3038 days ago

1 answers
1 asked
Search Tags: Mil Sim Gun Field M1A Echo1 Mag Clip m14 m21 400rd 400 rd round hicap high cap hi capacity
People who bought this item also purchased: