Echo 1 FAT M4/M16 850 rd. AEG High Capacity Magazine (Black)
[X08F08][09958 / MAG-ECHO M4 FAT BLK]
( 1 Reviews )
❤ Add to Wishlist
Free Shipping for orders over $99 No Coupon needed
This magazine is recommended for use with the Echo 1, JG, Dboy, SRC, and Cyma M4/M16 series AEGs, it may work with other brands of AEGs, but this cannot be guaranteed by Airsoft GI.
Specifications:
Manufacturer: Echo 1
Magazine Capacity: 850 rounds

High Capacity Magazine Operation:
Find the trap door, usually located on the top of the magazine near the loading nozzle.
Open trap door and fill reservoir with high quality BBs.
Wind the wheel at the bottom of the magazine (notice the pitch and volume of the click).
Continue to wind wheel until pitch changes. Once the click gets louder, or begins to "double click," the magazine is fully wound.
Insert magazine into gun and fire. You may need to rewind the wheel during play.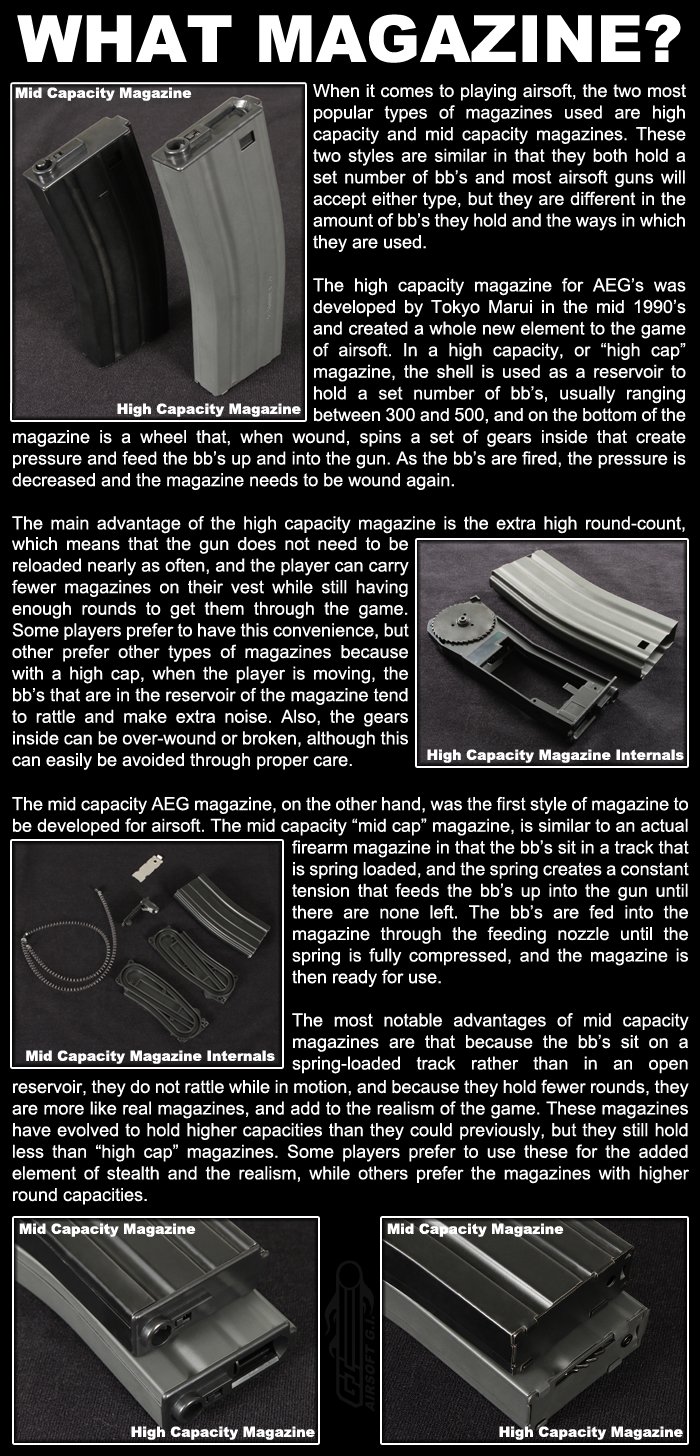 Specifications

Manufacturer: ECHO 1
Color: Black
Size: 850 Rounds
Material: Metal
Package Includes: One (1) Magazine
see 1 reviews
|
Write a Review
verified buyer
C. MONROE | 2012-02-16
Product Information:
I think this is a great magazine, it sort of takes a while to load but its like drum magazine but not so bulky so I can't complain. One thing I find disappointing is that there is no winding hole in the side like most high caps. I take care of it by just using a glove, but I can see this would strike problems in CQB action so I think it should be used more as a support type accessory. It is a good price and costs less than some high caps, but trades of the use of your winding tool. Overall great magazine!

Pros:
- 850 rounds of firepower!
- looks amazing on any gun that can use this mag
- not as bulky as drum mags
- better price compared to drum mags
- its by ECHO1 which is a reliable company(in my opinion)

Cons:
- wish it had a place to wind it instead of the wheel
- it goes out of stock a lot! (that shows how good it is!)
Feed issues

Recommendation of how to fix miss feeds. Should I use Silicone oil spray or something else? I have the Arx 160 Elite.

1083 days ago

Kanaan S

0

0

(I have this same question)

Staff Answer:

Make sure you are using high quality bb's and are winding the magazine fully. if that is not the cause, then a small amount of silicone spray may alleviate the issue as well, but do not over do it, or you may cause accuracy issues with your gun from excess silicone on your hop up unit.

958 days ago

1 answers
1 asked

Fits???

Will it fit the Valken Battle Machine Mod-M V2.0 M4 Carbine AEG Airsoft Gun

1162 days ago

Ryan L

0

0

(I have this same question)

Staff Answer:

Yes, this fits most M4/M16 AEGs.

939 days ago

Will it fit the Valken Battle Machine Mod-M V2.0 M4 Carbine AEG Airsoft Gun

1162 days ago

Ryan L

0

0

(I have this same question)

Staff Answer:

Yes, this fits most M4/M16 AEGs.

939 days ago

2 answers
1 asked

Will this fit into the Lancer Tactical M4 CQBR MK18 AEG Airsoft Gun?
0 answers
1 asked

would it fit into a combat machine M4 Raider?

i seriously need to know

2190 days ago

Kyle O

0

0

(I have this same question)

Staff Answer:

It should

2167 days ago

1 answers
1 asked

pouch?

will this fit in a single m4 mag pouch

2269 days ago

Eamon M

0

0

(I have this same question)

Staff Answer:

Most likely not

2268 days ago

1 answers
1 asked

can this fit in the Elite force ARX160

I noticed the mag well for the arx is a bit different than an M4 will this fit?

2269 days ago

Alex O

0

0

(I have this same question)

Staff Answer:

It should be able to fit

2268 days ago

1 answers
1 asked

Fit?

Will this work and feed well in my KWA KW4 SR10? Thanks

2276 days ago

Mike M

0

0

(I have this same question)

Staff Answer:

It should work

2274 days ago

1 answers
1 asked
Search Tags: Mil Sim Gun Echo1 Field M4 M16 SCAR Mag Clip Echo1
People who bought this item also purchased: