Echo 1 Dogs of War M4/M16 100 rd. AEG Mid Capacity Magazine (Black)
[I04E00][08304 / MAG-ECHO M4 140 S]
( 5 Reviews )
❤ Add to Wishlist

Description:
This magazine is recommended for use with the A&K, Echo 1, JG, Tokyo Marui, Classic Army, VFC, ICS, G&G, and G&P M4/M16 series AEGs, it may work with other brands AEG but cannot be guaranteed by Airsoft GI.
Specifications:
Manufacturer: Echo 1
Magazine Capacity: 100 rounds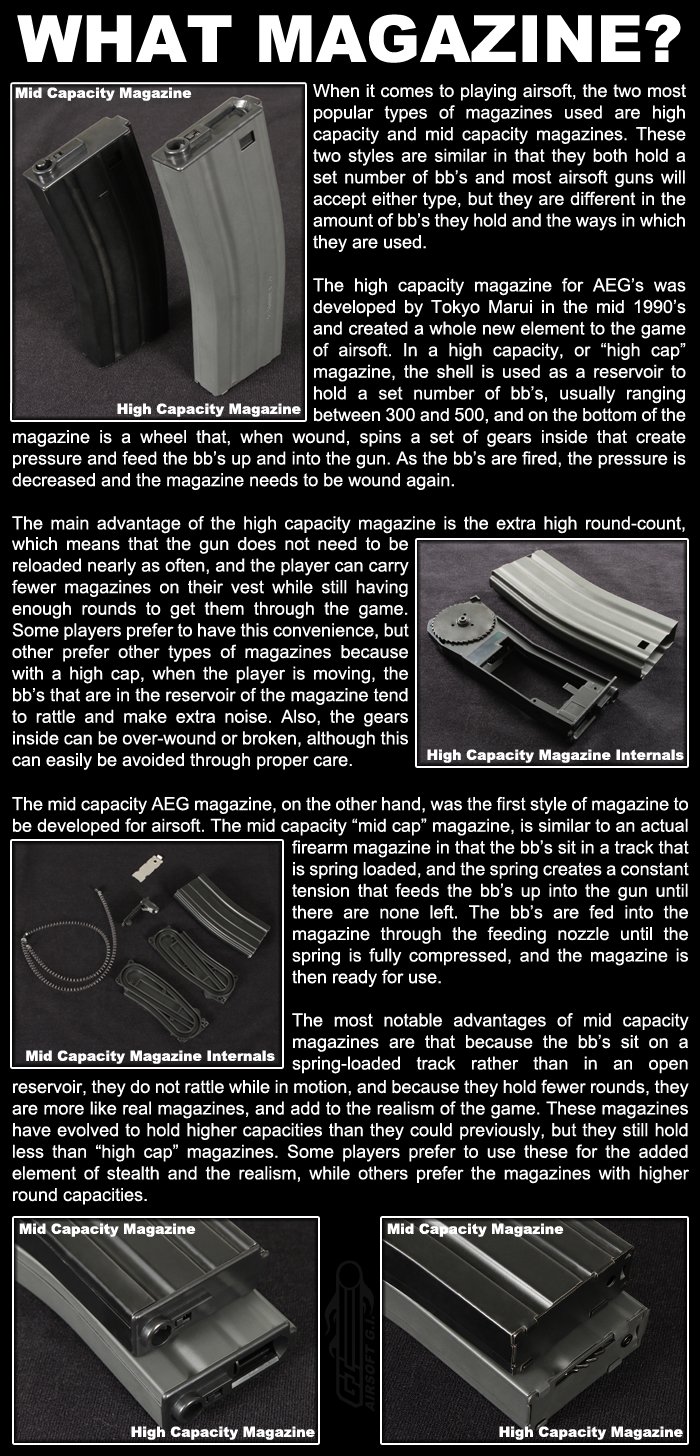 Specifications

Manufacturer: ECHO 1
Color: Black
Size: 100 Rounds
Material: Metal
Package Includes: One (1) Magazine
see 5 reviews
|
Write a Review
verified buyer
P. HENLEY | 2014-04-12
Product Information:
Holds 100 rounds like it says. A great cheap mag for people on a budget. Will need proper care as it will jam and will need a unjamming rod if this happens.

I recommend this item

Pros:
Fits Combat Machine Magwell
Metal Body

Cons:
Jams almost every time towards the end of the 100 rounds
verified buyer
J. COMINE | 2014-07-10
Product Information:
No. Jammed uncontrollably. Tried to unjam it and they all broke. So now I have broken mags and cannot return them.

Pros:
I guess they look cool?

Cons:
Jams
Breaks
Partially wobbly
verified buyer
B. MURPHY | 2015-12-03
Product Information:
this is the best mag ive ever had. its the only brand i use. i have 17 of them in M4 and now that i just bought an AK, they will be the only AK mags i use as well. ive dropped em, kicked em while running by mistake, slammed em in, whatever. they just work. they are so perfect. they are the best mag imho

Pros:
never jam. works perfect every time. feels great. looks great. no stupid winding spring or rattling bbs. these are great quality. best mags out there. id buy the 8 pack if i were you

Cons:
none. ill come back and edit this if i come up with one, but ive put 50,000 bbs thru mine so far and not had a single damn problem.
how do you load these things??

do you have to load these things one by one?!

2176 days ago

josh o

0

0

(I have this same question)

Staff Answer:

You can use a <a href="https://www.airsoftgi.com/product/Echo-1-110-rd-BB-Speed-Loader-Smoke-10504/" style="color: rgb(0,255,0)"><font color="0000FF">Echo 1 110 rd. BB Speed Loader</font></a> for loading.

1782 days ago

1 answers
1 asked

G&G Combat Machine CM16 Predator AEG

Will this mag fit and feed properly with this gun?

2531 days ago

Jonathan W

0

0

(I have this same question)

Staff Answer:

It should

2531 days ago

1 answers
1 asked

Will this fit a Elite Force M4 CQB?

Would it fit properly and feed correctly??

2806 days ago

Isaiah R

0

0

(I have this same question)

Staff Answer:

M4 magazines should be cross compatible with most M4 airsoft guns.

2803 days ago

1 answers
1 asked

Will this fit the Echo 1 er25k?

I have an airsoft game coming up soon and need mid caps

2817 days ago

Joe H

0

0

(I have this same question)

Staff Answer:

No it will not

2816 days ago

1 answers
1 asked

Will this fit the KWA KM4?

Will this magazine feed and function properly with the KWA M16/M4 series?

3314 days ago

Kurosaki I

0

0

(I have this same question)

Staff Answer:

This magazine should fit.

3313 days ago

1 answers
1 asked
Search Tags: Stock Replacement OEM MilSim AEG Rifle M4 M16 Mag Clip Mid Cap Echo1 mid cap midcap medium capacity aeg automatic electric gun airsoft mag magazine clip
People who bought this item also purchased: