Echo 1 68rd E90 Mid Capacity AEG Magazine
[X10F05][04669 / MAG-ECHO E90 STD / MAG-ECHO ETW STD]
( 4 Reviews )
This magazine is only recommended for use with the Tokyo Marui, Echo 1, Classic Army, and KS E90 AEGs, it may work with other brands AEG but cannot be guaranteed by Airsoft GI.
Specifications:
Manufacturer: Echo 1
Magazine Capacity: 68 rounds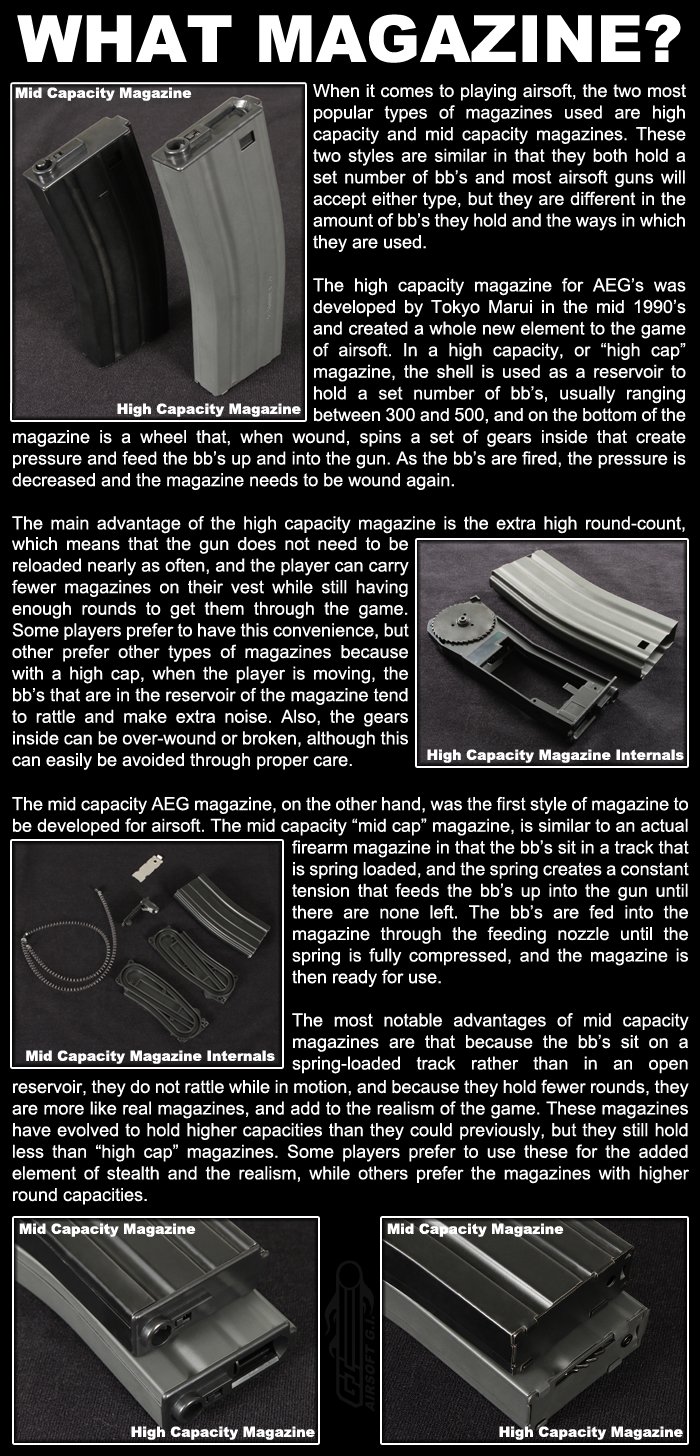 Specifications

Manufacturer: ECHO 1
Color: Black
Size: 68 Rounds
Material: Plastic
Package Includes: One (1) Magazine
see 4 reviews
|
Write a Review
J. NEIL | 2010-07-13
Product Information:
When I purchased my first E90, I fell in love immediately, and overall it's because of the huge clips. I'll need to buy a new one soon 'cause I have a habit of messing with my clips and breaking them, but aside from my own stupidity, they seem very durable. I have three, all of which are in working condition. The two that came with my Echo 1 are fantastic. The 3rd, I forget what company I bought it from, but it wasn't Echo 1. That thing is annoying when it comes to reloading. The Echo 1 clips are far superior.

Pros:
- LOTS of bullets for a mere Mid Cap mag.
- Transparent magazine. If you take it out of your gun and look at its underside in bright enough lighting, you can see how many bullets you have left.
- Very nice look and feel to the magazine. Love the fake bullets! :P

Cons:
- One bullet is loose in the front of the mag. Same is true for all three of my mags, but you'll never notice it unless you're refilling the mag between games.
- A little tricky to reload. Not as easy to reload as most airsoft magazines, even with a speedloader. Takes some force at times.
- INCREDIBLY difficult to find mag pouches for the E90. Airsoft GI carries a couple E90 pouches, but the options are very limited right now.
verified buyer
C. CAUTHEN | 2014-01-28
Product Information:
Great mags a must for those who do ops with a p90 and very affordable.
but if your not requried to use mid cap go high because the high cap feeds 300rds on a before game wind
They are hard to store on person I would get a gryffon sub load because you can hold 9 p90 mags for cheap.

Pros:
See though from the bottom so you can see how much is left while in a pouch
Good price
68rds

Cons:
Dosn't fit many mag pouches
I wish I could see how many bbs are left without having to dischare the mag
A little tricky to tac reload
verified buyer
C. CAUTHEN | 2014-02-03
Product Information:
standard mag has quick release of bbs funtion and looks pretty real it is see through

Pros:
easily loaded
can see how many bbs you have left when mag is not in the p90
good for realism or ops

Cons:
Can run though a mag fast on full auto im mean like 2 seconds
the high cap dosnt have the shaking bb problem nor the constan winding
Search Tags: Stock Replacement OEM MilSim AEG P90 SMG Mag Clip Mid Cap Echo1
This product was added to our catalog on Tuesday 13 January, 2009.
People who bought this item also purchased: